Subjects (Books)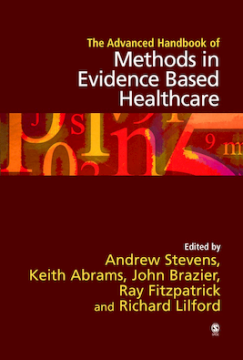 Additional Information
Book Details
ISBN

978-1-84787-675-1


Edition

1

Language

English

Pages

544

Subjects
Abstract
'This handbook is an excellent reflection of the growing maturity and methodological sophistication of the field of Health Technology Assessment. The Handbook covers a spectrum of issues, from primary evidence (clinical trials) through reviews and meta-analysis, to identifying and filling gaps in the evidence. Up-to-date, clearly written, and well-edited, the handbook is a needed addition to any personal or professional library dealing with Health Technology Assessment.'
Professor David Banta, TNO Prevention and Health, The Netherlands
'This text presents the most advanced knowledge on methodology in health care research, and will form the backbone of many future studies' - Paula Roberts, Nurse Researcher
The `effectiveness revolution' both in research and clinical practice, has tested available methods for health services research to the extreme. How far can observational methods, routine data and qualitative methods be used in health care evaluation? What cost and outcome measures are appropriate, and how should data be gathered?
With the support of over two million pounds from the British Health Technology Assessment Research Programme, the research project for this Handbook has led to both a synthesis of all of the existing knowledge in these areas and an agenda for future debate and research.
The chapters and their authors have been selected through a careful process of peer review and provide a coherent and complete approach to the field. The handbook has been a unique collaboration between internationally regarded clinicians, statisticians, epidemiologists, social scientists, health economists and ethicists. It provides the most advanced thinking and the most authoritative resource for a state of the art review of methods of evaluating health care and will be required reading for anyone involved in health services research and management.
`As books go, this is a real heavyweight. It is physically big, with 27 chapters running to over 500 pages. It is expensive, coming in at £69. Yet it is heavyweight in another sense. Some of the chapter authors are heavyweights, leaders, in their fields and this shines through veryc learly in the text.
This book aims to provide readers with an insight into some of the most advanced methods involved in evidence based healthcare. Whey we see the word "advanced" we sometimes worry about things being set out in complex, convoluted, over-your-head, impenetrable, coded and cluttered language. Happily, most of this book is clear, comprehensive and concise. A few of the chapters are more challenging to read but they are certainly worth the extra effort.
The book has six sections covering 27 chapters… Inside each section lies between three-to-five chapters. Each chapter is clearly laid out and referenced.
While it is a methods book, the chapter authors sprinkle a good dose of real examples through the text to reinforce some of their points. This certainly helps to keep the writing fresh and engaging.
The book is essentially derived from a large collection of UK NHS Health Technology Assessment (HTA) reports, which are available free of charge from the HTA program. If you want a lot of material in one cover, and if you want to make real progress in understanding some of the latest developments and thinking in evidence based healthcare, this is the only book to buy' -British Journal of Clinical Governance
'Among the many features of the UK National Health Services Research & Development (NHS R&D) Programme that deserve admiration is its commitment to systematically evaluating which methods to use to obtain the best possible evidence for healthcare decisions. Reviews of a wide range of methodological issues relevant to health technology assessment have been commissioned by the NHS R&D Programme. Andrew Stevens and Ray Fitzpatrick have done an admirable job organising and editing this wealth of information. The Advanced Handbook of Methods in Evidence Based Health Care provides a unique and valuable reference for anyone wanting to make well informed decisions about methods of evaluating healthcare.'
Dr Andy Oxman, Director Health Services Research Unit National
Institute of Public Health Postboks 4404 Torshov 0403 Oslo NORWAY
'This book promises to become a standard work of reference for all those interested in the methods of HTA and their application. Each topic is introduced seductively through successive levels of detail, so that there is material here for a variety of readers having a variety of interests, from those who want merely to capture some of the jargon to those at the leading edge of methodological development. As a would-be multi-disciplinarian, I found enlightenment almost everywhere.'
Professor Tony Culyer, Professor of Economics and Head of the Department of Economics and Related Studies, University of York
'This handbook is an excellent reflection of the growing maturity and methodological sophistication of the field of Health Technology Assessment. The handbook covers a spectrum of issues, from primary evidence (clinical trials) through reviews and meta-analysis, to identifying and filling gaps in the evidence. Up-to-date, clearly written, and well-edited, the handbook is a needed addition to any personal or professional library dealing with Health Technology Assessment.'
Professor David Banta, TNO Prevention and Health, The Netherlands
'It is very heartening to see so much of the methodological work that the HTA programme has commissioned brought together in one volume, a volume that is technical and authoritative but also readable and accessible. As NICE gets into full swing as the key national body with responsibility for promoting clinical excellence and cost-effective care within the NHS, it is particularly timely that these groundbreaking pieces of work should be published. Clearly much remains to be done. Nevertheless, this handbook will set new standards for those undertaking health technology assessments as well as map out the next generation of methodological challenges.'
Dr Ruairidh Milne, Scientific Director, National Co-ordinating Centre for Health Technology Assessment
'Health care research is expanding rapidly, aided by the fruitful interaction of a range of academic disciplines. Since its inception in 1993, the NHS Health Technology Assessment Programme has had two distinctive themes, a multi-disciplinary approach and a strategy to develop the methodological basis for HTA. This timely volume brings together a wide range of work commissioned by the Programme on methodology. Contributions from a diverse group of active health service researchers - statisticians, health economists, clinicians, sociologists and others - give a wide ranging overview of assessment strategies in health care. The scope includes quantitative and qualitative methods, randomised and non-randomised designs and the measurement of costs and benefits in health economic analysis. A number of active themes in statistical analysis, research synthesis and horizon scanning are considered. The volume will be of value to researchers wishing to keep abreast of methodological developments across the wide field of health care. For those who plan, provide or use health services it will provide a unique insight into the development of the knowledge base upon which modern health care rests.'
Professor Kent Woods, Director NHS HTA Programme
'The impact of clinical trials on health policy development is almost as great as the impact on clinical practice. Around the world many agencies are now struggling to make the best use of data from clinical trials, experimental studies and observational studies in order to make the best decisions about what technology to subsidise and at what price. This book covers a very wide field of technical issues regarding the appropriate use of data in health technology assessment. Undoubtedly it will become a major resource for everyone working in this field.'
Professor David Henry, Professor of Clinical Pharmacology, Head of Discipline of Clinical Pharmacology, Faculty of Medicine and Health Sciences, the University of Newcastle, Australia
'This text presents the most advanced knowledge on methodology in health care research, and will form the backbone of many future studies' - Paula Roberts, Nurse Researcher
Table of Contents
Section Title
Page
Action
Price

Prelims (Praise for the Book, About UNDP, About Practical Action Consulting, Contents, Figures, Tables, Acknowledgements, Foreword by Veerle Vandeweerd & Greg Beeton, Summary)

1. Expanding Energy Access in Developing Countries