Subjects (Books)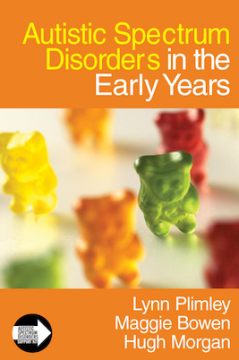 Additional Information
Book Details
ISBN

978-1-84860-477-3


Edition

1

Language

English

Pages

112

Subjects
Abstract
'An extremely helpful, compact guide for anyone working in early years education... provides clear information for all professionals who work with children from birth to five with autistic spectrum disorders... A short, accessible and reader-friendly book that addresses the key issues' - Nursery Education
Looking at the early years of a child's life, this book provides information on the services that are available for those from birth to five years, and addresses issues related to identification, assessment, teaching and learning and family support.
It is illustrated with case studies provided by parents and practitioners.
The following areas are discussed:
o the Code of Practice for SEN & the SEN and Disability Discrimination Act
o identification and assessment
o good practice examples of multi-agency collaboration and provision
o partnership with parents
o social skills and behaviour
o alternative intervention and home-based programmes
o the transition from pre-school to school.
Professionals in Health, Social Services and Education, pre-school playgroups, nursery staff, parents and carers will all find this book useful.
Conference Information
The Good Autism Practice (GAP) conference is based on the successful foundations of the Good Autism Practice (GAP) journal, which provides a platform for acknowledging and sharing good practice in autism.
'An extremely helpful, compact guide for anyone working in early years education... provides clear information for all professionals who work with children from birth to five with autistic spectrum disorders... A short, accessible and reader-friendly book that addresses the key issues' - Nursery Education
Table of Contents
Section Title
Page
Action
Price

Prelims (Contents, Acknowledgements, List of figures, tables and boxes, List of acronyms and abbreviations)

1. Introduction

2. Rights in development: conceptual issues

3. Latin America: the right(s) time and the right(s) place

4. NGOs and rights approaches

5. Implementing rights: participation, empowerment and governance

6. Campaigning for rights: violence against women and women's citizenship

7. Meeting challenges: problems with rights

8. Consequences: organizational implications of the shift to rights

9. Case studies

10. Conclusions

Back Matter (Appendix: NGOs in this book, Endnotes, References, Index)