Subjects (Books)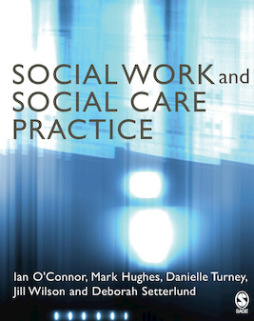 Additional Information
Book Details
ISBN

978-1-84787-738-3


Edition

1

Language

English

Pages

256

Subjects
Abstract
'For many readers, especially trainers and educationalists, the thoroughness of this book is likely to be attractive. The added advantage of O'Connor et al's book is that it covers social work for both adults and children. [This book] is likely to appear on many social work reading lists. [It has] the potential to provide good learning opportunities for post-qualifying as well as pre-qualifying training' - Health and Social Care in the Community
`A useful framework for practice to accompany undergraduate learning, and also the post-qualifying consolidation of social work knowledge, theory, and skills' - Dr Patricia Higham
This lively and engaging textbook is an adaptation of the bestselling introductory social work book available in Australia. This edition has been thoroughly revised to reflect wider changes that have characterized social work training and practice in recent years. It offers the reader an essential grounding in the core knowledge, values and skills needed for successful completion of their degree.
Key features of the book include:
- Comprehensive content - includes discussion of theoretical perspectives, policy; assessment; intervention, the ethics and values framework; and practice-learning.
- A student-friendly approach - includes case-studies, chapter summaries, further reading sections, and discussion questions.
- A multi-professional perspective - recognises the experiences of all those working across the field of social care and incorporates service-user's voices.
- Practice-oriented - offers specific guidance to overcome challenges and provides an effective framework for practice.
This authoritative textbook will be an essential guide to the challenges and concepts underpinning social work practice. It offers a flavour of what social work entails and engages with recent debates about the nature of practice. It will be an invaluable text for social work trainees, and will also be useful reading for post-qualifying students and practitioners.

'For many readers, especially trainers and educationalists, the thoroughness of this book is likely to be attractive. The added advantage of O'Connor et al's book is that it covers social work for both adults and children. [This book] is likely to appear on many social work reading lists. [It has] the potential to provide good learning opportunities for post-qualifying as well as pre-qualifying training' - Health and Social Care in the Community
Table of Contents
Section Title
Page
Action
Price

ACKNOWLEDGEMENTS vi

PREFACE vii

ABBREVIATIONS AND ACRONYMS ix

GLOSSARY X

1 The context of a famine, 1979-84 1

2 History and development to 1984 15

3 The pastoral economy and Turkana institutions 36

4 Gardens and animal draught, 1985 56

5 New locations and evolving management, 1986-7 77

6 The start of self-management, 1987-90 96

7 Conclusion: Dialogue-based development 115

REFERENCES 122