Reference, Information & Interdisciplinary subjects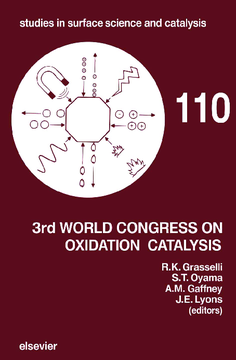 Additional Information
Book Details
ISBN

978-0-08-054471-7


Edition

Language

English

Pages

1247

Subjects
Abstract
The overall theme of the 3rd World Congress is "Atom Efficient Catalytic Oxidations for Global Technologies". This theme was chosen to stimulate the participants to report their findings with an emphasis on conserving valuable material in their catalytic transformations, as well as conserving energy, in an environmentally responsible manner. Progress towards this stated goal is substantial as evidenced by the tremendous response of the community in their participation of quality publications complied in these Proceedings of the Congress.
The subjects presented span a wide range of oxidation reactions and catalysts. These include the currently important area of lower alkane oxidation to the corresponding olefins, unsaturated aldehydes, acids and nitriles.
The four featured lectures and seven plenary lectures constitute the general background and overview of the subject matter at hand. The 104 contributed papers and 13 poster manuscripts, summarized in this compendium, probe new avenues to achieve catalytically efficient oxidation reactions for the future needs of mankind in a global environment.