Subjects (Books)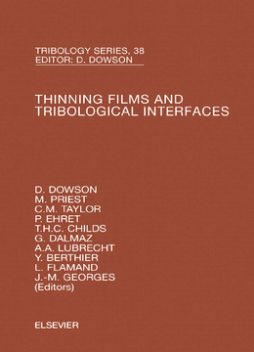 Additional Information
Book Details
ISBN

978-0-08-054297-3


Edition

Language

English

Pages

856

Subjects
Abstract
This collection of fully peer-reviewed papers were presented at the 26th Leeds-Lyon Tribology Symposium which was held in Leeds, UK, 14-17 September, 1999.
The Leeds-Lyon Symposia on Tribology were launched in 1974, and the large number of references to original work published in the Proceedings over many years confirms the quality of the published papers. It also indicates that the volumes have served their purpose and become a recognised feature of the tribological literature.
This year's title is 'Thinning Films and Tribological Interfaces', and the papers cover practical applications of tribological solutions in a wide range of situations.
The evolution of a full peer review process has been evident for a number of years. An important feature of the Leeds-Lyon Symposia is the presentation of current research findings. This remains an essential feature of the meetings, but for the 26th Symposium authors were invited to submit their papers for review a few weeks in advance of the Symposium. This provided an opportunity to discuss recommendations for modifications with the authors.