Subjects (Books)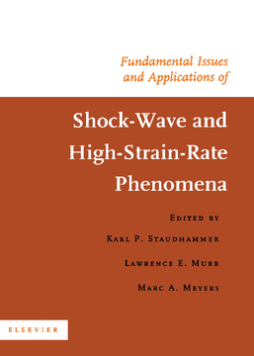 Additional Information
Book Details
ISBN

978-0-08-055077-0


Edition

Language

English

Pages

716

Subjects
Abstract
This book contains the proceedings of EXPLOMET™ 2000, International Conference on Fundamental Issues and Applications of Shock-Wave and High-Strain-Rate Phenomena, held in Albuquerque, New Mexico, 2000; the fifth in the EXPLOMET™ quinquennial series which began in Albuquerque in 1980.
The book is divided into five major sections with a total of 85 chapters. Section I deals with materials issues in shock and high strain rates while Section II covers shock consolidation, reactions, and synthesis. Materials aspects of ballistic and hypervelocity impact are covered in Section III followed by modeling and simulation in Section IV and a range of novel applications of shock and high-strain-rate phenomena in Section V.
Like previous conference volumes published in 1980, 1985, and 1995, the current volume includes contributions from fourteen countries outside the United States. As a consequence, it is hoped that this book will serve as a global summary of current issues involving shock and high-strain-rate phenomena as well as a general reference and teaching componant for specializd curricula dealing with these features in a contemporary way.
Over the past twenty years, the EXPLOMET™ Conferences have created a family of participants who not only converse every five years but who have developed long-standing interactions and professional relationships which continue to stimulate new concepts and applications particularly rooted in basic materials behavior.