Subjects (Books)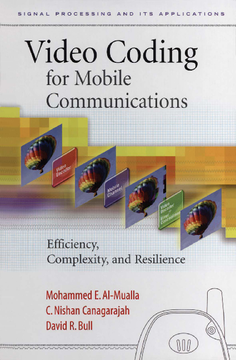 Additional Information
Book Details
ISBN

978-0-08-052054-4


Edition

Language

English

Pages

225

Subjects
Abstract
In order for wireless devices to function, the signals must be coded in standard ways so that the sender and the receiver can communicate. This area of video source coding is one of the key challenges in the worldwide push to deliver full video communications over wireless devices. Video Coding for Mobile Communications reviews current progress in this field and looks at how to solve some of the most important technology issues in the months and years ahead.
The vision of being able to communicate from anywhere, at any time, and with any type of information is on its way to becoming reality. This natural convergence of mobile communications and multimedia is a field that is expected to achieve unprecedented growth and commercial success. Current wireless communication devices support a number of basic multimedia services (voice, messages, basic internet access), but have coding problems that need to be solved before "real-time" mobile video communication can be achieved.
Addresses the emerging field of mobile multimedia communications
"Furthering the vision of being able to communicate to and from anywhere at any time with any type of information, Al-Mualla (Etisalat College of Engineering) and C. Nishan Canagarajah and David R. Bull ( both communications, U. of Bristol) consider how to enable real-time, mobile video communications by raising coding efficiency, reducing computational complexity, and improving error resilience. Their solutions are based on video source coding, and use a motion-based approach to address the problems."
--Book News, Inc.®, Portland, OR