Subjects (Books)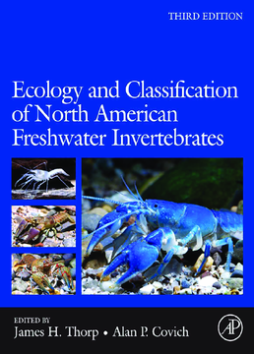 Additional Information
Book Details
ISBN

978-0-08-088981-8


Edition

3

Language

English

Pages

1021

Subjects
Abstract
The Third Edition of Ecology and Classification of North American Freshwater Invertebrates continues the tradition of in-depth coverage of the biology, ecology, phylogeny, and identification of freshwater invertebrates from the USA and Canada. This edition is in color for the first time and includes greatly expanded classification of many phyla.
Contains extensive and detailed classification keys for identification of diverse freshwater invertebrates.
Many drawings and color photographs of freshwater invertebrates.
Single source for a broad coverage of the anatomy, physiology, ecology, and phylogeny of all major groups of invertebrates in inland waters of North America, north of Mexico.
"Thank you for the opportunity to comment on the latest edition of Thorp and Covich. I have admired prior editions of this superb book for its comprehensive coverage of freshwater invertebrates. The current edition improves upon the high standard set by prior editions through the use of color and greater taxonomic specificity. Authored by an outstanding collection of experts, individual chapters provide comprehensive coverage of morphology, physiology and ecology, as well as methods for collecting, rearing and preserving freshwater invertebrates. Together with chapters on ecology and habitats of inland waters, this carefully edited volume provides the central knowledge of freshwater invertebrates that every student and researcher will find invaluable. I highly recommend this superb new edition of Thorp and Covich – it is a must-own volume that every student and researcher of freshwater invertebrates will find invaluable." J. David Allan, Ph.D. Professor and Acting Dean School of Natural Resources and Environment The University of Michigan *** "This 3rd edition contains a wealth of information, which has expanded its utility beyond the earlier editions. Thorp and Covich gathered the recognized experts in North America to compile the full extent of current knowledge on this diverse group of aquatic fauna. The color plates are amazing and add tremendous value to both the learner and learned of the invertebrate biologists." Michael T. Barbour, PhD Director, Center for Ecological Studies Tetra Tech, Owings Mills, Maryland *** "At last, after half a century, this new edition of Thorp and Covich is a worthy successor to Edmondson's (1957) classic second edition of Ward and Whipple's Freshwater Biology. It brings us up to date on the amazing advances in the biology of freshwater invertebrates, the keys are detailed, and the illustrations as beautiful as they are useful." Nelson G. Hairston, Jr. Frank H.T. Rhodes Professor of Environmental Science Department of Ecology and Evolutionary Biology Cornell University *** "The 3rd edition of Thorp and Covich has been extensively revised. The chapters are written by experts who present up-to-date reviews on the structure, function, ecology, and systematics of each invertebrate group. The biggest change from the 2nd edition is an expansion of the taxonomic keys to allow identifying many of the taxa to the species level. References to more-detailed monographs and web sites allow users to quickly gain a fuller perspective on particular groups of interest. The book should continue to be a vital resource for research labs and as a classroom text." John E. Havel, Ph.D. Professor of Biology Missouri State University
"The 3rd edition of Ecology and Classification of North American Freshwater Invertebrates continues the tradition of in-depth coverage of the biology, ecology, phylogeny, and identification of freshwater invertebrates from the USA and Canada. This edition is in color for the first time  and includes greatly expanded classification of many phyla and a downloadable set of references for all chapters."--GrrlScientist's Maniraptora blog on Nature.com
"This third edition ensures that this work will remain the most up-to-date and comprehensive information source on freshwater invertebrate animals in the US and Canada. Numerous color photographs and some diagrams now brighten more than half of the new chapters. Fifty coauthors contributed, a 35 percent increase from the second edition…. Highly recommended."--CHOICE