Medicine & Nursing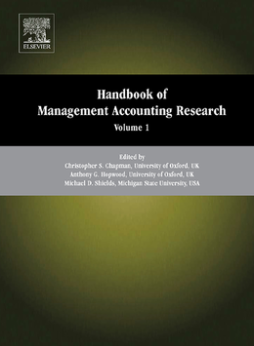 Additional Information
Book Details
ISBN

978-0-08-046887-7


Edition

Language

English

Pages

560

Subjects
Abstract
Volume one of the Handbooks of Management Accounting Research sets the context for both Handbooks, with three chapters outlining the historical development of management accounting as a discipline and as a practice in three broad geographic settings. The bulk of the first volume then draws together a series of contributions that analyse the scholarly literature in terms of distinct intellectual and theoretical social science perspectives. The volume includes a chapter which looks at work informed by psychology as a base discipline. The volume also includes a set of chapters that seek to evaluate and explain issues of research method for the different approaches to research found within management accounting.
Special pricing available if purchased as a set with Volume 2.
Documents the scholarly management accounting literature
Publishing both in print, and online through Science Direct
International in scope
"The Handbooks of Management Accounting Research represent an ambitious and important project to pull together the main streams of modern research in this vitally important area. Anyone who is interested in using management accounting theory to understand or improve practice should study these handbooks carefully."
Professor Roberts Simons, Harvard Business School, USA