Reference, Information & Interdisciplinary subjects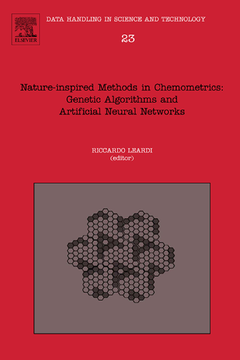 BOOK
Nature-inspired Methods in Chemometrics: Genetic Algorithms and Artificial Neural Networks
(2003)
Additional Information
Book Details
ISBN

978-0-08-052262-3


Edition

Language

English

Pages

402

Subjects
Abstract
In recent years Genetic Algorithms (GA) and Artificial Neural Networks (ANN) have progressively increased in importance amongst the techniques routinely used in chemometrics. This book contains contributions from experts in the field is divided in two sections (GA and ANN). In each part, tutorial chapters are included in which the theoretical bases of each technique are expertly (but simply) described. These are followed by application chapters in which special emphasis will be given to the advantages of the application of GA or ANN to that specific problem, compared to classical techniques, and to the risks connected with its misuse.
This book is of use to all those who are using or are interested in GA and ANN. Beginners can focus their attentions on the tutorials, whilst the most advanced readers will be more interested in looking at the applications of the techniques. It is also suitable as a reference book for students.
Subject matter is steadily increasing in importance
Comparison of Genetic Algorithms (GA) and Artificial Neural Networks (ANN) with the classical techniques
Suitable for both beginners and advanced researchers
"This book serves as a useful reference and twenty-third volume to the
Data Handling in Science and Technology
series."
"Peter De. B. Harrington, Ohio University, Ohio, APPLIED SPECTROSCOPY, Vol. 59, No. 4, 2005
"Overall, the reader is given an excellent introduction to GAs and their use in conjunction with other methods applied to several important problems. The applications chapters provide interesting examples and much information on how to configure GAs and ANNs.
CHEMOMETRICS AND INTELLIGENT LABORATORY SYSTEMS, Vol. 72 (1) 2004
"Each part begins with a chapter that provides an excellent introduction to the technique. For persons who are involved in chemistry modeling, this would be a good book to own."
TECHNOMETRICS, Vol. 47, No. 1, 2005