Medicine & Nursing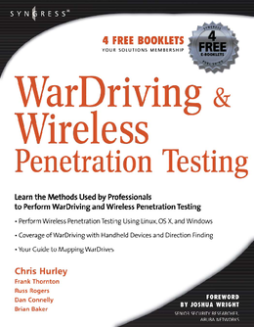 Additional Information
Book Details
ISBN

978-0-08-052077-3


Edition

Language

English

Pages

446

Subjects
Abstract
Wireless networking has become standard in many business and government networks. This book is the first book that focuses on the methods used by professionals to perform WarDriving and wireless pentration testing.
Unlike other wireless networking and security books that have been published in recent years, this book is geared primarily to those individuals that are tasked with performing penetration testing on wireless networks. This book continues in the successful vein of books for penetration testers such as Google Hacking for Penetration Testers and Penetration Tester's Open Source Toolkit. Additionally, the methods discussed will prove invaluable for network administrators tasked with securing wireless networks. By understanding the methods used by penetration testers and attackers in general, these administrators can better define the strategies needed to secure their networks.
* According to a study by the Strategis Group more than one third of the words population will own a wireless device by the end of 2008.
* The authors have performed hundreds of wireless penetration tests, modeling their attack methods after those used by real world attackers.
* Unlike other wireless books, this is geared specifically for those individuals that perform security assessments and penetration tests on wireless networks.