Subjects (Books)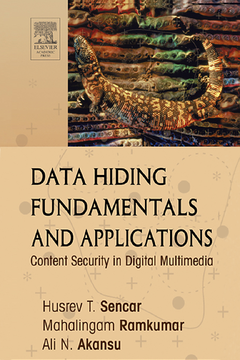 Additional Information
Book Details
ISBN

978-0-08-048866-0


Edition

Language

English

Pages

272

Subjects
Abstract
Multimedia technologies are becoming more sophisticated, enabling the Internet to accommodate a rapidly growing audience with a full range of services and efficient delivery methods. Although the Internet now puts communication, education, commerce and socialization at our finger tips, its rapid growth has raised some weighty security concerns with respect to multimedia content. The owners of this content face enormous challenges in safeguarding their intellectual property, while still exploiting the Internet as an important resource for commerce.
Data Hiding Fundamentals and Applications focuses on the theory and state-of-the-art applications of content security and data hiding in digital multimedia. One of the pillars of content security solutions is the imperceptible insertion of information into multimedia data for security purposes; the idea is that this inserted information will allow detection of unauthorized usage.
Provides a theoretical framework for data hiding, in a signal processing context
Realistic applications in secure, multimedia delivery
Compression robust data hiding
Data hiding for proof of ownership--WATERMARKING
Data hiding algorithms for image and video watermarking
" ... this book is recommended to computer programming professional, technical intelligence personnel, and select students in the hard sciences."
— Dan Bergevin of Catfield International, Security Management
"This is a readable book and of importance to those with a special interest in the growing number of multimediea technologies now being applied to the internet services. Cyberneticians and systemists will find the book of interest and those who are directly involved with these online activities need to read it."
— D.M. Hutton, Kybernetes, Volume 34, Issue 7+8, 2005