Subjects (Books)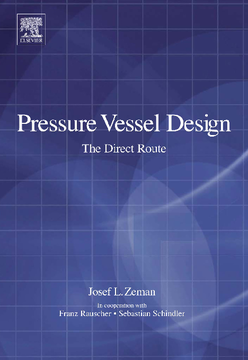 Additional Information
Book Details
ISBN

978-0-08-046189-2


Edition

Language

English

Pages

320

Subjects
Abstract
This book explores a new, economically viable approach to pressure vessel design, included in the (harmonized) standard EN 13445 (for unfired pressure vessels) and based on linear as well as non-linear Finite Element analyses. It is intended as a supporting reference of this standard's route, providing background information on the underlying principles, basic ideas, presuppositions, and new notions. Examples are included to familiarize readers with this approach, to highlight problems and solutions, advantages and disadvantages.
* The only book with background information on the direct route in pressure vessel design.
* Contains many worked examples, supporting figures and tables and a comprehensive glossary of terms.