Subjects (Books)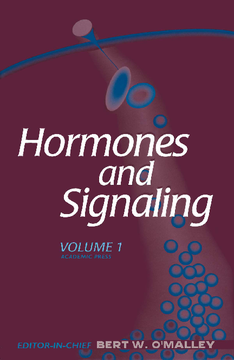 Additional Information
Book Details
ISBN

978-0-08-053414-5


Edition

Language

English

Pages

364

Subjects
Abstract
Hormones and Signaling focuses on the mechanism of gene regulation at the cellular level. It also covers the way hormones act to modulate gene regulation and animal development.
Includes information on:
Nuclear receptors, coactivators, and corepressors
Membrane receptors, kinases, and phosphorylation on cascades
Hormonal regulation of development
Calcium channels and neurotransmitters
Chromatin, transcription factors, and regulation of gene expression
JAK/STAT pathways
Hormone-regulated development and gene "knock-out"
"The editors and contributors are all well-known leaders in their disciplines. I enjoyed reading this book and I am sure that I will use it often as a reference tool. Chapters are generally well-written, interesting, and comprehensive... I look forward to future volumes in the series... I recommend this book as a valuable reference tool for all interested in endocrine signaling pathways." --TRENDS IN ENDOCRINOLOGY AND METABOLISM
"...it fills a particular niche by providing a rapid update on specialized aspects of the challenging field of regulatory biology." --CELL