Medicine & Nursing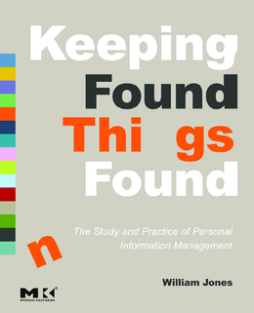 BOOK
Keeping Found Things Found: The Study and Practice of Personal Information Management
(2010)
Additional Information
Book Details
ISBN

978-0-08-055415-0


Edition

Language

English

Pages

448

Subjects
Abstract
Keeping Found Things Found: The Study and Practice of Personal Information Management is the first comprehensive book on new 'favorite child' of R&D at Microsoft and elsewhere, personal information management (PIM). It provides a comprehensive overview of PIM as both a study and a practice of the activities people do, and need to be doing, so that information can work for them in their daily lives.
It explores what good and better PIM looks like, and how to measure improvements. It presents key questions to consider when evaluating any new PIM informational tools or systems.
This book is designed for R&D professionals in HCI, data mining and data management, information retrieval, and related areas, plus developers of tools and software that include PIM solutions.
Focuses exclusively on one of the most interesting and challenging problems in today's world
Explores what good and better PIM looks like, and how to measure improvements
Presents key questions to consider when evaluating any new PIM informational tools or systems
"Keeping Found Things Found is the missing manual for 21st century literacy. We're at the epicenter of a rapidly expanding universe of personal information. Books, music, photos, videos, email, contacts, calendars, wills, bills, records, and receipts: how can we keep our piles and files from spiraling out of control? William Jones has the answer in this important book about finding our memories and organizing our lives. A must- read for designers, developers, librarians, and anyone else who cares about the future of information interaction." -- Peter Morville, Author of, Ambient Findability, and Information Architecture for the World Wide Web
"Today, software can deliver unprecedented support for managing our ever more copious information. This landmark book provides detailed knowledge of behavior and technology that is essential for effective design and use of these productivity tools." -- Jonathan Grudin, Principal Researcher, Microsoft Research
"This is an important book. Its theme is powerful and timely. The treatment combines keen observation, practical insight, and broad vision in way seldom seen." -- Clayton Lewis, Professor of Computer Science, University of Colorado