Subjects (Books)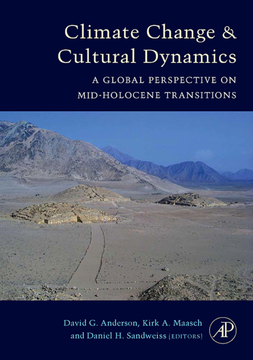 Additional Information
Book Details
ISBN

978-0-08-055455-6


Edition

Language

English

Pages

602

Subjects
Abstract
The Middle Holocene epoch (8,000 to 3,000 years ago) was a time of dramatic changes in the physical world and in human cultures. Across this span, climatic conditions changed rapidly, with cooling in the high to mid-latitudes and drying in the tropics. In many parts of the world, human groups became more complex, with early horticultural systems replaced by intensive agriculture and small-scale societies being replaced by larger, more hierarchial organizations. Climate Change and Cultural Dynamics explores the cause and effect relationship between climatic change and cultural transformations across the mid-Holocene (c. 4000 B.C.).
Explores the role of climatic change on the development of society around the world
Chapters detail diverse geographical regions
Co-written by noted archaeologists and paleoclimatologists for non-specialists
"Climate Change and Cultural Dynamics is an interesting collection of papers dealing with a variety of mid-Holocene environments and communities. The spatial and temporal variablity evident here can serve as a reminder of the perils of over-generalization. The contrast between areas where archaeologists and climatologists have collaborated effectively, and those where further disciplinary integration remains to be accomplished, provides an indication of the value of Quaternarists working together. Certainly, the approach evident in this volume could be profitably adapted for the range of Quaternary studies. With its emphasis on exploration of problems from multiple perspectives and approaches, and its innovative use of interdisciplinary collaboration, Climate Change and Cultural Dynamics is a fitting tribute to Thor Heyerdahl." -- Norm Catto, Department of Geography, Memorial University of Newfoundland, in Quaternary International.