Subjects (Books)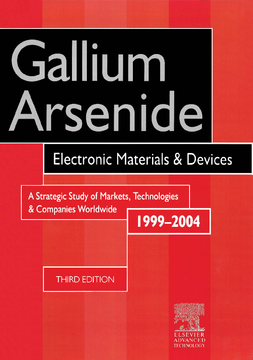 BOOK
Gallium Arsenide, Electronics Materials and Devices. A Strategic Study of Markets, Technologies and Companies Worldwide 1999-2004
(2000)
Additional Information
Book Details
ISBN

978-0-08-053228-8


Edition

3

Language

English

Pages

410

Subjects
Abstract
The third edition of this highly respected market study provides a detailed insight into the global developments of the GaAs industry to 2004, and the implications for both suppliers and users of GaAs technology.
The report has been completely revised and updated with a new chapter added on competitive technologies. The report also supplies market analysis by component type and application sectors.


For a PDF version of the report please call Tina Enright on +44 (0) 1865 843008 for price details.

Table of Contents
Section Title
Page
Action
Price

Front Cover

Cover

Gallium Arsenide Electronic Materials and Devices: A Market and Technology Overview 1999–2004

i

Copyright Page

ii

Contents

iii

List of Tables

ix

List of Figures

xiii

Chapter 1. Introduction

1

1.1 Report Structure

1

1.2 Products

2

1.3 Markets

3

1.4 Regions

3

1.5 Research Background

3

Chapter 2. Executive Summary

5

2.1 Introduction

5

2.2 Materials Properties

7

2.3 The GaAs Marketplace

7

2.4 Market Evaluation and Forecast

8

2.5 The Supplier Situation

9

2.6 Conclusions

15

Chapter 3. Substrate Markets

17

3.1 Introduction

17

3.2 Worldwide Market for SI GaAs Substrates 1999–2004

17

3.3 The SI GaAs Substrate Business

25

3.4 Market Share

34

Chapter 4. Merchant GaAs Epitaxial Wafer Markets

37

4.1 Introduction

37

4.2 Epiwafer Industry Overview

40

4.3 Epiwafer Market Analysis and Forecast

41

4.4 Epiwafer Markets by Epitaxial Growth Technique

46

4.5 Epitaxial Wafer Markets by Substrate Type

49

4.6 Epitaxial Wafer Markets by Geographic Region

50

4.7 Epitaxial Wafer Markets by Application

55

4.8 Epiwafer Pricing Trends

56

4.9 MBE Epiwafer Suppliers

58

4.10 MOVPE Epiwafer Suppliers

59

4.11 Silicon–Germanium Epiwafer Markets

59

Chapter 5. Application Market Overview

63

5.1 Introduction

63

5.2 Worldwide Market for GaAs Devices

63

5.3 The Worldwide GaAs Electronics Business

65

5.4 Merchant vs. Captive Markets for GaAs Devices

72

5.5 Market by Geographical Region

73

5.6 Telecommunications Markets for GaAs Electronic Devices

76

5.7 Wireless Data Communications

103

5.8 Consumer Markets for GaAs Electronic Devices

112

5.9 Computer Markets for GaAs Electronic Devices

116

5.10 Industrial Markets for GaAs Electronic Devices

121

5.11 Military/Aerospace Markets for GaAs Electronic Devices

123

5.12 Automotive Markets for GaAs Electronic Devices

134

5.13 Other Markets for GaAs Electronic Devices

144

Chapter 6. Gallium Arsenide Crystal Growth

147

6.1 Introduction

147

6.2 Crystal Growth

149

6.3 Crystal Growth Technologies

151

6.4 Substrates

157

Chapter 7. Epitaxy and Device Processing of Gallium Arsenide

161

7.1 Epitaxial Growth

161

7.2 MOVPE

163

7.3 Epitaxial Precursor Materials

165

7.4 Commercial MOVPE Reactors

167

7.5 MBE

174

7.6 MBE Growth of Other Semiconductors

180

7.7 UHV-CVD of SiGe

180

7.8 In situ Monitoring

181

7.9 Alternative Fabrication Processes

185

7.10 Ion Implantation

186

7.11 Device Processing

188

Chapter 8. Company Profiles

195

8.1 Agilent Technologies Inc

196

8.2 AIXTRON AG

198

8.3 Alpha Industries Inc

200

8.4 ANADIGICS Inc

203

8.5 Apex Co Ltd

206

8.6 Applied Epi Inc

206

8.7 Atmel Corp

208

8.8 ATRAMET (Atomergic Chemetals Corp)

211

8.9 AWSC (Advanced Wireless Semiconductor Co)

211

8.10 AXT (American Xtal Technology)

212

8.11 Caswell Technology

214

8.12 Celeritek Inc

216

8.13 CMK Ltd

218

8.14 Conexant Systems Inc

218

8.15 Dowa Mining Co Ltd

221

8.16 EMCORE Corp

223

8.17 Endwave Corp

228

8.18 Epichem Ltd

229

8.19 Epitronics Corp

230

8.20 Filtronic Solid State

233

8.21 Freiberger Compound Materials GmbH

235

8.22 Fujitsu Quantum Devices Ltd

236

8.23 Furukawa Electric Ltd

239

8.24 GCS

240

8.25 GIGA A/S

241

8.26 Hexawave Inc

242

8.27 Hitachi Cable Ltd

243

8.28 Hitachi Ltd

245

8.29 Hittite Microwave Corp

247

8.30 Honeywell Technology Center

248

8.31 Infineon Technologies AG

250

8.32 Intelligent Epitaxy Technology

253

8.33 IQE PIc

253

8.34 Japan Energy Corp

256

8.35 Kopin Corp

257

8.36 Litton Airtron

259

8.37 M/A-COM Inc

260

8.38 M/A-COM III–V Materials Group

262

8.39 Matsushita Electronics Corp

263

8.4O MBE Technology Pte Ltd

266

8.41 Micro Wave Sys

267

8.42 MicroWave Technology Inc

267

8.43 Mitsubishi Electric Corp

269

8.44 Motorola Inc

272

8.45 Murata Manufacturing Co Ltd

275

8.46 NEC Corp

277

8.47 Oki Semiconductor

279

8.48 OMMIC

282

8.49 Oxford Instruments Plasma Technology

283

8.50 Picogiga

285

8.51 Procomp Informatics Ltd

286

8.52 Raytheon RF Components

287

8.53 RF Micro Devices Inc (RFMD)

288

8.54 Riber SA

292

8.55 Sanders

294

8.56 Sanyo Electric Co Ltd

295

8.57 Sharp Corp

297

8.58 Showa Denko

299

8.59 SiGe Microsystems Inc

300

8.60 Sony Corp

301

8.61 Stanford Microdevices (SMDI)

303

8.62 Sumitomo Electric Industries Ltd

304

8.63 Surface Technology Systems Ltd

307

8.64 Tegal Corp

308

8.65 Teledyne Electronic Technologies

310

8.66 TLC Precision Wafer Technology

311

8.67 Toshiba Microelectronics Center

312

8.68 Trikon Technologies Inc

314

8.69 TriQuint Semiconductor Inc

317

8.70 TRW Inc

319

8.71 Unaxis

322

8.72 United Monolithic Semiconductors GmbH (UMS)

323

8.73 VG Semicon

325

8.74 Vitesse Semiconductor Corp

326

8.75 Wafer Technology Ltd

331

8.76 Watkins-Johnson Communications Inc

333

8.77 WIN Semiconductors Corp

334

Chapter 9. Directory of Leading Suppliers

335

Chapter 10. Appendices

395

10.1 Acronyms

395

10.2 Mergers and Acquisitions

402

10.3 Agreements

404

10.4 Exchange Rates

410