Subjects (Books)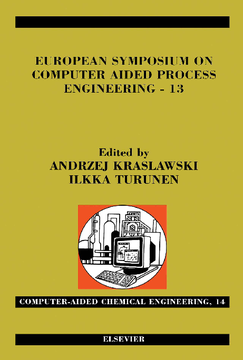 Additional Information
Book Details
ISBN

978-0-08-052944-8


Edition

Language

English

Pages

1174

Subjects
Abstract
This book contains papers presented at the 13th European Symposium on Computer Aided Process Engineering (ESCAPE-13). The ESCAPE symposia bring together scientists, students and engineers from academia and industry, who are active in the research and application of Computer Aided Process Engineering.
The objective of ESCAPE-13 is to promote CAPE applications into new businesses and technologies by highlighting the use of computers and information technology tools in five specific areas: process design; process control and dynamics; modeling, simulation and optimization; applications in pulp and paper industry; and applications in biotechnology.
Includes 190 papers selected from 391 submitted abstracts.
All papers have been reviewed by 33 members of the international scientific community.