Subjects (Books)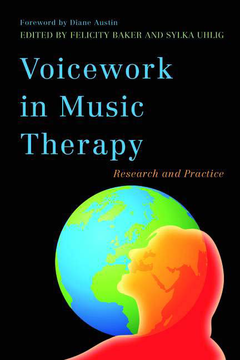 Additional Information
Book Details
ISBN

978-0-85700-480-2


Edition

Language

English

Pages

368

Subjects
Abstract
The voice is a powerful instrument in music therapy practice and this anthology of voicework techniques explores everything the practitioner and researcher needs to know in order to bring about successful vocal interventions across a broad range of client groups.
Compiling a wealth of international evidence-based practice, this book offers detailed descriptions of clinical methods that are grounded in research. Chapters are grouped into structured and unstructured approaches for use with clients of all ages. Clinical populations covered include neonates, children with autism or developmental disability, individuals with neurological damage including stroke, Parkinson's disease patients, traumatic brain injury, and spinal injury, people with mental illness, medical conditions such as asthma and pain, oncology and palliative care, aged care and dementia.
This book will be an invaluable resource for any music therapy student, practitioner or researcher looking to explore the use of voicework in music therapy.
Baker and Uhlig's new book gives many salient examples of innovative vocal techniques and methods that can be used with different populations. This much needed and timely new book will add to the literature base of vocal music therapy as well as making a valuable contribution to our field by documenting vocal methods for future generations of music therapists.
From the foreword by Diane Austin, author of The Theory and Practice of Vocal Psychotherapy, Executive Director of The Music Psychotherapy Center and associate professor of Music Therapy at New York University, USA
This much needed new book giving many salient examples of innovative vocal techniques and methods... As a singing teacher member of VCN I have been fascinated and moved by all that I have read within.
Voice Care Network UK
This book will undoubtedly enrich the field considerably.
British Journal of Music Therapy
a comprehensive, detailed, and much-needed compilation of current voicework techniques in the field of music therapy... In addition, many chapters include beautifully described, client-centered case examples... The intention of rediscovery is sensitively described, and Oddy fills the chapter with musical notation of songs and chants as well as helpful ways to adapt the research into a clinical context... highly educative... Satomi Kondo (Chapter 13) beautifully describes her psychotherapeutic work with a woman with Parkinson's disease. Kondo brings a psychodynamic and humanistic perspective by reminding us that "music therapy is not only about solving problems"... For any music therapist who appreciates the use of the voice, and for any music therapist who is looking to expand their practice to include voicework, this comprehensive book is extremely valuable. The greatest quality of the book is its breadth. It covers a wide variety of vocal interventions and populations and provides helpful, technical advice for practitioners. It is a highly
significant and useful contribution to the field of music therapy, and reminds all clinicians about the innate power of the human voice.
Approaches: Music Therapy & Special Music Education
...this juggling of research practice and clinical, hands-on practice makes the book not just accessible for other arts therapist, but it also inspires and encourages to explore our own voices as a way to the soul.
Dramatherapy