Subjects (Books)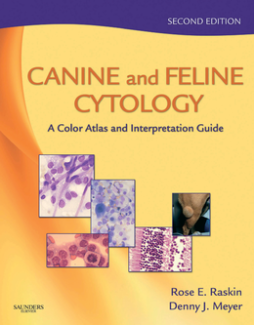 Additional Information
Book Details
ISBN

978-1-4377-0196-8


Edition

2

Language

English

Pages

472

Subjects
Abstract
Master the art and science of specimen collection, preparation, and evaluation with Canine & Feline Cytology: A Color Atlas and Interpretation Guide, Second Edition. This easy-to-use guide covers all body systems and fluids including a special chapter on acquisition and management of cytology specimens. Hundreds of vivid color images of normal tissue alongside abnormal tissue images – plus concise summaries of individual lesions and guidelines for interpretation - will enhance your ability to confidently face any diagnostic challenge.
A greatly expanded image collection, with more than 1,200 vivid, full-color photomicrographic illustrations depicting multiple variations of normal and abnormal tissue for fast and accurate diagnosis
Clear, concise descriptions of tissue sampling techniques, slide preparation and examination guidelines
Helpful hints for avoiding technical pitfalls and improving diagnostic quality of specimens
Includes all body systems and fluids as well as pathological changes associated with infectious agents
Histologic and histopathologic correlates provided in all organ system chapters.
User-friendly format and logical organization facilitates readability and learning.
Expert contributors represent the most respected leaders in the field.
NEW! Chapter on Fecal Cytology
Highlighted boxes featuring Key Points provide helpful tips for best conceptual understanding and diagnostic effectiveness
Photomicrographs now include more comparative histology
Discussions of broader uses of stains and immunocytochemistry for differential cytologic characterization
Expanded chapter on Advanced Diagnostic Techniques includes more methodology and application of current tools, representing advances in both aspiration and exfoliative cytology.