Subjects (Books)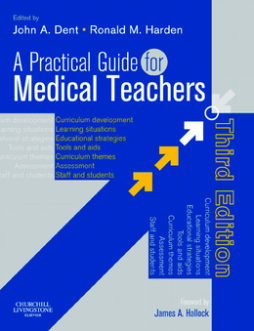 Additional Information
Book Details
ISBN

978-0-7020-4880-7


Edition

3

Language

English

Pages

452

Subjects
Abstract
This Third Edition of the highly-praised Practical Guide for Medical Teachers continues to provide a bridge between theoretical aspects of medical education and the practical delivery of enthusiastic teaching. As in its previous editions it will act as an invaluable aid to clinicians as well as other healthcare teachers in their understanding of contemporary educational principles, providing practical help in the delivery of the variety of teaching situations which characterise present day curricula. Key concepts and tips are presented in a digestible form and in a way which indicates both their immediate relevance and practical implications.
The textbook covers a topical subject in a concise format
A highly practical text including useful "Tips" throughout
Highly referenced with questions to interest the reader and back-up advice given
Contributed by an international team of authors, including many of the leading names in medical educational development worldwide.
A new text design, continuing to use an attractive two colour presentation throughout.
New chapters on clinical learning in the early years; the early years of postgraduate training; preparation for general practice and the educational environment.
Other new chapters discuss learning in rural and remote locations; learning with simulated patients; the role of mentoring; giving feedback; and the new concept of mobile learning (M-learning).
A final new chapter on professionalism
Up to fifteen new contributors from a wide range of countries and health professions thus providing an international perspective and presenting a multi-professional approach to all topics of interest to medical teachers.