Subjects (Books)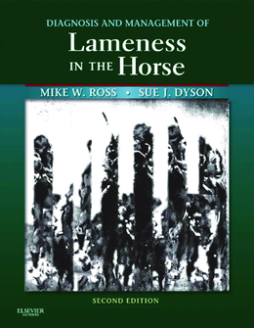 Additional Information
Book Details
ISBN

978-1-4377-1176-9


Edition

2

Language

English

Pages

1424

Subjects
Abstract
Covering many different diagnostic tools, this essential resource explores both traditional treatments and alternative therapies for conditions that can cause gait abnormalities in horses. Broader in scope than any other book of its kind, this edition describes equine sporting activities and specific lameness conditions in major sport horse types, and includes up-to-date information on all imaging modalities.
This title includes additional digital media when purchased in print format. For this digital book edition, media content may not be included.
Cutting-edge information on diagnostic application for computed tomography and magnetic resonance imaging includes the most comprehensive section available on MRI in the live horse.
Coverage of traditional treatment modalities also includes many aspects of alternative therapy, with a practical and realistic perspective on prognosis.
An examination of the various types of horses used in sports describes the lameness conditions to which each horse type is particularly prone, as well as differences in prognosis.
Guidelines on how to proceed when a diagnosis cannot easily be reached help you manage conditions when faced with the limitations of current diagnostic capabilities.
Clinical examination and diagnostic analgesia are given a special emphasis.
Practical, hands-on information covers a wide range of horse types from around the world.
A global perspective is provided by a team of international authors, editors, and contributors.
A full-color insert shows thermography images.
Updated chapters include the most current information on topics such as MRI, foot pain, stem cell therapy, and shock wave treatment.
Two new chapters include The Biomechanics of the Equine Limb and its Effect on Lameness and Clinical Use of Stem Cells, Marrow Components, and Other Growth Factors. The chapter on the hock has been expanded substantially, and the section on lameness associated with the foot has been completely rewritten to include state-of-the-art information based on what has been learned from MRI. Many new figures appear throughout the book.
Table of Contents
Section Title
Page
Action
Price

Front cover

cover

Diagnosis and Management of Lameness in the Horse

i

Copyright page

iv

Contributors

v

Foreword

xi

Second Foreword

xiii

Preface

xv

Preface—Companion Web Site www.rossanddyson.com

xv

Table of Contents of Companion Website

xvi

Acknowledgments

xvii

Table of Contents

xix

I Diagnosis of Lameness

1

1 The Lameness Examination

1

Chapter\t1 Lameness Examination:

1

Chapter\t2 Lameness in Horses:

3

Definition

3

Localization of Pain

3

Baseline and Induced Lameness

3

Coexistent Lameness

3

Lameness Distribution

4

Hindlimb Lameness

5

Relationship of Lameness and Conformation

6

Poor Performance

6

Gait Deficits not Caused by Lameness

7

Unexplained Lameness

7

Components of the Lameness Examination and Lameness Strategy

7

Lameness Examination

7

Lameness Etiquette

7

Prognosis Assessment

7

Chapter\t3 Anamnesis (History)

8

Clinical History: Basic Information

9

Signalment

9

Age

9

Sex

11

Breed and Use

11

Current Lameness

11

Determination of the Problem

11

History of Trauma

11

Duration

12

Worsening of Condition

12

Warming into Lameness

12

Recent Management Changes

12

Shoeing

12

Training or Performance Intensity

13

Surface

13

Diet and Health

13

Housing

13

Current Medication Changes and Response

13

Past Lameness History

14

Further Information

15

Chapter\t4 Conformation and Lameness

15

Relevance of Evaluation of Conformation

15

Hereditary Aspects of Conformation

15

Objective Evaluation of Conformation: Is It Possible?

16

Evaluation of Conformation

18

Balance

18

Lengths, Angles, and Heights

20

Limbs

21

Forelimb Conformation

21

Front Perspective

21

Lateral Perspective

25

Hindlimb Conformation

28

Lateral Perspective

28

Rear Perspective

30

Conformation of the Digit

31

Chapter\t5 Observation:

32

Forelimb Symmetry

32

Muscle Atrophy

32

Swelling

33

Angular Deformity

33

Foot Size

33

Fetlock Height

34

Scapular Height

34

Hindlimb Symmetry

35

Muscle Atrophy

35

Swelling

36

Bony Asymmetry

37

Tubera Coxae

37

Tubera Sacrale

37

Midline-to-Lateral Pelvic Width

37

Swelling over the Greater Trochanter

38

Crepitus

38

Calcaneus

38

Fetlock Height

39

Posture

39

Forelimb Posture

39

Pointing

39

Treading

39

Buckling Forward at the Knee

39

Dropped Elbow

39

Severe Lameness of the Shoulder Region

40

Neck Pain

40

Hindlimb Posture

41

Resting a Hindlimb

41

Abnormal Tail Position

41

External Rotation of the Hindlimb

41

Hindlimb Varus Posture

41

Treading

41

Camped Under

41

Soft Tissue Injuries Altering Hindlimb Posture

41

Peripheral Nerve Deficits (see Chapter 11)

42

Other Unusual Leg Positions

42

Stance in Horses with Pelvic Fractures and Conditions Affecting the Coxofemoral Region

42

Chapter\t6 Palpation

43

The Art of Palpation

44

Palpation of the Forelimb

44

Foot

44

Hoof Tester Examination

46

Wedge Test and Other Forms of Static Manipulation

47

Pastern

48

Fetlock

48

Metacarpal Region

50

Carpus

51

Antebrachium (Forearm)

52

Elbow

52

Brachium (Arm) and Shoulder

53

Palpation of the Cervical and Thoracolumbar Spine

53

Cervical Spine (Neck)

53

Thoracolumbar Spine (Back)

54

Palpation of the Lateral and Ventral Thorax and Abdomen

54

Palpation of the External Genitalia

54

Palpation of the Pelvis

54

Palpation of the Pelvis per Rectum

55

Palpation of the Hindlimb

56

Thigh

56

Stifle

56

Crus

57

Tarsus

58

The Churchill Hock Test

60

Saphenous Filling Time

61

Metatarsal Region

61

Metatarsophalangeal Joint

61

Pastern

62

Foot

63

The Role of Physical Examination in the Lameness Examination

63

Chapter\t7 Movement

64

Gait

64

The Lameness Examination: Which Gait Is Best?

65

Comparing Lameness Seen at the Walk and Trot

65

Relevance of Lameness at a Trot in Hand

65

Horse Temperament and Lameness Examination

65

Leading the Horse during Lameness Examination

66

Surface Characteristics and Lameness Examination

66

Determination, Grading, and Characterization of Lameness

66

Compensatory Lameness

66

Supporting, Swinging, and Mixed Lameness

67

Determining the Location of Lameness

69

Recognition of Forelimb Lameness

69

Recognition of Hindlimb Lameness

70

Hindlimb Lameness Confused with Forelimb Lameness

70

Bilaterally Symmetrical Forelimb or Hindlimb Lameness

71

The Lameness Score: Quantification of Lameness Severity

71

Lameness Detection

72

Fetlock Drop

72

Use of Sound

72

Drifting

73

Evaluation of Limb Flight

73

Cranial and Caudal Phases of the Stride

73

Abnormalities of Limb Flight

74

Front Foot Interference

74

Front Foot Hitting the Contralateral Forelimb

74

Interference within the Same Limb

74

Front Foot Hitting the Ipsilateral Hindlimb

74

Front Foot Hitting the Contralateral (the Diagonal) Hindlimb

75

Hind Foot Interference

75

Forelimb: Common Abnormalities of Limb Flight

75

Winging In and Winging Out

75

Lateral Placement of the Foot during Advancement (Abduction)

75

Plaiting

75

Limb Flight in Horses with Shoulder Region Lameness

75

Hindlimb: Common Abnormalities of Limb Flight

75

Stabbing or "Stabby" Hindlimb Gait

75

Abduction of the Hindlimbs during Advancement

76

Plaiting

76

Mechanical Lameness of the Hindlimb and Limb Flight

76

Stringhalt

76

Fibrotic Myopathy

76

Upward Fixation of the Patella

76

Shivers

76

Other Hindlimb Gait Deficits

76

Evaluation of Foot Placement

77

Additional Movement During Lameness Examination

77

Hard and Soft Surfaces

77

Circling

77

Forelimb

78

Lameness Worsened with Limb on the Inside of the Circle

78

Lameness Worsened with Limb on the Outside of the Circle

78

Lameness Improved When Circling

78

Hindlimb Lameness and Circling

78

Observation during Riding

79

Observation of Inclines

79

Evaluation of Lameness with a Treadmill or Gait Analysis

79

Chapter\t8 Manipulation

80

Induced and Baseline Lameness

80

Flexion Tests

80

Order, Duration, Force, and Venue during Flexion Tests

81

Causes of Pain during Flexion and Positive Flexion Test Results

81

Positive Responses to Flexion

81

Forelimb Flexion Tests

82

Lower Limb Flexion Test

82

Fetlock Flexion Test

82

Flexion of Interphalangeal Joints

83

Carpal Flexion Test

83

Upper Limb Manipulation

83

Hindlimb Flexion Tests

84

Lower Limb Flexion Test

84

Fetlock Flexion and Interphalangeal Joint Tests

84

Upper Limb Flexion Test

84

Hindlimb Flexion Test

85

"Hock" Extension Test

85

"Stifle Flexion" Test

86

Direct or Local Palpation Followed by Movement

86

Digital Compression of a Painful Area

86

Axial Skeleton

86

Induced Lameness after Hoof Tester Examination

86

The Wedge Test

87

Varus or Valgus Stress Tests

87

Flexion Tests and Diagnostic Analgesia

87

Chapter\t9 Applied Anatomy of the Musculoskeletal System

88

The Language of Anatomy

92

Forces

92

Specialized Structures

92

Synovial Structures

92

Intercalated Bones

93

Fibrocartilaginous Structures

93

Interarticular Fibrocartilage

93

Connecting Fibrocartilage

94

Circumferential Fibrocartilage

94

Stratiform Fibrocartilage

94

Passive Stay Apparatus

94

Distal Limb

94

Forelimb

94

Hindlimb

94

Three-Dimensional Anatomy

95

Chapter\t10 Diagnostic Analgesia

100

Local Anesthetics: Pharmacology and Tissue Interactions

100

Strategy, Methodology, and Other Considerations

101

Lameness Is Worse after Diagnostic Analgesia

105

Perception of Diagnostic Analgesia by Laypersons

106

Role of Chemical Restraint

106

Horse Preparation

106

Injection Techniques

107

Perineural Analgesia in the Forelimb

108

Palmar Digital Analgesia

108

Midpastern Ring Block

108

Abaxial Sesamoid Block

110

Low Palmar Analgesia

111

High Palmar Block

112

Lateral Palmar Block

114

Median, Ulnar, and Medial Cutaneous Antebrachial Blocks

114

Intraarticular Analgesia in the Forelimb

116

Distal Interphalangeal Joint

116

Proximal Interphalangeal Joint

117

Metacarpophalangeal Joint

118

Carpal Joints

120

Cubital (Elbow) Joint

121

Scapulohumeral (Shoulder) Joint

121

Analgesia of Forelimb Bursae and Tendon Sheaths

122

Podotrochlear (Navicular) Bursa

122

Digital Flexor Tendon Sheath

124

Carpal Sheath

124

Olecranon Bursa

124

Bicipital Bursa

124

Perineural Analgesia in the Hindlimb

124

Plantar Digital Analgesia

125

Dorsal Ring Block of the Pastern

125

Basisesamoid and Abaxial Sesamoid Blocks

125

Low Plantar Block

125

High Plantar Nerve Block

125

Fibular (Peroneal) and Tibial Nerve Blocks

127

Intraarticular Analgesia in the Hindlimb

128

Tarsus

128

Tarsometatarsal Joint

128

Centrodistal Joint

129

Tarsocrural Joint

129

Stifle Joint

130

Coxofemoral (Hip) Joint

131

Analgesia of Hindlimb Bursae and Tendon Sheaths

133

Cunean Bursa

133

Tarsal Sheath

133

Calcaneal Bursa

133

Trochanteric Bursa

133

Local Infiltration in the Forelimb and Hindlimb

133

Splints

134

Suspensory Ligament Origin

134

Curb

134

Dorsal Spinous Process Impingement

134

Orthopedic Implants

135

Chapter\t11 Neurological Examination and Neurological Conditions Causing Gait Deficits

135

Diagnosis

135

Clinical Examination

135

Hematology and Serology

136

Cerebrospinal Fluid Aspiration and Analysis

137

Radiography

139

Electromyography and Nerve Conduction Studies

140

Nuclear Scintigraphy

140

Ultrasonography

141

Virus Isolation

141

Immunohistochemistry and Polymerase Chain Reaction Testing

141

Specific Diseases and Syndromes

141

Equine Protozoal Myelitis (EPM)

141

Cervical Spinal Cord Compression

142

Equine Degenerative Myeloencephalopathy and Neuroaxonal Dystrophy

143

Equine Lower Motor Neuron Disease

143

Equine Herpesvirus 1 Infection

143

Miscellaneous Diseases of the Spinal Cord

144

Peripheral Nerve Injuries

144

Chapter\t12 Unexplained Lameness

145

False-Negative Responses to Diagnostic Analgesia

145

Failure to Perform the Appropriate Nerve Blocks

147

Blocking the Wrong Limb

147

Sources of Pain That Cannot Be Desensitized by Nerve Blocks

147

Pain Associated with a Neuroma

148

Potentially Confusing Responses to Local Analgesic Techniques

148

False Positive Results of Intrasynovial Analgesia

149

Multiple Sources of Pain in a Limb and More than One Lame Limb

149

Very-Low-Grade Lameness

149

Improvement of Lameness in Some Situations, but Unrelieved Lameness under All Situations: Which Is the Baseline Lameness?

149

Challenges to Lameness Diagnosis

149

Very Intermittent or Sporadic Lameness

149

Lameness That Varies within and between Examinations

151

The Dangerous Horse and Nerve Blocks

152

Negative Responses

152

Negative Response to All Nerve Blocks: Where Next?

152

Negative Responses to Nerve Blocks, No Clinical Clues, and Negative Scintigraphic Findings

152

Neck Lesions and Forelimb Lameness

152

Referred Pain

152

Previously Unrecognized Causes of Lameness Proximal to the Carpus And Tarsus

152

Misinterpreted Imaging Findings that Result in Misdiagnosis

152

Odd Lameness Apparent Only During Riding

155

Identifiable Lesions: Which Contribute to the Current Lameness?

155

Other Causes of Lameness

155

Lacerations and Occult Spiral Fractures

155

Rib Lesions

155

Sternal Injury

155

Fracture of the Summits of the Dorsal Spinous Processes in the Withers Region

155

Temporomandibular Joint Pain

155

Neurological Problems and Lameness or Stiffness

156

Lyme Disease

156

Immune-Mediated Polysynovitis

156

Tack-Induced Pain

156

Rider-Induced Problems

157

Physical Limitations of the Horse, Temperament, and Confidence

157

Reproductive Problems*

157

Other Medical Problems

157

Atypical Equine Rhabdomyolysis

157

Vascular Lesions

158

Bone Fragility Disorder

158

Panosteitis-like Lesions

158

Chapter\t13 Assessment of Acute-Onset, Severe Lameness

159

Field Diagnosis of the Injured Horse

159

Assessment

159

Medical History

159

Limb Examination

160

Shoulder and Chest

160

Elbow and Carpus

161

Forelimb Soft Tissue Injuries

161

Fractures of the Distal Aspect of the Limbs

162

Feet

162

Hindlimb Injuries

162

Stress Fractures

163

Hemarthrosis

163

Transportation

163

Guidelines for Humane Destruction of an Injured Horse

164

Chapter\t14 The Swollen Limb

164

Diagnosis

164

History

165

Clinical Examination

165

Management

166

Mud Fever

166

Scabs on the Palmar Aspect of the Fetlock

166

Cellulitis Caused by Trauma

166

Cellulitis Caused by Infection

166

Lymphangitis

167

Purpura Hemorrhagica

167

2 Diagnostic Imaging

168

Chapter\t15 Radiography and Radiology

168

Radiographic Detail

168

Image Resolution

168

Image Contrast

168

Exposure Factors

168

Exposure Latitude

168

Image Sharpness and Resolution

168

Film and Screen Factors

169

Radiation Safety

169

Response of Bone to Stimuli: Wolff's Law

169

Periosteal New Bone

170

Endosteal New Bone

171

Sclerosis

171

Osteophyte Formation

171

Enthesophyte Formation

172

Spondylosis

173

New Bone of Unknown Origin

173

Hypertrophic Osteopathy

173

Osteitis

173

Infectious Osteitis and Osteomyelitis

173

Osseous Cystlike Lesions and Subchondral Bone Cysts

173

Osteochondrosis

174

Fracture

174

Degenerative Joint Disease: Osteoarthrosis or Osteoarthritis

177

Luxation and Subluxation

177

Dystrophic and Metastatic Mineralization

177

Radiographic Examination

177

Interpreting Radiographs

178

Determining the Age of a Lesion

178

Radiographic Technique

178

Chapter\t16 Ultrasonographic Evaluation of the Equine Limb:

182

Equipment

182

Horse Preparation

183

Medical Records

183

Thermal Print Storage Envelope

183

Image Labeling

184

Exercise Levels

184

Scanning Technique

184

Artifacts

185

Operator Errors

185

Inadequate Skin Preparation

185

Ultrasound Beam Angle

185

Improper Gain Settings

186

Improper Focal Zone Use

186

Incorrect Frequency Transducer

187

Recording Images

187

Standoff Pads

188

Ultrasound Tissue Interaction Artifacts (Horse-Produced Artifacts)

188

Skin Surface Contact

188

Acoustic Enhancement

188

Refractive Scattering

188

Acoustic Shadowing

188

Reverberation

189

Mirror Image Artifacts

189

Future Technology

189

Terminology and Quantitative Measurements

189

Echogenicity

189

Fiber Alignment Pattern Assessment

190

Cross-Sectional Area

190

Zone Designations

191

Distal Aspect of Forelimbs

191

Zone Definitions

192

Zone 0

192

Zone 1A

192

Zone 1B

194

Zone 2A

194

Zone 2B

194

Zone 3A

194

Zone 3B

194

Zone 3C

195

Distal Aspect of Hindlimbs

195

Hindlimb Zones

195

Zone 1A

195

Zone 1B

196

Zone 2A

196

Zone 2B

197

Zone 3A

197

Zone 3B

197

Zone 4A

197

Zone 4B

198

Zone 4C

198

Palmar and Plantar Pastern Zones and Descriptions

198

Pastern Zone Designations and Descriptions

198

Zone P1A

198

Zone P1B

198

Zone P1C

199

Zone P2A

199

Ultrasonography of Proximal Parts of the Limbs

199

Clinical Ultrasonography

199

Quantitative Analysis

199

Quantitative Terms

200

Lesion Categories

200

Category I

200

Category II

200

Category III

201

Category IV

201

Category V

202

Category VI

203

Summary

203

Exceptions

204

Clinical Applications

204

Timing of Ultrasonographic Examinations: When to Scan

204

Serial Ultrasonographic Examinations as Part of Case Management

205

Chapter\t17 Ultrasonographic Examination of Joints

206

Fetlock

206

Dorsal Aspect

206

Dorsomedial and Dorsolateral Aspects

207

Medial and Lateral Aspects

207

Palmar Aspect

207

Stifle

208

Femoropatellar Joint

208

Medial and Lateral Femorotibial Joints

208

Collateral Ligaments of the Hock

211

Chapter\t18 Ultrasonography and Orthopedic (Nonarticular) Disease

212

Skeletal Muscle

212

Nerve

213

Penetrating Injuries

213

Draining Tracts

213

Foreign Bodies

213

Bone

213

Fractures

213

Osteitis and Osteomyelitis

214

Bone Abscess

214

Implants

215

Chapter\t19 Nuclear Medicine

215

General Considerations

215

Scintigraphy and Other Imaging Modalities: Where do They Fit?

216

Radioisotopes and Radiopharmaceuticals

216

Imaging Equipment

217

Image Acquisition

218

Image Quality

220

Number of Counts

220

Distance

221

Shielding

221

Motion

222

Background Radiation

222

Poor-Quality Bone Uptake

222

Radiation Safety

223

Bone Scan Phases

223

Scan Interpretation

224

Location of Increased Radiopharmaceutical Uptake

224

Intensity of Increased Radiopharmaceutical Uptake

224

Character of Increased Radiopharmaceutical Uptake

225

False-Positive Findings

227

False-Negative Findings

228

Negative Bone Scan Results

228

Osteochondrosis in Delayed Images

228

Artifacts

229

Nerve Blocks

229

Indications and Case Selection

229

Knowledge Gained from Scintigraphic Examination of the Lame Horse

230

Stress-Related Bone Injury in Cortical and Subchondral Bone

230

Confusing or Equivocal Radiological Changes

231

Confusing Clinical Signs and Unexplained Lameness

232

Lameness Related to the Pelvis

233

Damaged Skeletal Muscle

233

Chapter\t20 Computed Tomography

234

Physics

234

Equipment

234

Image Display and Processing

235

Image Display

235

Image Processing

235

Image Reconstruction

235

Contrast Media

235

Clinical Applications

236

Fracture Assessment

236

Lameness Diagnosis

236

Laminitis Evaluation

238

Interventional Computed Tomography

238

Advantages and Disadvantages

239

Advantages

239

Disadvantages

239

21 Magnetic Resonance Imaging

239

Production of Magnetic Resonance Images

240

Equipment for MRI in Horses

241

Advantages and Disadvantages Compared with other Imaging Techniques

241

Advantages

241

Disadvantages

241

Interpretation of Magnetic Resonance Images

241

Bone

243

Tendon

243

Ligament

244

Articular Cartilage

244

Synovial Fluid, Synovium, and Joint Capsule

244

Muscles

244

Artifacts

244

Indications for MRI in Equine Lameness

245

Chapter\t22 Gait Analysis for the Quantification of Lameness

245

Kinetics

246

Kinematics

247

Chapter\t23 Arthroscopic Examination

251

Advantages and Disadvantages of Arthroscopic Surgery Compared with Arthrotomy

251

Advantages

251

Improved Visibility

251

Reduced Trauma and Morbidity

252

Better Cosmetic Results

252

Earlier Functional Capability

252

More Versatility

252

Fewer Complications

252

Disadvantages

252

Expensive Instrumentation

252

Lack of Surgical Experience

252

Equipment Problems

252

Improper Case Selection

252

Principles, Instrumentation, and Technique

253

Surgical Procedures

258

Cartilage Resurfacing

259

Postoperative Care

259

Complications

259

Chapter\t24 Tenoscopy and Bursoscopy

260

General Principles of Tenoscopy and Bursoscopy

260

Equipment

260

Surgical Principles and Techniques

260

Tenoscopy

260

Tenoscopy of the Digital Flexor Tendon Sheath

260

Anatomy

260

Surgical Technique

261

Postoperative Care

262

Tarsal Sheath

262

Anatomy

262

Surgical Technique

262

Carpal Sheath

263

Anatomy

263

Surgical Technique

264

Other Tendon Sheaths

265

Bursoscopy

265

Bursoscopy of the Intertubercular Bursa

265

Bursoscopy of the Navicular Bursa

265

Surgical Technique

265

Postoperative Management and Results

265

Chapter\t25 Thermography:

266

Image Acquisition

266

Clinical Imaging

267

Conclusion

269

II The Foot

270

Chapter\t26 The Biomechanics of the Equine Limb and Its Effect on Lameness

270

When Do Musculoskeletal Structures Fail?

270

Functional Anatomy of the Horse Limb

270

Horse Limbs Function Like Pogo Sticks

271

Bones

271

Synovial Joints

271

The Foot as Interface to the Ground

272

Ability of Structures to Cope with Mechanical Demands

273

Structural and Material Properties

273

Changes in Structural Properties

274

Locomotion and Its Effect on Musculoskeletal Tissues

274

Impact

275

Peak Force

276

Number of Loading Cycles

276

What Happens to the Individual Musculoskeletal Element during Locomotion?

277

Foot

277

Tendons

278

Bones

278

Joints

278

The Effects of Conformation on Equine Distal Limb Mechanics

278

Effect of Toe Length and Angle

278

Effect of Mediolateral Imbalance

279

Effect of Heel Height

279

Joint Angles, Tendon Strain, and Navicular Force

279

Joint Pressure and Articular Contact

279

Hoof Capsule

280

Effect of Shoeing

280

Application of a Shoe

280

The Influence of Shoe Material

280

The Influence of Shoe Type

280

Alterations in Mechanics with Specific Orthopedic Disorders

280

Mechanics of Palmar Foot Pain and Navicular Syndrome

280

Changes in Mechanics in Horses with Laminitis

281

Changes in Mechanics in Horses with Osteoarthritis of the Distal Hock Joints

281

Changes in Mechanics in Horses with Superficial Digital Flexor Tendonitis

281

Conclusion

281

Chapter\t27 The Foot and Shoeing

282

Foot Balance, Conformation, and Lameness

282

Foot Function

282

At Rest

282

At Exercise

283

Stride Phases

283

Initial Contact

283

Impact Phase

283

Support Phase

283

Breakover Phase

284

Flight Phase

284

Stride Characteristics

284

Optimum Balance and Conformation

284

Static Balance and Conformation

284

Dynamic Balance

285

Imbalance and Poor Conformation

285

Mediolateral Imbalance

286

Dorsopalmar Imbalance

287

Other Forms of Imbalance

288

Imbalance and Poor Conformation as a Cause of Lameness

288

Clinical Identification of Hoof Imbalance

288

Mediolateral Imbalance

288

Dorsopalmar Imbalance

290

Treatment of Imbalance and Poor Conformation

291

Mediolateral Imbalance

292

Dorsopalmar Imbalance

292

Horseshoes and Shoeing

293

Horseshoes

293

Foot Preparation

293

The Horseshoe Form

294

Materials and Size

294

Cross-Sectional Profile of Shoe Stock

294

Extensions

296

Bars

296

Calks, Grabs, and Other Devices Added to the Ground Surface of the Shoe

297

Pads

297

Miscellaneous Changes in Shoe Form or Fit

298

Hot versus Cold Shoeing

298

Attachment of the Shoe to the Hoof

298

Horseshoe Functions

299

Balance

299

Protection

299

Traction

299

Breakover Modification

299

Animation

300

Support

300

Prevention of Interference Injury

301

The Practice of Shoeing

301

Effects of Shoeing on Foot Function

301

Shoeing Sound Horses for Performance

302

Corrective Shoeing

302

Lameness Associated with Shoeing

302

Natural Balance Trimming and Shoeing

303

Appearance of a Self-Maintained Foot

303

Natural Balance Trimming for a Barefooted Horse

304

Normal Feet

304

Flat Feet

305

Clubfeet

305

Feet with Long Toes and Underrun Heels

305

Natural Balance Shoeing

305

Shoe Placement and Application

306

Hoof Reconstruction Materials and Glue-On Shoes

306

Adhesive Types

306

Glue-on Horseshoes

307

Hoof Wall Reconstruction

308

Composite Materials and Hoof Repairs

308

Chapter\t28 Trauma to the Sole and Wall

309

Problems Associated with Horseshoe Nails

309

Nail Bind

309

History and Clinical Signs

309

Diagnosis

309

Treatment and Prognosis

310

Nail Prick

310

History and Clinical Signs

310

Diagnosis

310

Treatment

310

Prognosis

310

Solar Bruising

310

History and Etiology

310

Clinical Signs

311

Treatment

311

Prognosis

311

Thrush

311

Clinical Signs and Diagnosis

311

Treatment

312

Prognosis

312

Sheared Heel

312

III The Forelimb

387

Chapter\t35 The Proximal and Middle Phalanges and Proximal Interphalangeal Joint

387

Anatomical Considerations

387

Lameness Examination

387

Imaging Considerations

388

Breed Predilection

388

Fractures of the Proximal Phalanx

388

Dorsal Osteochondral Fragments in the Metacarpophalangeal/Metatarsophalangeal Joint

390

Osteochondrosis of the Proximal Interphalangeal Joint

391

Osteoarthritis of the Proximal Interphalangeal Joint

391

Arthrodesis of the proximal Interphalangeal Joint

392

Bone Trauma

392

Soft Tissue Injuries

392

Subluxation of the Proximal Interphalangeal Joint

393

Wounds and INFECTION in the Pastern Region

393

Chapter\t36 The Metacarpophalangeal Joint

394

Anatomical Considerations

394

Diagnosis

394

Imaging Considerations

395

Types of Fetlock Joint Lameness

395

Acute or Repetitive Overload Injuries

395

Capsulitis/Synovitis

395

Clinical Signs

395

Diagnosis

395

IV The Hindlimb

475

Chapter\t41 The Hind Foot and Pastern

475

Anatomy and Innervation of the Hind Foot and Pastern

475

Examination, Clinical Signs, and Diagnosis

475

Specific Lameness Conditions

476

Fractures of the Distal Phalanx

476

Laminitis

477

Keratoma

478

Navicular Syndrome

478

Distal Interphalangeal Joint

478

Deep Digital Flexor Tendonitis

479

Infectious Osteitis in Foals

479

The Hind Pastern

479

Chapter\t42 The Metatarsophalangeal Joint

480

Anatomy

480

Conformation

481

Clinical Characteristics and Diagnosis of Metatarsophalangeal Joint Lameness

481

Severe, Unrelenting Lameness

481

Intermittent, Severe Lameness

481

Chronic, Low-Grade Lameness

482

Diagnostic Analgesia

482

Imaging Considerations

482

Radiography and Radiology

482

Scintigraphic Examination

483

Magnetic Resonance Imaging

484

Ultrasonographic Examination

485

Computed Tomography

485

Arthroscopic Examination

486

Specific Conditions of the Metatarsophalangeal joint

488

Stress-Related Subchondral Bone Injury and Osteoarthritis

488

Management of Stress-Related Bone Injury and Osteoarthritis

489

Bisphosphonate Therapy for Management of Subchondral Bone Pain

490

Surgical Management of Subchondral Bone Injury

491

Plantar Process Osteochondral Fragments

492

Axial Articular Fragments

492

Abaxial, Nonarticular Fragments

493

Nonarticular Fragments Originating from the Proximal Sesamoid Bones

494

Acute Fractures of the Proximal Plantar Process

494

Osteochondrosis of the Sagittal Ridge of the Third Metatarsal Bone

494

Osteochondral Fragments of the Dorsoproximal Aspect of the Proximal Phalanx

494

Other Osteochondral Fragments

494

Fractures of the Proximal Phalanx

495

Dorsal Frontal Fractures of the Proximal Phalanx

495

Fractures of the Proximal Sesamoid Bones

496

Fractures of the Distal Aspect of the Third Metatarsal Bone

496

Sesamoiditis

496

Radiolucent Defects of the Axial Border of the Proximal Sesamoid Bones

497

Flexural Deformity of the Metatarsophalangeal Joint

497

Soft Tissue Injuries of the Metatarsophalangeal Joint and Fetlock Region

498

Proliferative Synovitis

498

Luxation and Subluxation: Tearing of a Collateral Ligament

498

Collateral Desmitis

498

Suspensory Desmitis

498

Distal Sesamoidean Ligament Injury

498

Tenosynovitis of the Digital Flexor Tendon Sheath

498

Deep Digital Flexor Tendonitis

498

Chapter\t43 The Metatarsal Region

499

Anatomy

499

Conformation

500

Clinical Characteristics and Diagnosis of Lameness in the Metatarsal Region

500

Diagnostic Analgesia

500

Imaging Considerations

501

Specific Conditions of the Metatarsal Region

502

Bucked and Sore Shins: Dorsal Cortical Fractures of the Third Metatarsal Bone

502

Medial and Lateral Condylar and Spiral Fractures of the Third Metatarsal Bone

502

Midshaft, Simple, or Comminuted Fractures of the Third Metatarsal Bone

502

Physeal Fractures of the Distal Aspect of the Third Metatarsal Bone

503

Incomplete Longitudinal Fractures of the Plantar Aspect of the Third Metatarsal Bone and Stress Reactions

503

Transverse Stress Fractures of the Distal Aspect of the Third Metatarsal Bone

503

Avulsion Fractures of the Third Metatarsal Bone Associated with the Origin of the Suspensory Ligament

503

Articular Fracture of the Dorsoproximolateral Aspect of the Third Metatarsal Bone

504

Exostoses of the Second, Third, and Fourth Metatarsal Bones

504

Fractures of the Second and Fourth Metatarsal Bones

505

Enostosis-like Lesions of the Third Metatarsal Bone

506

Hypertrophic Osteopathy

506

Suspensory Desmitis

506

Tenosynovitis of the Digital Flexor Tendon Sheath

507

Desmopathy of the Accessory Ligament of the Deep Digital Flexor Tendon

507

Deep Digital Flexor Tendonitis

507

Superficial Digital Flexor Tendonitis

507

Undiagnosed Metatarsal Region Lameness

507

Wounds of the Metatarsal Region

507

Diffuse Swelling in the Metatarsal Region

508

Severe Cellulitis of the Metatarsal Region

508

Chapter\t44 The Tarsus

508

Anatomical Considerations

508

Diagnosis

510

Clinical Signs

510

Diagnostic Analgesia

511

Diagnostic Imaging

511

Articular Diseases of the Tarsus

512

Osteoarthritis of the Distal Hock Joints and Distal Hock Joint Pain

512

History

513

Clinical Signs

513

Diagnostic Analgesia

513

Radiography and Radiology

514

Nuclear Scintigraphy

515

Treatment

515

Osteoarthritis of the Talocalcaneal Joint

516

Osteoarthritis of the Tarsocrural Joint

516

Incomplete Ossification of the Central and Third Tarsal Bones

517

Distention of the Tarsocrural Joint Capsule

517

Osteochondrosis of the Tarsocrural Joint

518

Subchondral Bone Trauma

518

Osseous Cystlike Lesions

518

Fragments in the Talocalcaneal-Centroquartal (Proximal Intertarsal) Joint

518

Tarsal Bone Fractures and Luxations

518

Fractures of the Distal Tarsal Bones

518

Sagittal Fracture of the Talus

520

Fractures of the Fibular Tarsal Bone

520

Fracture of the Lateral Malleolus of the Tibia

521

Fractures of the Medial Malleolus of the Tibia

522

Tarsal Joint Luxation

522

Soft Tissue Injury of the Tarsus

523

Collateral Ligament Damage

523

Enthesopathy of the Lateral Collateral Ligaments of the Tarsocrural Joint

523

Rupture of the Fibularis Tertius

524

Stringhalt

524

Miscellaneous Tarsal Injuries

524

Osseous Cystlike Lesions in the Tuber Calcanei

524

Infectious (Septic) Osteitis of the Calcaneus

524

Osteitis of the Sustentaculum Tali

525

Lesions of the Sustentaculum Tali

525

Congenital Deformations of the Tarsus

525

Infectious Arthritis

526

Periarticular Cellulitis (see also Chapter 107)

526

Chapter\t45 The Crus

526

Anatomy

526

Clinical Characteristics and Diagnosis of Lameness of the Crus

526

Diagnostic Analgesia

527

Imaging Considerations

527

Specific Conditions of the Crus

527

Tibial Stress Fractures

527

Tibial Diaphyseal Fractures in Adult Horses

528

Tibial Fractures in Foals

529

Proximal Physeal Tibial Fractures

529

Middiaphyseal Tibial Fractures

529

Distal Physeal Fractures of the Tibia

529

Tibial Malleolar Fractures

529

Tibial Tuberosity Fractures

530

Enostosis-like Lesions of the Tibia

530

Osteochondroma of the Tibia

530

Osseous Cystlike Lesions of the Proximal Aspect of the Tibia

530

Osseous Cystlike Lesions of the Distal Aspect of the Tibia

531

Physitis of the Distal Tibia

531

Fibular Fractures

531

Nonossifying Fibromas of the Proximal Tibia

532

Tumors

532

Soft Tissue Injuries of the Crus

532

Chapter\t46 The Stifle

532

Anatomy

532

Developmental Anatomy

532

Reciprocal Apparatus

533

Femoropatellar Joint

533

Femorotibial Joints

533

Diagnosis

533

General Considerations

533

Gait and Manipulative Tests

534

Diagnostic Analgesia

534

Imaging Considerations

534

Radiography

534

Lateromedial Image

535

Flexed Lateromedial Image

535

Caudocranial Image

535

Caudal 30° Lateral-Craniomedial Oblique Image

535

Cranioproximal-Craniodistal Oblique Image

535

Ultrasonography

535

Scintigraphy

536

Articular Diseases

536

Femoropatellar Joint

536

Osteochondrosis

536

Signs and Diagnosis

537

Treatment

537

Prognosis

537

Upward Fixation of the Patella and Delayed Patellar Release

538

Signs and Diagnosis

538

Treatment

538

V The Axial Skeleton

564

Chapter\t49 Diagnosis and Management of Pelvic Fractures in the Thoroughbred Racehorse

564

Pelvic Anatomy

564

Diagnostic Techniques

564

Clinical Examination

564

Diagnostic Ultrasonography

565

Radiography

566

Scintigraphy

566

Fractures of the Tuber Coxae

567

VI Developmental Orthopedic Disease and Lameness

617

Chapter\t54 Pathogenesis of Osteochondrosis

617

Osteochondrosis: Definitions and Terminology

617

Endochondral Ossification

617

Characteristics of Osteochondrosis

617

Relationship among Physeal Dysplasia (Physitis), Subchondral Bone Cysts, and Osteochondrosis

620

Proposed Causative Factors

620

Involvement of Cartilage Canals

620

Body Size and Growth Rate

621

Nutrition

621

Digestible Energy and Protein

621

Calcium and Phosphorus

622

Copper

622

Heredity

623

Gender

624

Exercise

624

Trauma and Biomechanical Force

624

The Role of Enzymes and Signaling Peptides

624

Toxic Causes of Osteochondral Lesions

625

Summary

625

Chapter\t55 The Role of Nutrition in Developmental Orthopedic Disease:

625

Nutritional Factors as a Cause of Developmental Orthopedic Disease

625

Mineral Deficiencies

625

Mineral Excesses

625

Mineral Imbalances

626

Dietary Energy Excesses

626

Ration Evaluations

626

Types of Evaluations

627

Protocol

627

Describing the Horse

627

Defining Nutrient Requirements

627

Determining Nutrients in Feedstuffs

627

Determining Intake of Feedstuffs

627

Calculating Nutrient Intake

627

Comparing Intake with Requirements

628

Feeding Practices that Contribute to Developmental Orthopedic Disease

628

Overfeeding

628

Inappropriate Grain for Forage Provided

628

Inadequate Fortification in Grain

629

Feeding Systems to Prevent Developmental Orthopedic Disease

629

Early Pregnancy

629

Late Pregnancy

629

Lactation

630

Sucklings

630

Weanlings

630

Yearlings

630

Nutritional Management of Developmental Orthopedic Disease

630

Physitis

631

Cervical Vertebral Malformation

631

Osteochondrosis

631

Chapter\t56 Diagnosis and Management of Osteochondrosis and Osseous Cystlike Lesions

631

Lesions in the Metacarpophalangeal and Metatarsophalangeal Joints

632

Osteochondritis Dissecans of the Sagittal Ridge of the Third Metacarpal and Metatarsal Bones

632

Osseous Cystlike Lesions

632

Palmar or Plantar Osteochondral Fragments of the Proximal Phalanx

633

Osteochondral Fragments on the Dorsoproximal Aspect of the Proximal Phalanx

633

Lesions of the Proximal Interphalangeal Joint

633

Lesions of the Distal Interphalangeal Joint

634

Lesions of the Scapulohumeral Joint

634

Osteochondrosis of the Tarsocrural Joint

635

Lesions of the Stifle

638

Chapter\t57 Physitis

638

Pathogenesis

638

Clinical Signs

639

Treatment

640

Chapter\t58 Angular Limb Deformities

640

Diagnosis and Conservative Management

640

Examination of the Foal

641

Periarticular Laxity

641

Asymmetrical Physeal Growth

641

Trauma-Related Deformities

642

Conservative Management

642

Surgical Management

642

Chapter\t59 Flexural Limb Deformities in Foals

645

Congenital Flexural Deformities

645

Acquired Flexural Deformities

647

Chapter\t60 Cervical Stenotic Myelopathy

649

Clinical Signs

649

Diagnosis

650

Conservative Management

653

Surgical Treatment

653

VII Arthritis

655

Chapter\t61 Osteoarthritis

655

Structure and Function of Normal Joints

655

Synovium and Synovial Fluid

655

Periarticular Soft Tissues

655

Subchondral Bone

656

Articular Cartilage

656

Collagens

656

Proteoglycans

658

Matrix Proteins

658

Chondrocytes

659

Nutrition

659

Joint Lubrication

659

Intraarticular Volume and Pressure

659

Biomechanical Considerations

659

Osteoarthritis

660

Etiopathogenesis

660

Role of the Synovium

661

Role of the Chondrocyte

661

Matrix-Degrading Enzymes

662

Cytokines

662

Nitric Oxide

664

Prostaglandins

664

Clinical Evaluation of Joint Disease

664

Joint Pain

664

Local Signs

665

Synovial Fluid Changes

665

Role of Radiography/Radiology

665

Other Imaging Modalities

667

Nuclear Scintigraphy

667

Magnetic Resonance Imaging

667

Ultrasonography

668

Chapter\t62 Markers of Osteoarthritis:

668

Structure and Metabolism of Articular Cartilage and Bone in Health and Disease

668

Individual Skeletal Biomarkers of Articular Cartilage Metabolism in Osteoarthritis

669

Anabolic Processes

669

Catabolic Processes

669

Individual Skeletal Biomarkers of Bone Metabolism in Joint Disease

670

Anabolic Processes

670

Catabolic Processes

670

Future of Biomarkers in Osteoarthritis

670

Chapter\t63 Gene Therapy

671

Review of Components of Gene Therapy

671

Gene Therapy and Joint Disease

671

Use of Gene Therapy to Prevent Articular Cartilage Degradation in Osteoarthritis

672

Gene Therapy and Promotion of Cartilage Healing

673

Gene Therapy and Bone Healing

673

Chapter\t64 Models of Equine Joint Disease

673

Complexity of Joint Disease

674

Types of Models

674

In Vitro Models

674

In Vivo Studies

675

Biomechanical Models

677

Chapter\t65 Infectious Arthritis and Fungal Infectious Arthritis

677

Infectious Arthritis

677

Causes

677

Examination and Initial Management

677

Diagnosis

678

Antimicrobial Therapy

679

Systemic Therapy

679

Local Therapy

680

Direct Local Infusion of Antimicrobial Drugs

680

Antimicrobial-Impregnated Biomaterials

680

Antimicrobial-Impregnated Biodegradable Drug Delivery Systems

681

Regional Perfusion

681

Balloon Constant Rate Infusion Systems

682

Joint Drainage and Debridement

682

Articular Osteomyelitis

683

Pain Management

683

Nonsteroidal Antiinflammatory Drugs

683

Epidural Narcotics

684

Topical Treatment, Bandaging, and Alternative Therapy

684

Prognosis

684

Future Treatments

684

Fungal Infectious Arthritis

684

Literature Review

684

Clinical Signs and Diagnosis

685

Management

685

Prognosis

687

Chapter\t66 Noninfectious Arthritis

687

Joint Physiology

687

Joint Pathophysiology (Synovitis)

687

Pathological Joint Conditions Associated with Arthritis

688

Effusion

688

Inflammation

688

Ischemia

688

Synovial Fluid Lubrication: Hyaluronan

688

Pain in Arthritis

688

Autoimmmune-Mediated Arthritis

689

Immune-Mediated Arthritis

689

Reactive Synovitis

689

Traumatic Synovitis

690

Proliferative (Villonodular) Synovitis

690

Idiopathic Arthritis

690

Hemarthrosis

690

Lyme Disease

690

Chapter\t67 Other Joint Conditions

691

Diseases of Soft Tissues of the Joint

691

Ligament Injuries

691

Hygroma

691

Synovial Hernia

692

Ganglion

692

Synovial Fistula

692

Neoplasia

692

Osteochondromatosis

693

Calcinosis Circumscripta

693

VIII The Soft Tissues

694

Chapter\t68 Pathophysiology of Tendon Injury

694

Functional Anatomy of Equine Tendons and Ligaments

694

Functional Characteristics

694

Biomechanical Properties

694

Biomechanical Parameters

694

Structural Properties

694

Material Properties

695

Hysteresis

695

Classification of Tendons and the Relationship to Function

695

Anatomical Structure

696

Morphology of Tendons

696

Crimp

696

Collagen Fibril Diameter

696

Associated Structures

696

Blood Supply

696

Cellular Components

697

Molecular Composition of Tendon Matrix

699

Collagen

699

Noncollagenous Glycoproteins

699

Cartilage Oligomeric Matrix Protein

699

Proteoglycans

700

Other Noncollagenous Glycoproteins

700

Types of Tendon Injury

700

Mechanisms of Tendon Injury: Effect of Aging and Exercise

701

Hypothesized Mechanisms of Tendon Degeneration

703

Mechanical Influences

703

Physical Influences: Exercise-Induced Hyperthermia

703

Vascular Theories

703

Proteolytic Enzymes

704

Factors Affecting the Loading of the Superficial Digital Flexor Tendon and Initiation of Clinical Tendonitis

704

Strategies for Preventing Tendon Disease

704

Pathological Conditions and Phases of Tendon Healing

705

Chapter\t69 Superficial Digital Flexor Tendonitis

706

Superficial Digital Flexor Tendonitis in Racehorses

706

Clinical Signs

707

Lameness

708

Swelling

708

Thickening

708

Heat

708

Sensitivity to Direct Digital Palpation

708

Tendon Profile

708

Swelling in the Distal Metacarpal Region

709

Tenosynovitis of the Carpal Sheath or Digital Flexor Tendon Sheath

709

Tendon Injury Limited to the Pastern

710

Management of the Acute Phase of Tendon Injury in Racehorses

710

Injury Assessment and Goals for an Athletic Outcome

710

Ultrasonographic Evaluation and Categorization of Injuries

710

Initial Evaluation

710

Baseline Evaluation

711

Subacute Phase Treatment and Long-Term Rehabilitation

711

History of Treatment in Racehorses

711

Symptomatic Treatment with Continued Exercise

711

Common Long-Term Treatment Programs

713

Controlled Exercise and Time Out of Training

713

External and Internal Blistering, Pin Firing, and Time Off for Long-Term Rehabilitation

713

Intralesional β-Aminopropionitrile Fumarate and Controlled Exercise

714

Intralesional or Perilesional Administration of Hyaluronan

714

Corticosteroids

715

Intralesional and Systemic Administration of Polysulfated Glycosaminoglycans

715

Physical Therapies

715

Other Proposed Long-Term Treatments

715

Surgical Management of Superficial Digital Flexor Tendonitis

715

Transection of the Accessory Ligament of the Superficial Digital Flexor Tendon

715

Surgical Procedure

716

How Transection Works

716

When Transection Should Be Performed

717

Horse Selection for Transection

717

Bilateral Transection

717

Aftercare

718

Palmar Annular Desmotomy

718

Tenoscopy of the Digital Flexor Tendon Sheath and Carpal Sheath

719

Proximal Metacarpal Fasciotomy and Carpal Retinacular Release

719

Tenoplasty—Tendon Splitting

720

Combined Surgical Procedures

720

Superficial Digital Flexor Tendonitis in Event Horses, Show Jumpers, Dressage Horses, and Pleasure Horses

721

Superficial Digital Flexor Tendonitis in Event Horses

721

Clinical Signs

721

Diagnostic Ultrasonography

722

Treatment

723

Pastern Lesions

723

Superficial Digital Flexor Tendonitis in Show Jumpers

724

Superficial Digital Flexor Tendonitis in Dressage Horses

725

Rupture of the Superficial Digital Flexor Tendon in Pleasure Horses

726

Chapter\t70 The Deep Digital Flexor Tendon

726

Anatomy

726

Deep Digital Flexor Tendonitis Associated With Recurrent Desmitis of the Accessory Ligament of the Deep Digital Flexor Tendon

727

Deep Digital Flexor Tendonitis in the Carpal Sheath Secondary to Solitary Osteochondroma or a Distal Radial Physeal Exostosis

727

Deep Digital Flexor Tendonitis within the Digital Flexor Tendon Sheath in the Fetlock Region

727

Enlargement or Change in Shape of the Deep Digital Flexor Tendon

728

Focal Hypoechoic Lesions

729

Fibrosis and Mineralization within the Deep Digital Flexor Tendon

729

Marginal Tears of the Deep Digital Flexor Tendon

730

Deep Digital Flexor Injuries in the Pastern Region

731

Deep Digital Flexor Tendonitis

731

Injury Caused by Blunt Trauma in the Pastern Region

732

Puncture Wounds of the Deep Digital Flexor Tendon and Blunt Trauma

732

Rupture of the Deep Digital Flexor Tendon

732

Lesions of the Deep Digital Flexor Tendon within the Hoof Capsule

733

Lesions of the Deep Digital Flexor Tendon in the Tarsal and Proximal Metatarsal Regions

733

Infection of the Deep Digital Flexor Tendon

733

Chapter\t71 Injuries of the Accessory Ligament of the Deep Digital Flexor Tendon

734

Anatomy

734

Pathogenesis

734

History and Clinical Signs

735

Ultrasonography

735

Treatment

737

Chapter\t72 The Suspensory Apparatus

738

Anatomy and Pathophysiology

738

Proximal Suspensory Desmitis in the Forelimb

739

Diagnostic Analgesic Techniques

740

Differential Diagnosis

740

Diagnostic Ultrasonography

741

Radiography and Radiology

741

Nuclear Scintigraphy

742

Magnetic Resonance Imaging

743

Computed Tomography

743

Treatment

743

Proximal Suspensory Desmitis in the Hindlimb

744

Diagnostic Analgesic Techniques

745

Diagnostic Ultrasonography

745

Radiography and Radiology

745

Nuclear Scintigraphy

746

Magnetic Resonance Imaging and Computed Tomography

747

Differential Diagnosis

747

Treatment

747

Gross Pathological and Histopathological Findings

749

Avulsion Fractures of the Third Metacarpal or Metatarsal Bone at the Origin of the Suspensory Ligament

749

Suspensory Desmitis: Body Lesions

749

Clinical Signs

749

Diagnosis

749

Management

750

Suspensory Desmitis Associated with an Exostosis on the Second or Fourth Metacarpal or Metatarsal Bone (Splint)

751

Suspensory Desmitis Associated with Fracture of the Distal Third of the Second or Fourth Metacarpal or Metatarsal Bone

751

Suspensory Desmitis: Branch Lesions

751

Clinical Signs

751

Diagnosis

751

Management

752

Proximal Sesamoid Bone Fracture Associated with a Branch Injury

754

Avulsion Fracture of a Proximal Sesamoid Bone at the Insertion of the Palmar Annular Ligament

754

Damage of the Palmar (Plantar) Ligament of the Fetlock (Intersesamoidean Ligament)

754

Focal Tears in the Body of the Intersesamoidean Ligament

754

Degeneration or Partial Rupture of the Intersesamoidean Ligament

754

Insertional Injury of the Intersesamoidean Ligament

755

Infection of the Axial Aspect of the Proximal Sesamoid Bones

755

Straight Sesamoidean Desmitis

756

Oblique (Middle) Sesamoidean Desmitis

758

Progressive Atraumatic Breakdown of the Suspensory Ligaments

760

Traumatic Disruption of the Suspensory Apparatus

760

Chapter\t73 Clinical Use of Stem Cells, Marrow Components, and Other Growth Factors

761

Stem Cell Therapies

761

Commonly Used Stem Cell Products

761

Bone Marrow–Derived MSCs (BM-MSCs)

761

Bone Marrow Aspirate and Injection of Fresh Bone Marrow

762

Culture-Expanded BM-MSCs

762

Adipose-Derived MSCs (A-MSCs)

763

The Future of Stem Cell Therapy

763

Growth Factor–Based Biologics

763

Platelet-Rich Plasma (PRP)

763

Chapter\t74 Diseases of the Digital Flexor Tendon Sheath, Palmar Annular Ligament, and Digital Annular Ligaments

764

Anatomical Considerations

764

Diagnostic Techniques

765

Imaging of the Digital Flexor Tendon Sheath

765

Diseases of the Digital Flexor Tendon Sheath

766

Noninfectious Tenosynovitis

766

Etiopathogenesis

766

Diagnosis

767

Treatment

768

Prognosis

769

Infectious Tenosynovitis

770

Etiopathogenesis

770

Diagnosis

770

Treatment

770

Prognosis

771

Palmar Annular Ligament Syndrome

771

Etiopathogenesis

771

Diagnosis

771

Primary Palmar Annular Ligament Thickening

772

Primary Tenosynovitis with Secondary Palmar Annular Ligament Thickening

773

Subcutaneous Fibrosis with a Normal or Minimally Enlarged Palmar Annular Ligament

773

Tendon Injuries with Secondary Palmar Annular Ligament Thickening

773

Treatment and Prognosis

773

Diseases of the Intersesamoidean (Palmar) Ligament of the Fetlock

774

Etiopathogenesis

774

IX Therapeutics

840

1 Traditional Therapy

840

Chapter\t84 Principles and Practices of Joint Disease Treatment

840

Medical Treatment

840

Nonsteroidal Antiinflammatory Drugs

840

Intraarticular Corticosteroids

841

Hyaluronan (Sodium Hyaluronate)

842

Polysulfated Glycosaminoglycan

843

Pentosan Polysulfate

844

Combination Intraarticular Therapy

844

Oral Joint Supplements

845

Summary of Use of Conventional Medications

846

Newer Biologically Based Therapies

846

Inhibition of Metalloproteinases as a Therapeutic Approach

846

Inhibiting Interleukin–1

846

Mesenchymal Stem Cells

847

Calcitonin

848

Radiation Synovectomy

848

Surgical Treatment

848

Recent Progress at Healing Articular Cartilage Lesions and Resurfacing Joints

849

Stimulation of Endogenous Repair

850

Debridement and the Need for Removal of Calcified Cartilage

850

Partial-Thickness Chondrectomy

850

Spongialization, Abrasion Arthroplasty, and Subchondral Bone Drilling

850

Subchondral Micropicking (Microfracture)

851

Further Manipulation of Endogenous Healing Using Growth Factors (Protein Administration or Gene Therapy)

851

Articular Grafting

852

Reattachment of Cartilage Flaps and Periosteal and Sternal Grafts

852

Implantation of Autologous Chondrocytes

852

What about Stem Cells?

852

Osteochondral Grafts

852

Chapter\t85 Analgesia and Hindlimb Lameness

852

Epidural Analgesia

852

Technique for Epidural Administration

853

Epidural Catheter Placement

853

Drug Selection

855

Epidural Opioids

855

Epidural α2-Adrenergic Agonists

856

Other Drugs for Epidural Analgesia

856

Clinical Applications

857

Contraindications and Complications

857

Novel Analgesic Drugs and Adjunctive Therapies

857

Chapter\t86 Bandaging, Splinting, and Casting

858

Stable and Traveling Bandages

858

Bandaging Wounds

858

Pressage Bandages

859

Ether Bandages

859

Stent Bandages

859

Wet-to-Dry Bandages

859

Foot Poultice

859

Robert Jones Bandage

860

Splinting

860

Transport of an Injured Horse

861

Cast Bandage

861

Cast Application

861

Transfixation Pin Casts

862

Chapter\t87 External Skeletal Fixation

863

History and Development

863

Mechanics of External Skeletal Fixation

863

Preoperative Planning, Indications, Tips, and Limitations

865

Postoperative Care

866

Removing the External Skeletal Fixation Device

866

Results of Treatment (2008)

866

Chapter\t88 Counterirritation

867

Brief History and Outline of Techniques

867

Blistering

867

Cautery or Firing

868

Chapter\t89 Cryotherapy

869

Mechanisms of Cryonecrosis

869

Basic Technique

869

Treatment of Specific Lesions

870

Splint Exostoses (Splints)

870

Second and Fourth Metacarpal or Metatarsal Bone Fractures

870

Periostitis of the Third Metacarpal Bone (Bucked Shins)

871

Suspensory Desmitis

871

Distal Hock Joint Pain (Bone or Jack Spavin, Cunean Tendonitis)

871

Osteoarthritis of the Proximal Interphalangeal Joint

871

Curb

871

Cryoneurectomy

871

Tendonitis

872

Chapter\t90 Radiation Therapy

872

Radiobiological Aspects

872

Antiinflammatory Effects

872

Analgesic Effects

873

Antiproliferative Effects

873

Treatment Side Effects

873

Skin Damage

873

Osteopenia

873

Irradiation Techniques

873

External Beam Irradiation

873

Brachytherapy

874

Interstitial Brachytherapy

874

Surface Brachytherapy

874

Intracavitary Brachytherapy

874

Clinical Applications

875

Chronic Synovitis

876

Degenerative Bone and Joint Disorders

876

Preventing New Bone Growth

877

Chapter\t91 Rest and Rehabilitation

877

Principles of Rest and Rehabilitation Programs

877

Rest

878

Complete Immobilization

878

Stall Rest

878

Reduction of Excessive Movement

878

Paddock Rest

879

Ridden Walking

879

Exercise

879

Passive Exercise

879

Handwalking

879

Aquatreds and Swimming

880

High-Speed Treadmills

880

Active Training

880

Hill Training

880

2 Complementary (Nontraditional) Therapy

881

Chapter\t92 Acupuncture

881

Equine Acupuncture for Lameness Diagnosis and Treatment

881

Scientific Basis

881

Traditional Chinese Medical Theories

882

Techniques and Instrumentation

883

Clinical Applications in Lameness Examination and Treatment

884

Acupuncture Diagnostic Examination

884

Acupuncture Therapy for Lameness

884

Back Pain

886

Pain Associated with Lameness of the Distal Aspect of the Limb

886

Summary

886

Acupuncture Channel Palpation and Equine Musculoskeletal Pain

887

Chapter\t93 Chiropractic Evaluation and Management of Musculoskeletal Disorders

892

Manual Therapy and Chiropractic

892

Practitioner Qualifications

892

History of Equine Chiropractic

893

Complementary Approaches

893

Pathophysiology and Mechanisms of Action

894

Equine Chiropractic Research

894

Clinical Evaluation

895

Indications for Chiropractic Care

898

Contraindications

899

Chiropractic Techniques

899

Complications or Adverse Effects

900

Adjunct Recommendations and Prognosis

900

Summary

901

Chapter\t94 Electrophysical Agents in Physiotherapy

901

Electrotherapeutic Windows

901

Therapeutic Ultrasound

901

Therapeutic Ultrasound Waves

901

Ultrasound Waveform

901

Ultrasound Transmission through the Tissues

902

Care of the Machine

902

Contraindications

902

Precautions

902

Treatment Record

902

Absorption and Attenuation

902

Therapeutic Effects of Ultrasound

902

Thermal

902

Nonthermal

902

Ultrasound Application in Relation to Soft Tissue Repair

903

Inflammatory Phase

903

Proliferation

903

Remodeling

903

Other Applications of Therapeutic Ultrasound

903

Ultrasound for Fracture Repair

903

Ultrasound at Trigger Points

903

Pulsed Electromagnetic Field Therapy

903

Primary Effects of Pulsed Electromagnetic Field Therapy

903

Contraindications

904

Laser Therapy

904

Biophysics of Laser

904

LLLT in Veterinary Medicine

904

Clinical Applications

904

Human Studies

904

Pain

904

Musculoskeletal Use in People

904

Animal Studies

905

Wounds

905

Electrical Stimulation

905

Electrical Current/Waveforms

905

Parameters Used in Neuromuscular Electrical Stimulation

905

Amplitude

905

Pulse Duration

905

Pulse Rate

905

Duty Cycle

905

Ramp

905

Recruitment

905

Indications for NMES Treatment

906

Overall Effects of NMES

906

Transcutaneous Electrical Nerve Stimulation

906

Machine Parameters

906

Mechanism of Action

906

Traditional TENS (Hi TENS, Normal TENS)

906

Acupuncture TENS (Lo TENS, Acu-TENS)

906

Brief Intense TENS

906

Stimulation Intensity

907

Electrode Placement

907

Contraindications (from Human Medicine)

907

Precautions

907

Chapter\t95 Osteopathic Treatment of the Axial Skeleton of the Horse

907

Neurophysiological Basis of Osteopathy

907

Normal Neurophysiology

908

Sensory Component

908

Motor Component

908

Autonomic Component

908

Response to Injury

908

Altered Neurophysiology

908

Sensory Effects

908

Motor Effects

909

Autonomic Effects

909

Clinical Implications for Altered Neurophysiology

909

Effects of Osteopathic Treatment

909

Diagnosis and Case Selection for Osteopathic Treatment

910

Infrared Thermographic Imaging

911

Treatment

913

Results of Treatment

914

Chapter\t96 Shock Wave Therapy

914

Historical Perspective

914

Shock Wave Generators

914

Dose Dependence

915

Applications

915

Bone

915

Tendons and Ligaments

916

Suspensory Desmitis

917

Superficial Digital Flexor Tendonitis

917

Additional Applications

917

Osteoarthritis

917

Navicular Syndrome

918

Collateral Ligament Injury of the Distal Interphalangeal Joint

918

Back Pain

918

Therapy Planning

918

Potential Complications

918

Analgesia

919

X Lameness in the Sports Horse

920

1 Poor Performance

920

Chapter\t97 Poor Performance and Lameness

920

Challenge of Assessment

920

History

920

Clinical Assessment

922

Diagnostic Analgesia

924

Diagnostic Imaging

924

Common Performance Problems

924

Chapter\t98 Experiences Using a High-Speed Treadmill to Evaluate Lameness

925

Criteria for Case Selection

925

History

925

Equipment

925

Preparation of the Horse and Safety Considerations

926

Lameness Diagnosis

927

Additional Tests

928

2 The Racehorse

928

Chapter\t99 The Sales Yearling

928

Purchase Examination of A Thoroughbred Sales Yearling in North America

928

Conditions of Sale

928

Presale or Postsale Examination

929

Clinical Examination

929

Endoscopy, Echocardiography, and Ophthalmology

929

Radiography and Radiology

929

Drug Screening for Anabolic Steroids and Other Prohibited Practices

930

Purchase Examination of A Thoroughbred Sales Yearling in Europe

930

Monitoring and Sale Selection

930

Preparation

931

Conditions of Sale

931

Orthopedic Conditions

931

Ultrasonographic Examinations

932

North American Standardbred Sales Yearling

932

Location and Time of Major Sales

932

Conditions of Sale

933

Resolution of Disputes

933

Role of the Veterinarian

934

Conformation

934

Radiography and Radiology

934

Future Direction

934

Chapter\t100 Pathophysiology and Clinical Diagnosis of Cortical and Subchondral Bone Injury

935

Pathophysiology

935

Clinical Examination

936

Diagnostic Analgesia

936

Diagnostic Imaging

937

Radiography and Radiology

937

Nuclear Scintigraphy

937

Ultrasonography

937

Magnetic Resonance Imaging and Computed Tomography

938

Specific Locations of Cortical and Subchondral Bone Injury

938

Distal Phalanx

938

Palmar or Plantar Aspects of the Metacarpophalangeal/Metatarsophalangeal Joints

939

Dorsal Cortex of the Third Metacarpal Bone

940

Proximal Palmar Aspect of the Metacarpal Region

941

Subchondral Injury of the Third Carpal Bone

942

Radius

943

Humerus

943

Scapula

944

Tibia

945

Ilium

945

Lumbar Vertebrae

946

Chapter\t101 Bone Biomarkers

947

Biomarkers That Reflect Changes in Bone Formation

948

Bone-Specific Alkaline Phosphatase

948

Osteocalcin

948

The Carboxy-Terminal Propeptide of Type I Collagen

949

Biomarkers That Measure Changes in Bone Resorption

949

Cross-Linked Collagen Telopeptides

949

Other Biomarkers of Bone Resorption

949

Factors That Influence Biochemical Markers of Bone Cell Activity in Horses

949

Circadian Variability

949

Diet

949

Seasonal Changes

950

Age

950

Gender

950

Pregnancy, Lactation, and the Estrous Cycle

950

Breed

950

Intercurrent Disease

950

Clinical Applications for Bone Biomarkers

950

Bone Biomarkers and Fracture

951

Bone Biomarkers and Dorsal Metacarpal Disease

951

Bone Biomarkers and Osteochondrosis

951

Bone Biomarkers and Osteoarthritis

951

Effects of Exercise on Bone Biomarkers

951

Monitoring Responses to Therapy

952

Chapter\t102 The Bucked-Shin Complex

953

Etiology, Pathogenesis, and Conservative Management

953

Research Findings

953

Geometric Properties of the Third Metacarpal Bone: Comparison of Thoroughbreds and Standardbreds

953

In Vitro Comparison of Local Fatigue Failure of the Third Metacarpal Bone

953

Third Metacarpal Bone Stiffness Measurements

954

In Vivo Strain Measurements: Relationship to Exercise

954

Relationship of Exercise to Bone Fatigue

954

Exercise Programs Designed to Decrease the Incidence of Fatigue Failure

955

In Vitro Bone Testing

956

Discussion

956

Training to Prevent Bucked Shins

957

Stress Fractures of the Third Metacarpal Bone: Surgical Management

959

Surgical Procedure

959

Postoperative Treatment

960

Prognosis

960

Chapter\t103 On-the-Track Catastrophes in the Thoroughbred Racehorse

960

Regulatory Veterinarian

960

Management Considerations

961

Equipment

961

Medication

962

Training Injuries

962

Humeral Fractures

962

Collision Injuries

962

Location of Injuries on the Racetrack

962

Public Relations and Media Issues

963

Racing Injuries

963

Fractures of the Forelimb

963

Foot and Pastern

963

Metacarpophalangeal Joint

963

Proximal Sesamoid Bones

964

Third Metacarpal Bone

964

Carpus

964

Radius

965

Shoulder

965

Fractures of the Hindlimb

965

Pastern

965

Third Metatarsal Bone

965

Tarsus and Tibia

965

Stifle and Femur

965

Pelvis

965

Head and Axial Skeleton

966

Soft Tissue Injuries

966

Digital Flexor Tendon Injuries

966

Suspensory Ligament Injuries

967

Regulatory Considerations

967

Euthanasia and Insurance

967

Chapter\t104 Catastrophic Injuries

968

Types of Catastrophic Injuries

969

Traumatic Disruption of the Suspensory Apparatus

969

First Aid

970

Nonsurgical Management

970

Surgical Management

971

Other Catastrophic Distal Limb Fractures

972

Chapter\t105 Track Surfaces and Lameness:

972

Racing Surfaces

973

The Risk of Injury on Different Racing Surfaces

973

Evidence from Multivariable Epidemiological Studies

975

Studies within the Same Racecourse

975

Quality of the Racing Surface

975

Turf Tracks

975

All-Weather Tracks

976

Training Surfaces

976

Future Directions

976

Chapter\t106 The North American Thoroughbred

977

Description of the Sport

977

Conformation

979

Track Surface and Lameness

980

Medication and Drug Testing Considerations

980

Lameness Examination

981

History

981

Palpation

981

Movement

982

Diagnostic Analgesia

982

Imaging Considerations

983

Shoeing

983

Inability to Make a Diagnosis

984

Ten most Common Lameness Conditions

984

Specific Lameness Conditions

984

Lameness of the Foot

984

Bruised Heels or Quarters

984

Abscesses

985

Quarter Cracks

985

Osteoarthritis of the Distal Interphalangeal Joint

985

Navicular Syndrome

985

Distal Phalanx Fractures

985

Lameness of the Fetlock Joint

986

Synovitis

986

Distal Third Metacarpal or Metatarsal Bone Disease

986

Osteochondral Fragmentation

986

Osteoarthritis

987

Other Conditions

987

Lameness of the Carpus

987

Nonadaptive Remodeling of the Third Carpal and Radial Carpal Bones

987

Carpal Fractures

988

Osteoarthritis

988

Intercarpal Ligament Damage

988

Suspensory Desmitis

988

Proximal Suspensory Desmitis

988

Suspensory Branch Desmitis

989

Midbody Desmitis

989

Bucked Shins: Dorsal Metacarpal Disease

989

Superficial Digital Flexor Tendonitis

990

Tibial Stress Fractures

991

Distal Hock Joint Pain

991

Myositis

992

Other Stress Fractures

992

Other Lameness Conditions

993

Stifle

993

Secondary Shoulder Region Pain

993

Chapter\t107 The European Thoroughbred

994

History of Horse Racing in the United Kingdom

994

Pattern of Racing

994

Comparisons with Racing in North America

995

Training Regimens in Europe

996

Clinical History

997

Clinical Examination

997

Imaging Considerations

999

Radiography and Radiology

999

Scintigraphy

1000

Ultrasonography

1001

Diagnostic Analgesia

1001

Shoeing Considerations

1004

Brushing Injuries of the Hindlimbs

1004

Brushing Interference in the Forelimbs

1004

Scalping, Forging, and Overreaching

1004

Ten Most Common Lameness Conditions

1004

Foot-Related Lameness

1005

Suspensory Desmitis

1005

Fetlock Lameness and Subchondral Bone Injuries to the Distal Aspect of the Third Metacarpal/Metatarsal Bone

1006

Lameness Associated with the Middle Carpal Joint

1008

Lameness Subsequent to Bacterial Infection

1009

Staphylococcal Abscesses on the Palmar Aspect of the Metacarpophalangeal Joint

1009

Focal Peritarsal Cellulitis

1010

Axillary and Scrotal Intertrigo Infections

1010

Stress Fractures of the Long Bones and Pelvis

1010

Periostitis of the Dorsal Cortex of the Third Metacarpal Bone (Sore or Bucked Shins)

1011

Fracture of the Dorsal Aspect of the Third Metacarpal Bone

1011

Tibia

1011

Humerus

1012

Pelvis and Axial Skeleton

1012

Exostosis of the Second and Fourth Metacarpal/Metatarsal Bones (Splints)

1012

Undiagnosed Hindlimb Lameness

1012

Fractures of the Proximal Phalanx and Distal Condyles of the Third Metacarpal/Metatarsal Bone

1013

Pain Associated with the Tarsometatarsal Joint

1013

Chapter\t108 The North American Standardbred

1014

Description of the Sport

1014

Training

1016

Training the Young Standardbred

1016

Retraining a Racehorse

1016

Lameness and Poor Racing Performance

1017

Track Surface and Lameness

1017

Track Size and Lameness

1017

Conformation

1017

Distribution of Lameness

1018

Lameness in the Young Standardbred

1018

Clinical History

1019

Lameness Examination

1020

Palpation

1020

Movement

1021

Diagnostic Analgesia

1022

Imaging Considerations

1022

Radiography

1022

Ultrasonographic Examination

1023

Scintigraphic Examination

1023

Proceeding Without a Diagnosis

1023

Shoeing and Lameness

1023

10. Ten Most Common Lameness Conditions in the North American Standardbred Racehorse

1024

Specific Lameness Conditions of the Standardbred Racehorse

1024

Front Foot Lameness

1024

Bruises, Corns, and Abscesses

1024

Sheared Heel

1024

Hoof Cracks

1025

Contracted Heel

1025

Wall Separation and Gravel

1025

Sidebone

1025

Fractures of the Distal Phalanx

1025

Osteoarthritis of the Distal Interphalangeal Joint

1026

Other Foot Lameness

1026

Carpal Lameness

1026

Metatarsophalangeal Joint Lameness

1027

Stress and Maladaptive or Nonadaptive Remodeling

1027

Fractures

1028

Osteochondrosis

1029

Distal Hock Joint Pain and Other Tarsal Lameness

1029

Suspensory Desmitis

1032

Metacarpophalangeal Joint Lameness

1033

Splint Bone Disease

1033

Exostoses and Fractures of the Second and Fourth Metacarpal Bones (Splints)

1033

Exostoses and Fractures of the Second and Fourth Metatarsal Bones

1034

Stifle Joint Lameness

1035

Rhabdomyolysis and Muscle Soreness

1036

Curb and Superficial Digital Flexor Tendonitis

1036

Chapter\t109 The European and Australasian Standardbreds

1036

The European Standardbred

1036

Dimensions and Characteristics

1036

Approaching Lameness Problems

1037

Lameness Examination

1038

Palpation

1038

Movement

1039

Diagnostic Analgesia

1040

Diagnostic Imaging

1040

Final Diagnosis, Prognosis, and Treatment Options

1042

Corrective Shoeing

1042

Training Programs

1043

Proceeding without A Diagnosis

1043

Ten Most Common Lameness Conditions

1043

Lameness in the European Trotter

1043

Hoof Pain

1043

Osteoarthritis of the Distal Interphalangeal Joint

1043

Osteoarthritis of the Metacarpophalangeal Joint

1044

Middle Carpal Joint

1044

Proximal Palmar Metacarpal Pain Including Proximal Suspensory Desmitis

1045

Sesamoiditis

1045

Suspensory Branch Desmitis

1046

Metatarsophalangeal Joint

1046

Superficial Digital Flexor Tendonitis

1047

Osteochondrosis of the Tarsocrural Joint

1047

The Australasian Standardbred

1047

Description of the Sport

1047

Track Surface or Training Surface and Lameness

1048

Training Methods

1048

Lameness Examination

1048

Examination at Rest (Preferably in a Stable)

1048

Trotting in a Straight Line

1048

Flexion Tests

1048

Diagnostic Analgesia

1048

Imaging Considerations

1049

Proceeding without a Diagnosis

1049

Shoeing Considerations

1049

Ten Most Common Lameness Conditions

1049

Diagnosis and Management of Lameness

1049

Subsolar Bruising and Abscessation

1049

Osteoarthritis of the Fetlock Joint

1049

Proliferative Synovitis

1050

Axial, Articular (Type 1) Osteochondral Fragments of the Proximal Plantar Aspect of the Proximal Phalanx

1050

Carpal Joint Disease

1050

Suspensory Desmitis

1050

Superficial Digital Flexor Tendonitis

1050

Osteoarthritis of the Distal Tarsal Joints

1050

Fracture of the Distal Phalanx

1051

Sagittal Fracture of the Proximal Phalanx

1051

Tarsocrural Osteochondrosis

1051

Stifle Disease

1051

Chapter\t110 The Racing Quarter Horse

1051

History and Description of the Sport

1051

Training the Racing Quarter Horse

1052

Lameness Related to Track Surface

1052

Conformation Relating to Lameness

1052

Lameness Examination

1052

Imaging Considerations

1053

Shoeing

1053

Ten Most Common Lameness Conditions of the Racing Quarter Horse

1053

Specific Lameness Conditions

1053

Synovitis of the Carpal and Metacarpophalangeal Joints

1053

Arthrosis of the Distal Interphalangeal Joint and Problems Associated with the Foot

1053

Dorsal Metacarpal Disease

1054

Osteochondral Fragmentation of the Carpus

1054

Osteochondral Fragmentation of the Metacarpophalangeal Joint

1055

Distal Hock Joint Pain

1055

Stifle Lameness

1055

Proximal Suspensory Desmitis

1055

Tibial Stress Fractures

1056

Miscellaneous Fractures of Importance

1056

Chapter\t111 Lameness in the Arabian Racehorse:

1057

History of Racing

1057

Ten most Common Racing-Related Lameness Conditions in the Middle East Arabian Racehorse

1057

Ten most Common Racing-Related Lameness Conditions in the North American Arabian Racehorse

1058

Metacarpophalangeal Joint Lameness and Carpal Osteochondral Fragmentation

1058

Superficial Digital Flexor Tendonitis

1058

Suspensory Desmitis

1059

Tarsocrural Osteochondrosis and Distal Hock Joint Pain

1059

Lameness of the Foot

1060

Myopathy

1060

Stifle and Carpal Lameness

1060

Back Pain

1060

Dorsal Third Metacarpal Bone Disease

1061

Fractures of Various Bones, Including Stress Fractures

1061

Proceeding without a Diagnosis

1061

Chapter\t112 National Hunt Racehorse, Point to Point Horse, and Timber Racing Horse

1062

Description of the Sport

1062

National Hunt Horses

1063

Training National Hunt Horses

1065

Racing National Hunt Horses

1065

Timber Racing

1067

Track Surface or Training Surface and Lameness

1067

Conformation and Lameness

1068

Lameness Examination

1068

Diagnostic Analgesia

1069

Imaging Considerations

1070

Proceeding without A Diagnosis

1070

Shoeing Considerations and Lameness

1070

The Ten Most Common Causes of Lameness in Steeplechasers, Hurdlers, and Point to Point Horses

1070

Diagnosis and Management of Lameness in Steeplechasers, Hurdlers, and Point to Point Horses

1070

Superficial Digital Flexor Tendonitis

1070

Suspensory Desmitis

1072

Lameness Associated with the Carpus

1072

Lameness Associated with the Hock

1072

Lameness Associated with the Pelvis

1073

Lameness Associated with the Front Feet

1073

Fractures of the Third Metacarpal and Metatarsal Bones

1073

Lameness Associated with the Metacarpophalangeal Joint

1074

Neck Lesions

1074

Back Pain

1074

Other Injuries

1075

The Ten Most Common Causes of Lameness in Timber Racing Horses

1075

Diagnosis and Management of Lameness in Timber Racing Horses

1075

Chapter\t113 The Finnish Horse and Other Scandinavian Cold-Blooded Trotters

1076

History of the Breeds

1076

Training a Cold-Blooded Trotter

1076

Racetracks and Weather Conditions

1077

Shoeing Considerations

1077

Conformation and Lameness

1077

Lameness Examination

1077

Imaging Considerations

1079

Undiagnosed Lameness

1079

Ten Most Common Causes of Lameness

1079

Lameness Conditions Typical of Finnhorses

1079

3 Nonracing Sports Horses

1081

114 Prepurchase Examination of the Performance Horse

1081

Goals of the Examination

1081

Contract

1082

Purchaser's Reservations

1082

Purchase for Resale

1082

Insuring the Horse

1082

Blood Tests and Limitations

1082

Conflicts of Interest

1083

Communication with the Vendor

1083

Examination at a Distance

1083

Clinical Examination at Rest

1083

Conformation

1089

Muscle Symmetry

1090

Tendons and Ligaments

1090

Assessment of Joints

1090

Assessment of Gait

1090

Flexion Tests

1091

Lunging and Ridden Exercise

1091

Evaluation of Identified Problems

1091

Rectal Examination

1091

Radiographic Examination

1091

Nuclear Scintigraphic Examination

1093

Ultrasonographic Examination

1094

Thermographic Examination

1094

Magnetic Resonance Imaging

1094

Blood Tests

1094

Nerve Blocks

1095

Summary of Observations

1095

Guidelines for Reporting Prepurchase Examinations

1095

Chapter\t115 Lameness in the Show Hunter and Show Jumper

1096

Historical Perspective

1096

Structure of the Sport

1096

Characteristics of the Jumping Sports Horse

1097

Training

1097

Training and Competition Surfaces

1097

Conformation and Lameness

1098

Shoeing Considerations

1098

Lameness Examination

1098

Imaging Considerations

1099

Failure to Make a Diagnosis

1099

Treatment

1099

Ten Most Common Lameness Problems of Show Hunters and Show Jumpers

1100

Diagnosis and Management of Common Causes of Lameness

1100

Foot Pain

1100

Foot Soreness

1100

Subsolar Bruising

1100

Subsolar Abscess

1101

Navicular Disease

1101

Sheared Heel

1102

Distal Interphalangeal Joint Synovitis and Osteoarthritis

1102

Collateral Ligament Injury of the Distal Interphalangeal Joint

1103

Distal Hock Joint Pain

1103

Suspensory Desmitis

1104

Back Pain

1106

Impinging Spinous Processes

1106

Muscle Injury and Pain

1106

Fracture of the Withers

1106

Sacroiliac Joint Pain

1106

Osteoarthritis of the Thoracolumbar Synovial Intervertebral (Facet) Joints

1107

Fetlock Joint

1107

Synovitis and Osteoarthritis

1107

Sesamoiditis

1107

Stifle Joint Pain

1108

Cranial Cruciate Ligament and Meniscal Injury

1108

Osteochondrosis and Subchondral Bone Cysts

1108

Synovitis and Osteoarthritis

1108

Pastern

1109

Soft Tissue Injury

1109

Croup and Hip Region Pain

1109

Superficial Digital Flexor Tendonitis, Tenosynovitis of the Digital Flexor Tendon Sheath, and Desmitis of the Accessory Ligament of the Deep Digital Flexor Tendon

1110

Superficial Digital Flexor Tendonitis

1110

Tenosynovitis of the Digital Flexor Tendon Sheath

1111

Desmitis of the Accessory Ligament of the Deep Digital Flexor Tendons

1111

Cervical Osteoarthritis and Pain

1111

Chapter\t116 Lameness in the Dressage Horse

1112

The Sport

1112

The Dressage Horse

1113

Training Surfaces

1114

Tack

1115

Lameness Examination

1115

Diagnostic Analgesia

1116

Imaging Considerations

1116

Ten Most Common Lameness Conditions in Dressage Horses

1117

Proximal Suspensory Desmitis: Hindlimbs

1117

Proximal Suspensory Desmitis: Forelimbs

1118

Desmitis of the Suspensory Ligament Branches: Forelimbs and Hindlimbs

1119

Synovitis or Osteoarthritis of the Distal Interphalangeal Joint

1119

Desmitis of the Accessory Ligament of the Deep Digital Flexor Tendon: Forelimbs

1120

Desmitis of the Accessory Ligament of the Deep Digital Flexor Tendon: Hindlimbs

1120

Osteoarthritis of the Centrodistal and Tarsometatarsal Joints

1120

Synovitis of the Middle Carpal Joint

1121

Synovitis or Osteoarthritis of the Metatarsophalangeal and Metacarpophalangeal (Fetlock) Joints

1121

Palmar or Plantar Annular Ligament Desmitis

1121

Tenosynovitis of the Digital Flexor Tendon Sheath

1121

Proximal Palmar Cortical Stress Fracture of the Third Metacarpal Bone

1122

Thoracolumbar and Sacroiliac Pain

1122

Chapter\t117 Lameness in the Three Day Event Horse

1123

Sport of Eventing

1123

Horse Types

1124

Influence of the Sport on Lameness

1125

Training Methods

1125

Conformation and Lameness

1126

Clinical History

1126

Lameness Examination

1126

Diagnostic Analgesia

1127

Imaging Considerations

1128

Radiography

1128

Ultrasonography

1128

Scintigraphy

1128

Thermography

1128

Magnetic Resonance Imaging

1129

Saddle Pressure Analysis

1129

Proceeding without a Diagnosis

1129

Shoeing Considerations

1131

Tack Considerations

1132

Ten Most Common Lameness Conditions

1132

Diagnosis and Management of Lameness

1133

Thoracolumbar and Cervical Soreness and Restriction

1133

Foot Soreness (Bruising, Imbalance, and Nail Bind)

1133

Osteoarthritis

1133

Superficial Digital Flexor Tendonitis

1134

Suspensory Desmitis

1135

External Trauma

1136

Pain in the Sacroiliac Region

1136

Fractures in the Stifle Region

1136

Other Fractures

1136

Rhabdomyolysis

1137

Prevention of Lameness

1137

Chapter\t118 Lameness in Endurance Horses

1137

Evolution of Endurance

1137

Description of the Sport

1137

Veterinary Controls

1138

Type of Horse

1139

Training Methods and Competition Speeds

1139

Course Terrain

1139

Lameness and Conformation

1139

The Lameness Examination and Proceeding without a Diagnosis

1140

Common Causes of Lameness in Endurance Horses

1140

Proximal Palmar Metacarpal Pain

1140

Proximal Suspensory Desmitis

1141

Stress Pathology of the Proximal Palmar Aspect of the Third Metacarpal Bone

1142

Pathology Associated with the Second and Fourth Metacarpal Bones

1142

Foot Problems

1143

Metacarpophalangeal and Metatarsophalangeal Osteoarthritis, Capsulitis, Synovitis, and Periarticular Pathology

1144

Stress Pathology of the Distal Aspect of the Third Metacarpal or Third Metatarsal Bone

1144

Superficial Digital Flexor Tendonitis

1145

Paravertebral and Gluteal Myalgia

1146

Osteoarthritis of the Distal Hock Joints

1146

Desmitis of the Suspensory Body and Branches

1146

Other Bone Injury

1147

Exertional Myopathy

1147

Metabolic Problems

1147

Synchronous Diaphragmatic Flutter

1148

Prevention of Metabolic Problems

1149

Chapter\t119 Lameness in the Polo Pony

1149

History of the Sport

1149

Polo as an Industry

1149

Lameness Examination

1151

Undiagnosed Lameness

1152

Imaging Considerations

1152

Ten Most Common Lameness Problems in Polo Ponies

1153

Superficial Digital Flexor Tendonitis

1153

Medical Management

1153

Surgical Management

1154

Metacarpophalangeal (Fetlock) Osteoarthritis

1155

Suspensory Desmitis

1156

Proximal Suspensory Desmitis

1156

Body Suspensory Desmitis

1157

Suspensory Branch Desmitis

1157

Injury to the Hoof and Distal Phalanx

1157

Fractures of the Distal Phalanx

1158

Palmar Foot Pain Including Navicular Disease

1158

Osteitis of the Distal Phalanx (Pedal Osteitis)

1158

Navicular Disease

1158

Distal Interphalangeal Osteoarthritis

1159

Desmitis of the Accessory Ligament of the Deep Digital Flexor Tendon

1159

Splint Bone Disease

1159

Distal Hock Joint Pain

1160

Gluteal Myositis and Back Pain

1161

Other Conditions

1161

Dislocation (Luxation) of the Superficial Digital Flexor Tendon

1161

Fractures of the Cranial Thoracic Dorsal Spinous Processes (Fracture of the Withers)

1161

Proximal Interphalangeal Osteoarthritis and Other Pastern Region Injuries

1162

Sesamoiditis

1162

Digital Flexor Tenosynovitis and Desmitis of the Palmar Annular Ligament

1163

Desmitis of the Distal Sesamoidean Ligaments

1163

Carpal Region Lameness

1163

Desmitis of the Accessory Ligament of the Superficial Digital Flexor Tendon

1164

Upper Forelimb Lameness

1164

Other Hindlimb Lameness

1164

Rhabdomyolysis

1164

Gracilis Muscle Tear

1164

Equine Protozoal Myelitis

1164

Chapter\t120 The Western Performance Horse

1165

The Cutting Horse

1165

Description and History of the Sport

1165

Training

1165

Lameness Examination

1166

Diagnosis and Management of Specific Lameness

1166

Selected Lameness of the Tarsus

1166

Osteoarthritis of the Distal Tarsal Joints (Distal Hock Joint Pain)

1166

Arthrosis of the Tarsocrural Joint

1167

Selected Lameness of the Stifle

1167

Osteochondrosis

1167

Subchondral Bone Cysts

1167

Upward Fixation of the Patella

1168

Femorotibial Joint Pain

1169

Thoracolumbar Injuries

1169

Thoracolumbar Myositis

1169

Sacroiliac Region Pain

1169

Forelimb Lameness in the Cutting Horse

1170

The Roping Horse

1170

Team Roping Horse

1170

Description of the Sport

1170

Conformation

1171

Training

1171

Historical Data and Decreased Performance

1171

Lameness Examination

1172

Diagnosis and Management of Specific Lameness

1172

Palmar Foot Pain

1172

Soft Tissue Injuries

1173

Distal Hock Joint Pain

1174

Back and Pelvic Region Pain

1174

Shoeing Considerations

1175

Calf Roping and Breakaway Roping Horses

1175

Description of the Sport

1175

Conformation

1175

Historical Data and Poor Performance

1175

Diagnosis and Management of Specific Lameness

1175

Shoeing Considerations

1176

The Reined Cow Horse

1176

Training Surfaces

1176

The Relationship of Training to Lameness

1177

Conformation and Lameness

1177

Lameness Evaluation

1177

Imaging Considerations

1178

Proceeding without a Diagnosis

1178

Lameness and Shoeing Considerations

1178

Ten Most Common Lameness Conditions in the Reined Cow Horse

1179

Treatment of Lameness

1179

Suspensory Desmitis

1179

Centrodistal and Tarsometatarsal Joint Pain

1179

Navicular Syndrome

1179

Traumatic Hoof Injuries

1179

Superficial Digital Flexor Tendonitis

1179

Stifle Pain

1179

Metatarsophalangeal Joint Pain

1180

Sesamoiditis

1180

Distal Interphalangeal Joint Pain

1180

Osteitis of the Distal Phalanx

1180

Barrel-Racing Horses

1180

Conformation

1181

Training

1181

Historical Data and Poor Performance

1181

Lameness Examination

1182

Diagnosis and Management of Specific Lameness

1182

Shoeing Considerations

1183

Other Considerations

1183

The European Western Performance Horse

1183

Ten Most Common Lameness Conditions in 2- to 8-Year-Old European Western Performance Horses

1183

Lameness of the Foot

1183

Lameness of the Hock

1184

Superficial Digital Flexor Tendonitis

1184

Lameness of the Stifle

1185

Suspensory Desmitis

1185

Lameness of the Fetlock Joint

1185

Lameness of the Carpus

1186

Exostosis of the Second or Fourth Metacarpal/Metatarsal Bones (Splints)

1186

Curb

1186

Fracture of the Plantar Process of the Middle Phalanx

1186

The Racing Quarter Horse

1186

Chapter\t121 Walking Horses

1186

Description of the Sport

1186

Lameness Examination

1187

Chapter\t122 Lameness in the American Saddlebred and Other Trotting Breeds with Collection

1188

Description of the Sport

1188

American Saddlebred

1189

Saddlebred Gaits

1189

Lameness Examination

1190

Diagnostic Analgesia

1190

Imaging Considerations

1190

Shoeing Gaited Horses

1190

Ten Most Common Lameness Conditions

1191

Specific Lameness Conditions

1191

Distal Hock Joint Pain and Distal Tarsitis

1191

Gluteal Myositis and Back Pain

1191

Palmar Foot Pain

1192

Osteitis of the Distal Phalanx

1192

Osteoarthritis and Osteochondrosis of the Tarsocrural Joint

1192

Osteoarthritis and Osteochondrosis of the Fetlock Joint

1193

Osteoarthritis and Osteochondrosis of the Stifle Joint

1193

Suspensory Desmitis

1194

Tendonitis

1194

Splint Exostoses

1194

Other Lameness Conditions

1194

Stringhalt

1194

Semimembranosus or Semitendinosus Myositis

1194

Tibial Stress Fractures

1195

Hindlimb Extensor Tenosynovitis

1195

Cervical Myositis

1195

Chapter\t123 Lameness in the Arabian and Half-Arabian Show Horse

1195

History of the Arabian

1195

History of the Sporting Event

1195

Training: Impact of Industry

1196

Conformation and Lameness

1197

Lameness Examination

1197

History

1197

Static Examination

1198

Visual Examination

1198

Palpation

1198

Hoof Tester Examination

1198

Dynamic Examination

1198

Flexion Tests

1198

Examination in Hand and under Saddle

1199

Diagnostic Analgesia

1199

Neurological Examination

1199

Undiagnosed Lameness

1200

Ten Most Common Lameness Conditions of the Arabian and Half-Arabian Show Horse

1200

Diagnosis and Management of Lameness

1200

Bruised and Inflamed Feet

1200

Osteoarthritis of the Distal Interphalangeal Joint and Palmar Foot Pain

1201

Suspensory Desmitis

1202

Osteoarthritis of the Stifle Joints

1202

Thoracolumbar (Back), Sacroiliac, and Gluteal (Croup) Pain

1203

Osteoarthritis of the Metacarpophalangeal and Metatarsophalangeal Joints

1204

Distal Hock Joint Pain

1204

Splint Bone Injuries

1204

Osteoarthritis of the Proximal Interphalangeal Joint

1205

Desmitis of the Accessory Ligament of the Deep Digital Flexor Tendon

1205

Chapter\t124 Lameness in the Driving Horse

1205

Description of the Sport

1205

Types of Horses Used

1206

Training

1207

Ground Conditions

1207

Conformation

1208

Lameness Examination

1208

Diagnostic Analgesia

1208

Imaging Considerations

1209

Difficulties in Diagnosis

1209

Shoeing

1209

Ten Most Common Lameness Conditions

1210

Diagnosis and Management of Lameness

1210

Suspensory Desmitis

1210

Foot Lameness

1210

Distal Hock Joint Pain

1211

Exertional Rhabdomyolysis

1212

Tenosynovitis of the Digital Flexor Tendon Sheath

1213

Chronic Osteoarthritis of the Lower Limb Joints

1214

Stifle Lameness

1214

Direct Trauma

1214

Interference Injuries

1214

Injuries to the Brisket, Lower Neck, Antebrachium, Stifle, and Crus

1215

Desmitis of the Accessory Ligament of the Deep Digital Flexor Tendon

1215

Superficial Digital Flexor Tendonitis

1215

Chapter\t125 Lameness in Draft Horses

1216

Modern-Day Draft Horses

1216

Lameness Examination

1216

Ten Most Common Lameness Problems

1217

Lameness Common to the Forelimb and Hindlimb

1217

Foot

1217

Subsolar Abscess

1217

Hoof Wall Cracks

1218

Laminitis

1219

Sidebone

1220

Quittor

1220

Osteitis of the Distal Phalanx

1221

Canker

1221

Osteoarthritis of the Proximal and Distal Interphalangeal Joints, Ringbone

1222

Metacarpophalangeal (Fetlock) Joint Lameness

1223

Splints

1223

Tendonitis and Suspensory Desmitis

1223

Other Forelimb Lameness

1224

Unusual Signs Consistent with Lameness Caused by Mange Mites

1224

Hindlimb Lameness

1224

Tarsus

1224

Stifle Joint

1226

Shivers

1226

Lameness of Foals, Weanlings, and Yearlings

1227

Infectious Arthritis

1227

Developmental Orthopedic Disease

1227

Physitis and Epiphysitis and Flexural Deformities

1227

Osteochondritis Dissecans and Osteochondrosis

1227

Chapter\t126 Lameness in the Pony

1228

Lameness Affecting the Pony

1228

Lameness Examination

1228

Diagnostic Analgesia

1228

Imaging Considerations

1229

Ten Most Common Conditions Affecting Competition Ponies

1229

Limb Deformities

1229

Joint Disease

1229

Osteochondrosis

1229

Osteoarthritis

1229

Scapulohumeral Joint

1229

Carpus

1230

Stifle

1230

Hock

1230

Other Specific Joint Conditions

1230

Luxation of the Coxofemoral Joint

1230

Dysplasia of the Coxofemoral Joint

1230

Luxation of the Patella

1230

Upward Fixation of the Patella

1231

Hemarthrosis

1232

Subluxation of the Proximal Interphalangeal Joint

1232

Treatment of Joint Disease

1232

Fractures

1232

Foot-Related Problems

1233

Laminitis

1233

Soft Tissue Injuries

1233

Superficial Digital Flexor Tendonitis

1233

Desmitis of the Accessory Ligament of the Deep Digital Flexor Tendon

1233

Digital Flexor Tendon Sheath

1234

Wounds

1234

Other Conditions

1234

Back Pain

1234

Muscular Disorders

1234

Cerebellar Abiotrophy

1235

Chapter\t127 Lameness in Breeding Stallions and Broodmares

1235

The Stallion

1235

Examination

1235

Specific Diagnostic Considerations and Therapy

1236

Sore Back

1236

Osteoarthritis

1236

Neurological Disease

1236

Sore Feet

1236

Fractures of the Distal Phalanx

1237

Laminitis

1237

Muscle Disease

1237

Injuries

1237

Aortoiliac Thrombosis

1238

Comprehensive Management

1238

Pain Management

1238

Fitness and Weight Management

1238

Breeding Management and Handling

1238

Breeding Schedule

1238

Maintaining Ideal Levels of Libido

1238

Breeding Shed Handling Considerations

1239

Monitoring Breeding Performance

1240

One Mount Rule

1240

Ground Semen Collections

1240

Pharmacologically Induced Ex Copula Ejaculation

1240

Broodmare

1240

Specific Diagnostic Considerations and Therapy

1241

Sore Feet

1241

Laminitis

1241

Osteoarthritis

1241

Enlarged or Swollen Limbs

1241

Rhabdomyolysis

1241

Foaling-Related Injuries

1241

Neurological Disease

1241

Old Injuries

1242

General Husbandry and Breeding Management Considerations

1242

Chapter\t128 Lameness in Foals

1242

Evaluation of a Lame Foal

1242

Noninfectious Causes of Lameness

1243

Fractures of Long Bones

1243

Fractures of the Pelvis

1244

Fractures of the Physes

1244

Cuboidal Bone Injury

1245

Fractures of the Distal Phalanx

1245

Fractures of the Proximal Sesamoid Bones

1246

Developmental Orthopedic Disease

1247

Vascular Thrombosis

1247

Traumatic Nerve Injury

1247

Miscellaneous Soft Tissue Injury

1248

Infectious Causes of Lameness

1248

Immune-Mediated Synovitis

1251

Infection of the Digit

1251

Chapter\t129 Pleasure Riding Horse

1252

References

1255

CHAPTER 1 Lameness Examination: Historical Perspective

1255

CHAPTER 2 Lameness in Horses: Basic Facts Before Starting

1255

CHAPTER 3 Anamnesis (History)

1255

CHAPTER 4 Conformation and Lameness

1255

CHAPTER 5 Observation: Symmetry and Posture

1256

CHAPTER 6 Palpation

1256

CHAPTER 7 Movement

1256

CHAPTER 8 Manipulation

1257

CHAPTER 9 Applied Anatomy of the Musculoskeletal System

1257

CHAPTER 10 Diagnostic Analgesia

1257

CHAPTER 11 Neurological Examination and Neurological Conditions Causing Gait Deficits

1258

CHAPTER 12 Unexplained Lameness

1260

CHAPTER 13 Assessment of Acute-Onset, Severe Lameness

1260

CHAPTER 14 The Swollen Limb

1260

CHAPTER 15 Radiography and Radiology

1260

CHAPTER 16 Ultrasonographic Evaluation of the Equine Limb: Technique

1260

CHAPTER 17 Ultrasonographic Examination of Joints

1261

CHAPTER 18 Ultrasonography and Orthopedic (Nonarticular) Disease

1261

CHAPTER 19 Nuclear Medicine

1262

CHAPTER 20 Computed Tomography

1263

CHAPTER 21 Magnetic Resonance Imaging

1263

CHAPTER 22 Gait Analysis for the Quantification of Lameness

1264

CHAPTER 23 Arthroscopic Examination

1265

CHAPTER 24 Tenoscopy and Bursoscopy

1266

CHAPTER 25 Thermography: Use in Equine Lameness

1267

CHAPTER 26 The Biomechanics of the Equine Limb and Its Effect on Lameness

1267

CHAPTER 27 The Foot and Shoeing

1268

Horseshoes and Shoeing

1270

Additional Reading

1270

Natural Balance Trimming and Shoeing

1270

Hoof Reconstruction Materials and Glue-On Shoes

1270

CHAPTER 28 Trauma to the Sole and Wall

1270

CHAPTER 29 Functional Anatomy of the Palmar Aspect of the Foot

1271

CHAPTER 30 Navicular Disease

1271

CHAPTER 31 Fracture of the Navicular Bone and Congenital Bipartite Navicular Bone

1273

CHAPTER 32 Primary Lesions of the Deep Digital Flexor Tendon within the Hoof Capsule

1273

CHAPTER 33 The Distal Phalanx and Distal Interphalangeal Joint

1274

Fractures and Fragmentation of the Extensor Process of the Distal Phalanx

1275

Injuries of the Collateral Ligaments of the Distal Interphalangeal Joint

1275

Osseous Cystlike Lesions in the Distal Phalanx

1275

Osseous Trauma of the Distal and Middle Phalanges

1275

Keratomas and Neoplastic and Nonneoplastic Space-Occupying Lesions in the Hoof

1275

Fractures of the Distal Phalanx

1276

Pedal Osteitis: Does It Exist?

1276

Osteitis of the Palmar Processes of the Distal Phalanx

1276

Disease of the Cartilages of the Foot

1276

CHAPTER 34 Laminitis

1276

Diagnosis of Laminitis

1278

Medical Therapy of Laminitis

1278

Chronic Laminitis

1278

Venography

1279

Hoof Care of a Laminitic Horse

1279

Deep Digital Flexor Tenotomy for Managing Laminitis

1279

Other Management Aspects of Laminitis

1279

CHAPTER 35 The Proximal and Middle Phalanges and Proximal Interphalangeal Joint

1279

CHAPTER 36 The Metacarpophalangeal Joint

1280

CHAPTER 37 The Metacarpal Region

1281

CHAPTER 38 The Carpus

1282

CHAPTER 39 The Antebrachium

1283

CHAPTER 40 The Elbow, Brachium, and Shoulder

1283

CHAPTER 41 The Hind Foot and Pastern

1284

CHAPTER 42 The Metatarsophalangeal Joint

1285

CHAPTER 43 The Metatarsal Region

1286

CHAPTER 44 The Tarsus

1286

CHAPTER 45 The Crus

1288

CHAPTER 46 The Stifle

1288

CHAPTER 47 The Thigh

1290

CHAPTER 48 Mechanical and Neurological Lameness in the Forelimbs and Hindlimbs

1291

CHAPTER 49 Diagnosis and Management of Pelvic Fractures in the Thoroughbred Racehorse

1291

CHAPTER 50 Lumbosacral and Pelvic Injuries in Sports and Pleasure Horses

1292

CHAPTER 51 Diagnosis and Management of Sacroiliac Joint Injuries

1293

CHAPTER 52 Thoracolumbar Spine

1293

CHAPTER 53 The Cervical Spine and Soft Tissues of the Neck

1294

CHAPTER 54 Pathogenesis of Osteochondrosis

1295

CHAPTER 55 The Role of Nutrition in Developmental Orthopedic Disease: Nutritional Management

1297

CHAPTER 56 Diagnosis and Management of Osteochondrosis and Osseous Cystlike Lesions

1297

CHAPTER 57 Physitis

1298

CHAPTER 58 Angular Limb Deformities

1298

Suggested Readings

1298

CHAPTER 59 Flexural Limb Deformities in Foals

1298

CHAPTER 60 Cervical Stenotic Myelopathy

1298

CHAPTER 61 Osteoarthritis

1299

CHAPTER 62 Markers of Osteoarthritis: Implications for Early Diagnosis and Monitoring of the Pathological Course and Effects of Therapy

1305

CHAPTER 63 Gene Therapy

1306

CHAPTER 64 Models of Equine Joint Disease

1306

CHAPTER 65 Infectious Arthritis and Fungal Infectious Arthritis

1308

Fungal Infectious Arthritis

1310

CHAPTER 66 Noninfectious Arthritis

1311

CHAPTER 67 Other Joint Conditions

1312

CHAPTER 68 Pathophysiology of Tendon Injury

1312

CHAPTER 69 Superficial Digital Flexor Tendonitis

1314

Surgical Management of Superficial Digital Flexor Tendonitis

1314

Superficial Digital Flexor Tendonitis in Event Horses, Show Jumpers, Dressage Horses, and Pleasure Horses

1315

CHAPTER 70 The Deep Digital Flexor Tendon

1315

CHAPTER 71 Injuries of the Accessory Ligament of the Deep Digital Flexor Tendon

1316

CHAPTER 72 The Suspensory Apparatus

1316

CHAPTER 73 Clinical Use of Stem Cells, Marrow Components, and Other Growth Factors

1317

CHAPTER 74 Diseases of the Digital Flexor Tendon Sheath, Palmar Annular Ligament, and Digital Annular Ligaments

1318

CHAPTER 75 The Carpal Canal and Carpal Synovial Sheath

1319

CHAPTER 76 The Tarsal Sheath

1319

CHAPTER 77 Extensor Tendon Injury

1320

CHAPTER 78 Curb

1320

CHAPTER 79 Bursae and Other Soft Tissue Swellings

1320

CHAPTER 80 Other Soft Tissue Injuries

1321

CHAPTER 81 Tendon Lacerations

1321

CHAPTER 82 Soft Tissue Injuries of the Pastern

1321

CHAPTER 83 Skeletal Muscle and Lameness

1321

CHAPTER 84 Principles and Practices of Joint Disease Treatment

1325

CHAPTER 85 Analgesia and Hindlimb Lameness

1329

CHAPTER 87 External Skeletal Fixation

1330

CHAPTER 88 Counterirritation

1330

CHAPTER 89 Cryotherapy

1330

CHAPTER 90 Radiation Therapy

1330

CHAPTER 91 Rest and Rehabilitation

1331

CHAPTER 92 Acupuncture

1331

Acupuncture Channel Palpation and Equine Musculoskeletal Pain

1332

CHAPTER 93 Chiropractic Evaluation and Management of Musculoskeletal Disorders

1333

CHAPTER 94 Electrophysical Agents in Physiotherapy

1333

CHAPTER 95 Osteopathic Treatment of the Axial Skeleton of the Horse

1335

CHAPTER 96 Shock Wave Therapy

1335

CHAPTER 97 Poor Performance and Lameness

1336

CHAPTER 98 Experiences Using a High-Speed Treadmill to Evaluate Lameness

1336

CHAPTER 99 The Sales Yearling

1336

CHAPTER 100 Pathophysiology and Clinical Diagnosis of Cortical and Subchondral Bone Injury

1337

CHAPTER 101 Bone Biomarkers

1338

CHAPTER 102 The Bucked-Shin Complex

1340

Stress Fractures of the Third Metacarpal Bone: Surgical Management

1341

CHAPTER 103 On-the-Track Catastrophes in the Thoroughbred Racehorse

1341

CHAPTER 104 Catastrophic Injuries

1341

CHAPTER 105 Track Surfaces and Lameness: Epidemiological Aspects of Racehorse Injury

1341

CHAPTER 107 The European Thoroughbred

1342

CHAPTER 108 The North American Standardbred

1342

CHAPTER 109 The European and Australasian Standardbreds

1343

The Australasian Standardbred

1343

CHAPTER 110 The Racing Quarter Horse

1343

CHAPTER 112 National Hunt Racehorse, Point to Point Horse, and Timber Racing Horse

1344

CHAPTER 113 The Finnish Horse and Other Scandinavian Cold-Blooded Trotters

1344

CHAPTER 114 Prepurchase Examination of the Performance Horse

1344

CHAPTER 116 Lameness in the Dressage Horse

1344

CHAPTER 117 Lameness in the Three Day Event Horse

1344

CHAPTER 118 Lameness in Endurance Horses

1345

CHAPTER 120 The Western Performance Horse

1345

The Roping Horse

1345

Barrel-Racing Horses

1345

CHAPTER 122 Lameness in the American Saddlebred and Other Trotting Breeds with Collection

1345

CHAPTER 123 Lameness in the Arabian and Half-Arabian Show Horse

1345

CHAPTER 125 Lameness in Draft Horses

1346

CHAPTER 126 Lameness in the Pony

1346

CHAPTER 127 Lameness in Breeding Stallions and Broodmares

1347

CHAPTER 128 Lameness in Foals

1348

Index

1349

A

1349

B

1351

C

1353

D

1357

E

1360

F

1362

G

1365

H

1365

I

1368

J

1369

K

1369

L

1370

M

1372

N

1374

O

1376

P

1377

Q

1382

R

1382

S

1384

T

1390

U

1395

V

1395

W

1395

X

1396

Y

1396

Z

1396

Legends for color insert figures

c1

Normal Gait

endsheet2

Unilateral Forelimb Lameness

endsheet2

Bilateral Forelimb Lameness

endsheet2

Effect of Circling on Forelimb Lameness

endsheet2

Hindlimb Lameness without a Head and Neck Nod

endsheet2

Hindlimb Lameness with an Associated Head and Neck Nod

endsheet2

Bilateral Hindlimb Lameness

endsheet2

Effect of Circling on Hindlimb Lameness

endsheet2

Concurrent Forelimb and Hindlimb Lameness

endsheet2

Other Aspects of Hindlimb Lameness

endsheet2

Neurological Gait Deficits

endsheet2

Mechanical Gait Deficits

endsheet2

Esoteric Gait Abnormalities

endsheet2

AD

endsheet3

Abbreviations

endsheet6