Subjects (Books)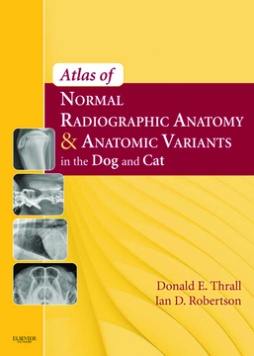 Additional Information
Book Details
ISBN

978-1-4377-1188-2


Edition

Language

English

Pages

224

Subjects
Abstract
Featuring hundreds of high-quality digital images, Atlas of Normal Radiographic Anatomy and Anatomic Variants in the Dog and Cat helps you make accurate diagnoses by identifying the differences between normal and abnormal anatomy. Expert authors Donald E. Thrall and Ian D. Robertson describe a wider range of "normal," as compared to competing books, not only showing standard dogs and cats but non-standard subjects such as overweight and underweight pets plus animals with breed-specific variations. This oversized atlas provides an ideal complement to Thrall's Textbook of Veterinary Diagnostic Radiology, the leading veterinary radiography text in the U.S. Use this quick, visual reference for proper technique and interpretation of radiographic images, and you will make accurate diagnoses and achieve successful treatment outcomes.
High-quality digital images show anatomic structures with excellent contrast resolution to enable accurate diagnoses.
Radiographic images of normal or "standard" prototypical animals are supplemented by images of non-standard subjects exhibiting breed-specific differences, physiologic variants, or common congenital malformations.
Brief descriptive text and explanatory legends accompany images, putting concepts into the proper context and ensuring a more complete understanding.
Clear labeling of important anatomic structures includes cropped images to emphasize key points, and makes it quicker and easier to recognize unlabeled radiographs.
An overview of radiographic technique includes the effects of patient positioning, respiration, and exposure factors.
Radiographs of immature patients show the effect of patient age on anatomic appearance.
A wide range of "normal" animals is described, to prevent clinical under- and over-diagnosing of clinical patients.
Table of Contents
Section Title
Page
Action
Price

Front cover

Cover

Atlas of Normal Radiographic Anatomy & Anatomic Variants in the Dog and Cat

iii

Copyright page

iv

Preface

v

Acknowledgments

vii

Table of Contents

ix

Chapter 1 Introduction

1

HOW TO USE THIS ATLAS

2

WHAT IS NORMAL?

2

RADIOGRAPHIC TERMINOLOGY

2

VIEWING IMAGES

2

STANDARD PROJECTIONS

2

OBLIQUE PROJECTIONS

3

PHYSEAL CLOSURE

7

REFERENCE

16

Chapter 2 The Skull

17

OVERVIEW

18

DENTITION

19

NASAL CAVITY AND SINUSES

23

TEMPOROMANDIBULAR JOINTS AND TYMPANIC BULLAE

30

THE MANDIBLES AND LARYNX

35

REFERENCES

38

Chapter 3 The Spine

39

CERVICAL SPINE

42

THORACIC SPINE

50

LUMBAR SPINE

57

SACRAL SPINE

62

CAUDAL SPINE

65

REFERENCES

67

Chapter 4 The Thoracic Limb

69

THE SCAPULA AND BRACHIUM

70

THE ELBOW JOINT

81

ANTEBRACHIUM

86

CARPUS

89

MANUS

95

REFERENCES

98

RESOURCES

98

Chapter 5 The Pelvic Limb

99

PELVIS

100

FEMUR AND STIFLE

108

TIBIA AND FIBULA

118

PES

123

REFERENCES

126

Chapter 6 The Thorax

127

LEFT LATERAL VIEW

132

RIGHT LATERAL VIEW

134

DORSOVENTRAL VIEW

136

VENTRODORSAL VIEW

139

THORACIC WALL

140

MEDIASTINUM

143

TRACHEA AND BRONCHI

146

ESOPHAGUS

148

HEART

150

LUNG

156

DIAPHRAGM

164

REFERENCES

167

Chapter 7 The Abdomen

169

LIVER

172

SPLEEN

175

PANCREAS

181

KIDNEYS

181

URETERS

184

URINARY BLADDER

186

PROSTATE GLAND

187

URETHRA

188

STOMACH

188

SMALL INTESTINE

194

LARGE INTESTINE

198

MISCELLANEOUS

201

REFERENCES

206

Index

207