Subjects (Books)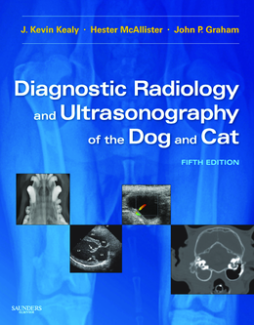 Additional Information
Book Details
ISBN

978-1-4377-1182-0


Edition

5

Language

English

Pages

592

Subjects
Abstract
Interpret diagnostic images accurately with Diagnostic Radiology and Ultrasonography of the Dog and Cat, 5th Edition. Written by veterinary experts J. Kevin Kealy, Hester McAllister, and John P. Graham, this concise guide covers the principles of diagnostic radiology and ultransonography and includes clear, complete instruction in image interpretation. It illustrates the normal anatomy of body systems, and then uses numbered points to describe radiologic signs of abnormalities. It also includes descriptions of the ultrasonographic appearance of many conditions in dogs and cats. Updated with the latest on digital imaging, CT, MR, and nuclear medicine, and showing how to avoid common errors in interpretation, this book is exactly what you need to refine your diagnostic and treatment planning skills!
Hundreds of detailed radiographs and ultrasonograms clearly illustrate principles, aid comprehension, and help you accurately interpret your own films.
The normal anatomy and appearance for each body system is included so you can identify deviations from normal, such as traumatic and pathologic changes.
Coverage of the most common disorders associated with each body system help you interpret common and uncommon problems.
Coverage of radiographic principles and procedures includes density, contrast, detail, and technique, so you can produce the high-quality films necessary for accurate diagnosis.
Clinical signs help you arrive at a clinical diagnosis.
An emphasis on developing a standardized approach to viewing radiographs and ultrasonograms ensures that you do not overlook elements of the image that may affect proper diagnosis.
Complete coverage of diagnostic imaging of small animals includes all modalities and echocardiography, all in a comprehensive, single-source reference.
Discussions of ultrasound-guided biopsy technique help you perform one of the most useful, minimally invasive diagnostic procedures.
Single chapters cover all aspects of specific body compartments and systems for a logical organization and easy cross-referencing.
Coverage of different imaging modalities for individual diseases/disorders is closely integrated in the text and allows easier comprehension.
A consistent style, terminology, and content results from the fact that all chapters are written by the same authors.
Table of Contents
Section Title
Page
Action
Price

Front Cover\r

Cover

Diagnostic Radiology and Ultrasonography of the Dog and Cat\r

iii

Copyright\r

iv

Dedication\r

v

Preface

vii

Acknowledgments

ix

Contents

x

Chapter one - The Radiograph

1

DENSITY AND OPACITY

1

CONTRAST

5

FACTORS AFFECTING IMAGE QUALITY

5

RADIOLOGIC CHANGES

5

STANDARD VIEWS

5

BEAM DIRECTION

6

TECHNIQUE

6

CONTRAST MEDIA

7

VIEWING THE RADIOGRAPH

7

COMPUTED TOMOGRAPHY

8

ULTRASOUND

10

REFERENCES

22

Chapter two - The Abdomen

23

THE ABDOMINAL CAVITY

23

THE ABDOMINAL WALL

33

THE RETROPERITONEAL SPACE

36

THE LIVER

38

THE GALLBLADDER

49

THE SPLEEN

50

THE PANCREAS

57

THE ALIMENTARY TRACT

65

THE ESOPHAGUS

65

THE STOMACH

75

THE SMALL INTESTINE

94

THE LARGE INTESTINE

110

THE ADRENAL GLANDS

123

THE URINARY SYSTEM

126

THE KIDNEYS

126

THE URETERS

144

THE BLADDER

150

THE URETHRA

169

THE MALE GENITAL TRACT

172

THE PENIS

172

THE TESTES

172

THE PROSTATE GLAND

175

THE FEMALE GENITAL TRACT

181

THE UTERUS

181

THE OVARIES

191

THE VAGINA

192

THE MAMMARY GLAND

192

REFERENCES

195

Chapter three - The Thorax

199

THE PHARYNX, LARYNX, AND HYOID APPARATUS

199

THE TRACHEA

202

THE THORACIC CAVITY

208

THE SKIN

208

THE BRONCHI

217

THE LUNGS

221

THE DIAPHRAGM

249

THE PLEURAE

257

THE MEDIASTINUM

270

THE THORACIC WALL

278

THE SPINE

279

THE RIBS

279

THE STERNUM

279

THE CARDIOVASCULAR SYSTEM

282

REFERENCES

346

Chapter four - Bones and Joints

351

BONES

351

JOINTS

360

REFERENCES

444

Chapter five - The Skull and Vertebral Column

447

THE SKULL

447

THE NASAL CHAMBERS

464

THE PARANASAL SINUSES

468

THE AUDITORY SYSTEM

472

THE EYE

478

THE TEETH

480

THE SALIVARY GLANDS

486

THE NASOLACRIMAL DUCTS

487

THE BRAIN

487

THE VERTEBRAL COLUMN

496

THE INTERVERTEBRAL DISKS

513

REFERENCES

539

Chapter six - Soft Tissues

543

CALCIFICATION (MINERALIZATION)

543

ARTERIOVENOUS FISTULA

543

FASCIAL PLANES

543

SOFT TISSUE PATHOLOGY

544

CERVICAL SOFT TISSUES

545

THYROID GLAND

545

THE PARATHYROID GLANDS

547

MUSCLES

548

LYMPH NODES

550

ULTRASOUND-GUIDED ASPIRATION AND BIOPSY

551

REFERENCES

562

Index

563

Color Plates\r

I