Subjects (Books)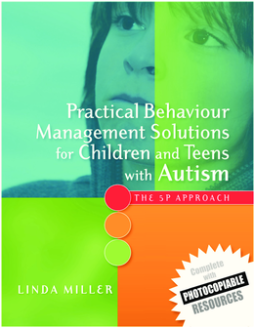 BOOK
Practical Behaviour Management Solutions for Children and Teens with Autism
(2009)
Additional Information
Book Details
ISBN

978-0-85700-184-9


Edition

Language

English

Pages

176

Subjects
Abstract
Children and young people with autistic spectrum disorders present many challenges to the people who care for them. 'Difficult' or challenging behaviour is often encountered on a daily basis, and it is easy for both parents and professionals to feel completely overwhelmed by its sheer range and complexity. Where do you start? What happens when, in managing one set of problems, another gets worse? Is there some way to tackle difficulties before they get out of hand, or even before they arise?
Practical Behaviour Management Solutions for Children and Teens with Autism answers these questions and provides practical solutions that really work. It offers a complete framework for behaviour intervention which has its roots in prevention and good practice, with an emphasis on promoting and encouraging the development of skills and independence, through Profiling, Prioritizing, Problem analysis, Problem solving and Planning. From identifying behaviour and understanding the root causes, through to planning and implementing a comprehensive intervention programme, this book is packed with practical strategies and expert guidance. While clearly defining the steps you need to take, it also allows for flexibility according to need and individual contexts.
Designed specifically for parents and teachers, and complete with photocopiable tools, this book will provide structured yet flexible guidance for all parents and professionals supporting a child or young person on the autism spectrum.
Linda Miller is a chartered educational psychologist and chartered scientist with a specialism in autism and related disorders. Linda currently works as an Independent Consultant Educational Psychologist and, with more than 25 years' experience in education, she has worked closely with schools and parents to provide consultation and assessment, advice on behaviour management and support to schools in developing policy and provision. Linda has played a key role in the development of Local Authority autism policy in the UK, and contributed to the national Autism Good Practice Guidance.  
Visit Linda's website www.5papproach.co.uk. She can be contacted at linda.miller@5papproach.co.uk
the book is accessible to both parents and professionals.
COTSS PLD