Subjects (Books)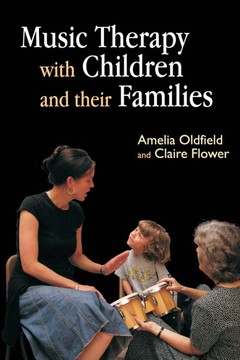 Additional Information
Book Details
ISBN

978-1-84642-801-2


Edition

Language

English

Pages

208

Subjects
Abstract
In the past, music therapy work with children typically took place in special schools without the family being present. More recently, music therapy has become a widespread practice, and this book reflects the variety of settings within which music therapists are now working with children together with their families.
The contributors are music therapists with experience of working with children and their families in a range of different environments, such as schools, hospices, psychiatric units, child development centres and in the community. They describe their approaches to family work with client groups including children with autism, learning disabled toddlers, adopted children and looked after teenagers. Their experiences demonstrate that involving the family in a child's music therapy can be beneficial for everyone, and that it is possible to address relationship issues within the family as part of the treatment.
This book will provide useful insight into the growing area of music therapy with children and their families, and will be valuable for music therapy professionals and students, as well as other medical and teaching professionals who work with families.
Amelia Oldfield is a well-known and prestigious music therapist with over 25 years' experience in the field. She works at the Croft Unit for Child and Family Psychiatry and at the Child Development Centre, Addenbrookes. She also lectures at Anglia Polytechnic University, where she co-initiated the MA Music Therapy Training. Amelia has completed four research investigations and a PhD. She has also produced six music therapy training videos. She is married with four children and plays clarinet in local chamber music groups in Cambridge, UK. Claire Flower has 20 years' experience as a music therapist in clinical practice, working in a range of settings with a wide variety of client groups. She works now at the Cheyne Child Development Service based at Chelsea and Westminster Hospital, London. Claire is a past Chairperson of the British Society for Music Therapy, maintains a supervision practice and continues to both write about and present her work extensively.
Table of Contents
Section Title
Page
Action
Price

Introduction

HELEN COLLINSON

THE CRISIS AND THE MOVEMENT: CONTINENTAL PERSPECTIVES

INDIGENOUS COMMUNITIES AND THEIR ENVIRONMENTS

FIGHT FOR THE FOREST

MODERNIZATION: ENVIRONMENTAL COSTS AND POPULAR RESPONSES

URBAN ECOWARRIORS: ENVIRONMENTAL CONFLICTS AND INITIATIVES IN LATIN AMERICAN CITIES

About the contributors

Index