Subjects (Books)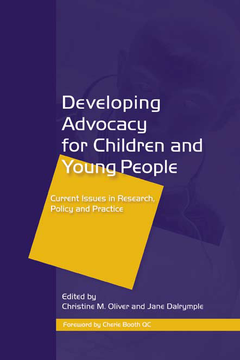 Additional Information
Book Details
ISBN

978-1-84642-789-3


Edition

Language

English

Pages

224

Subjects
Abstract
The role of an advocate for children is one that I perform myself which is why I have found much of the research presented in this book so interesting... We are all on the same side battling to improve life for children who have, through no fault of their own, been handed a very bad set of cards.'
- From the Foreword by Cherie Booth QC
Advocacy for vulnerable people is increasingly becoming a part of health and social care practice, and over the past decade policy developments have contributed to a rapid development of advocacy services for children and young people.
This book explores the latest debates and findings relating to research and practice in the field of children and young people's advocacy. Contributors present the key issues and dynamics of current advocacy practice and examine its role within health, education and social care services, including its impact on inter-professional collaboration, the development of personalised services and the barriers and facilitators to children's participation in children's services.
This book will be valued by any professional working with young people, including children and young people's advocates, health and social care professionals, teachers and youth workers.
`The role of an advocate for children is one that I perform myself which is why I have found much of the research presented in this book so interesting... We are all on the same side battling to improve life for children who have, through no fault of their own, been handed a very bad set of cards.'
from the Foreword by Cherie Booth QC
Table of Contents
Section Title
Page
Action
Price

Introduction

Principles

Pillar 1: Standards to ensure a quality child protection response

Pillar 2: Standards on child protection risks

Pillar 3: Standards to develop adequate strategies

Pillar 4: Standards to work across sectors

Glossary

Relevant legal instruments

Key resources for cross-cutting issues