Subjects (Books)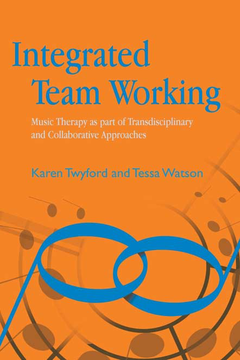 Additional Information
Book Details
ISBN

978-1-84642-786-2


Edition

Language

English

Pages

240

Subjects
Abstract
Integrated Team Working describes collaborative multidisciplinary approaches and demonstrates that they can be valuable methods of music therapy intervention.
The authors explain the development of the music therapist's role within the multidisciplinary team and discuss the prevalence of collaborative partnerships between UK music therapists and other professionals such as occupational therapists, speech and language therapists, psychologists, physiotherapists and other arts therapists. They examine the rationale, purpose and application of collaborative approaches and explore how and why music therapists adopt these approaches at differing levels. The book includes case studies from a variety of clinical settings, which illustrate the creative and innovative approaches used in transdisciplinary work in the evolving discipline of music therapy.
This theoretical and practical guide offers useful advice for music therapy students and professionals who wish to employ collaborative approaches. It will also be helpful for other professionals who are considering or already working together with music therapists.
Karen Twyford and Tessa Watson have produced a superbly crafted book about the practicalities of team approaches in music therapy with a range of client groups. The book presents a clear and engaging message about current practices in integrated team working. It is particularly helpful that the vast literature on team working in health and education is reviewed along with a presentation of the historical development of team work structures in the United Kingdom. Government policy pertaining to the requirement for team interactions and structures is presented, and eighteen case examples of practitioners' experiences of team working are incorporated... There are two main strengths to this book. The first is that various types of team work are clearly elaborated in descriptions in the introductory chapter. This overview is a wonderful resource for music therapists, offering them opportunities to reflect on their own context and to consider the type of team in which they work (or perhaps aspire to work). The second strength is the practitioner contributions represented in their observations of the unique role of the music therapist. I was touched by the way in which other therapists were prepared to share their uncertainty about working with music, and impressed by their commitment to finding a way to be present in sessions with the music therapist. The editors have taken pains to balance the voices represented in these cases of integrated team working: no one perspective dominates. This demonstrates the expert capacity of the editors for a team work approach to the task of writing and editing this book.
British Journal of Music Therapy, Professor Jane Edwards, Course Director of the MA in Music Therapy at the Irish World Academy of Music and Dance, University of Limerick, Ireland
A fine selection of case studies from a range of clinical settings showing different approaches used in music therapy. INTEGRATED TEAM WORKING: MUSIC THERAPAY AS PART OF TRANSDISCIPLINARY AND COLLABORATIVE APPROACHES is an in-depth guide for music therapy students and professionals who want to consider collaborative approaches, and is a recommendation for any college-level psychology collection.
The Midwest Book Review
The book is most valuable in inspiring collaboration and offering students and professionals ideas for collaborative work in music therapy. Short case studies provide examples of music therapists' work with a diverse range of professionals and client groups, and a set of "good practice guidelines" are presented at the end of each chapter. The clear structuring of the book means that readers with limited time can extract sections that are most relevant to their work.
Nordic Journal of Music Therapy
The standard of writing is superb throughout. The use of citations is exemplary and a wide range of voices from research and practice writings in the field are included.
British Journal of Music Therapy
If there has been a book missing from the shelves of practitioners and educators in the field of transdisciplinary and collaborative healthcare settings, it has been this one. The intricate weaving of case vignettes and reflections of experienced clinicians in the field together with conceptual material, produces an excellent resource for the consideration of existing models of practice. The book can be recommended to educators and researchers whole-heartedly and... for clinicians, this multi-faceted and engaging work will inspire and encourage those committed to team and collaborative work.
International Journal of Therapy and Rehabilitation
Table of Contents
Section Title
Page
Action
Price

Foreword to the English edition Jan Rocha

Acknowledgements

Letters to someone who doesn't exist

The vortex

The trap

The informers

Her first pair of glasses

The clandestine marriage

Letter to a friend

Books and revolution

Jacobo

The dog

The day the Earth stood still

Psychological warfare

The matzeiva

Left in the lurch

Immunity, a paradox

Two reports

A nightmare

Passion

Memories, an inventory

Therapy

Giving up literature

The army almanac

The extortionists

The Council meeting

Streets and names

Survivors, an afterthought

The meeting at the barracks

Message to comrade Klemente

Postscript

To the reader