Subjects (Books)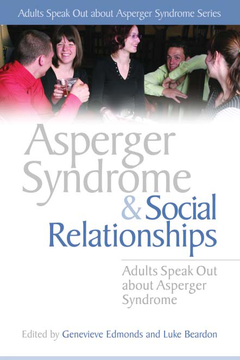 Additional Information
Book Details
ISBN

978-1-84642-777-0


Edition

Language

English

Pages

176

Subjects
Abstract
This book is essential reading to understand the social abilities of adults with Asperger's syndrome. The contributors each have different personalities and experiences, but together they provide a range of strategies to encourage people with Asperger's syndrome to achieve the social relationships they desire.'
- Professor Tony Attwood
Social interaction among neurotypical people is complex and in many ways illogical. To the person with Asperger Syndrome (AS) it is also woefully unintuitive. In this book, adults with AS discuss social relationships, offer advice and support for others with AS and provide necessary insights into AS perspectives for those working and interacting with them.
The contributors evaluate a range of social contexts and relationship aspects, including:
* online relationships - a worldwide social network based on non-verbal communication,
* the unwritten rules of neurotypical socialising,
* the need for mutual understanding between those with AS and neurotypicals,
* the effects of struggling socially on one's self-esteem and frame of mind, and
* the opportunities provided by social skills workshops or interest groups.
This is essential reading for adults with AS, their family and friends, as well as service providers and other professionals providing support for people with AS in adult life.
Sound advice for others with AS, as well as those involved with them socially, interpersonally or as employers or colleagues. Extremely readable and highly informative.
Human Givens
I would strongly recommend this series for: adults with AS, their family and friends, service providers, employment services, career advisors and companies employing or looking to employ individuals with AS and other professionals supporting people with AS in adult life.
GAP Good Autism Practice
Table of Contents
Section Title
Page
Action
Price

front cover

front cover

Asperger Syndrome and Social Relationships:\rAdults Speak Out about Asperger Syndrome

3

Contents

5

PREFACE TO SERIES\r

9

INTRODUCTION\r

11

1.\rOne-Channel\rCommunication: Developing\rSocial Relations Online

19

2.\rDeveloping a\rBetter Social Understanding

27

3.\rThe Difficulty\rof Social Contact and the\rImpact on My Mental Health

35

4.\rSocial\rRelationships for People with\rAsperger Syndrome: How to\rHelp People Understand

41

5.\rSocial\rRelationships and the\rCommunication Problem

49

6.\rSocial\rRelationships and Social\rInclination

61

7.\rThe Social\rWorld and Me

73

8.\rAspie Village:\rA Web-Based Social Forum

85

9.\rUnderstanding\rand Enjoying Successful\rSocial Relationships

97

10.\rSocializing 101\rfor Aspies

113

11.\rMaking Friends\ris Not Easy

125

12.\rSocial\rRelationships I've Had and\rFrom Which I've Learned

135

13.\rAsperger\rSyndrome and Social\rRelationships: My\rExperiences and Observations

147

14.\rA Stranger in a Strange Land: A Journey Through the Social Weirdness of the Neurotypical

151

LIST OF CONTRIBUTORS\r

161

INDEX\r

165

back cover

back cover