Subjects (Books)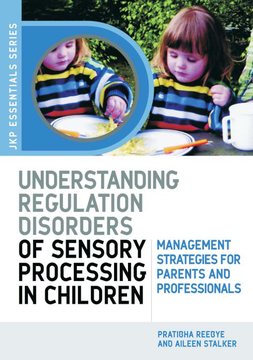 Additional Information
Book Details
ISBN

978-1-84642-714-5


Edition

Language

English

Pages

160

Subjects
Abstract
Children with Regulation Disorders of Sensory Processing struggle to regulate their emotions and behaviors in response to sensory stimulation. This book explains how to recognize these disorders, which are often misdiagnosed, and offers practical ways of helping children with regulation disorders.
The authors describe the everyday experiences of those who interact with infants and children with Regulation Disorders of Sensory Processing. They explain the distinguishing characteristics, symptoms, diagnosis, assessment and treatment approaches for the disorder. Focusing on early intervention, they present a range of management strategies for sensory sensitivities, motor problems, over- or under-reaction, and extremes of behavior. These practical strategies for parents and professionals will help children with regulation disorders integrate and succeed in the family, at school and in the community.
This concise book will be of interest to those who assess, educate and parent children with regulation disorders.
Aileen Stalker is an Occupational Therapist in private practice in Vancouver, Canada, with over 30 years' experience working with parents and children in infant and child mental health. She is the mother of two young adult sons. Pratibha Reebye is a Child and Infant Psychiatrist working in Vancouver. She has a total of 30 years' clinical experience treating adults, children and families in Mauritius, England and Canada. She is a dedicated researcher, lecturer and clinician who is internationally respected. Pratibha is married with two sons and a daughter.
Written by a child psychiatrist and an occupational Therapist it is addressed to caretakers of these disorders. It enumerates and describes these disorders, reviews the diagnostic techniques and their management. For pediatricians and neurologists.
Pediatric Endocrinology Reviews, Volume 5, March 2008