Subjects (Books)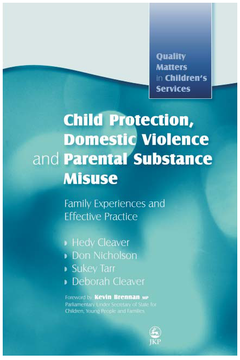 Additional Information
Book Details
ISBN

978-1-84642-673-5


Edition

Language

English

Pages

232

Subjects
Abstract
This book draws on a wide range of evidence to explore the facts about the relationship between substance misuse and domestic violence and their effect on children, and examines the response of children's services when there are concerns about the safety and welfare of children.
It reveals the vulnerability of these children and the extent to which domestic violence, parental alcohol or parental drug misuse impact on children's health and development, affect the adults' capacity to undertake key parenting tasks, and influence the response of wider family and the community. It includes parents' own voices and allows them to explain what help they feel would best support families in similar situations. The authors explore the extent to which current local authority plans, procedures, joint protocols and training support information sharing and collaborative working. Emphasising the importance of an holistic inter-agency approach to assessment, planning and service provision, the authors draw from the findings implications for policy and practice in both children and adult services.
This book is essential reading for all professionals working to promote the welfare and wellbeing of children and those working with vulnerable adults, many of whom are parents.
Hedy Cleaver is an emeritus professor at Royal Holloway, University of London. Her experience as a social worker and child psychologist has informed her research on vulnerable children and families and the impact of professional interventions. The findings from her research have had an identifiable impact on policy in the UK in respect to children and families over the last 20 years. She is co-author of Assessing Children's Needs and Circumstances: The Impact of the Assessment Framework, also published by Jessica Kingsley Publishers. Don Nicholson was a senior manager in social services before taking early retirement in 1996. Since then Don was involved in a range of research studies that explored the experiences of vulnerable children and families. His death is a great loss to the research community. Sukey Tarr worked as a child psychologist in the UK and Hong Kong, in child welfare in Australia, and as a staff training and development manager, before beginning her career in research. As an independent research consultant she has been involved in a number of national research studies that have evaluated the services provided to children in need and their families. Deborah Cleaver is a freelance social researcher. She has been involved in a number of research studies over the past three years, specializing in quantitative methods.
This is research which is clearly having an impact on policy and commissioning decisions at both senior central government and local levels. It is also research which should inform all social work practitioner's decisions on a case-by-case basis (including Cafcass practitioners). This is, therefore, a book I wood recommend strongly to both FCAs and FSWs involved in public and private law cases.
Cafcass, within Channel C Staff publication
Table of Contents
Section Title
Page
Action
Price

Editorial

Helen O' Connell

Gender-related violence: its scope and relevance

Judy El Bushra and Eugenia Piza-Lopez

Conflict and the women of Chad

Achta Djibrine Sy

Life during wartime: women and conflict in Afghanistan

Fiona McLachan

Working on gender in conflict situations: some ideas on strategy

Judy El Bushra and Eugenia Piza-Lopez

Refugee women: their perspectives and our responses

Tina Wallace

Working with women refugees in easter Sri Lanke

Nalini Kasynathan

The psyco-social effects of 'La Violencia' on widows of El Quiche, Guatemala

Judith Zur

'Clutching at a knifeblade:' human rights and development from Asian women's perspective

Nelia Sancho-Liao

Domestic violence as a development issue

Ruth Jacobson

Forced prostitution of women and girls in Brazil

Anti-Slavery International

Colombian women prisoners in Britain

Jo Fisher

Interview with Sochua Mu Leiper, Director of Khemara

Letters to the Editor

News from GADU

Resource - Book Review and Further reading.