Subjects (Books)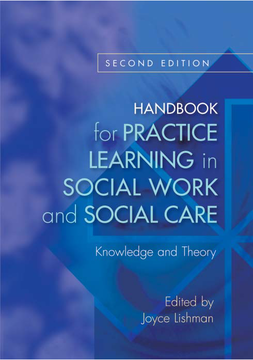 Additional Information
Book Details
ISBN

978-1-84642-652-0


Edition

2

Language

English

Pages

408

Subjects
Abstract
This substantially revised, expanded and updated edition of the popular Handbook of Theory for Practice Teachers is a comprehensive summary of the theory, knowledge, research and evidence relating to practice learning in social care.
Focussing on knowledge-based practice with a focus on improving outcomes, the five sections of the book cover:
* the reasons and circumstances in which people may become social work service users
* a holistic consideration of assessment in general and specific contexts, including risk assessment and management
* methods of intervention, including cognitive behavioural social work, task centred practice, advocacy, crisis intervention, family therapy and group care
* the legal, policy, research and evidence context in which assessment and intervention occur, as well as interdisciplinary work and organisational aspects of social work practice
* reflective practice, evaluation and evidence based practice as integral parts of social workers' engagement with the complex needs of individuals outside the existing parameters of policy or research findings.
This key text is essential reading for students, practitioners and teachers in social work.
Overall this is a comprehensive, up-to-date and well referenced resource which should be on the bookshelves of all social work educationalists and, indeed, of all social workers.
Moira Dunworth, Practice: Social Work in Action
The second edition of this handbook, which has been substantially updated to bring it into line with the latest developments in social work, provides an essential resource for social work educators, practitioners and students. The text would be useful to use in preparing students for social work contact, as well as supporting them in their practice learning opportunities. It is also a useful reference volume for practitioners who will be supporting students as a work base supervisor, practice teacher, and practice assessor, as it covers the traditional social work knowledge base. There are some excellent chapters from a range of well known and well respected professionals from research, policy making and practice.
Social Policy and Social Work Subject Centre (SWAP)
The book is well structured and each chapter is self-contained and carefully written, considering areas relevant for practice today. relevant for a wide audience of both occupational therapy practitioners and students.
British Journal of Occupational Therapy
Table of Contents
Section Title
Page
Action
Price

1 Introduction Participatory statistics: a 'win–win' for international development Jeremy Holland

PART I Participatory statistics and policy change

2 Participatory 3-dimensional modelling for policy and planning: the practice and the potential

Giacomo Rambaldi

3 Measuring urban adaptation to climate change: experiences in Kenya and Nicaragua Caroline Moser and Alfredo Stein

4 Participatory statistics, local decision-making, and national policy design: Ubudehe community planning in Rwanda

Ashish Shah

5 Generating numbers with local governments for decentralized health sector policy and planning in the Philippines

Rose Marie R. Nierras

6 From fragility to resilience: the role of participatory community mapping, knowledge management, and strategic planning in Sudan

Margunn Indreboe Alshaikh

Part II Who counts reality? Participatory statistics in monitoring and evaluation

7 Accountability downwards, count-ability upwards: quantifying empowerment outcomes from people's own analysis in Bangladesh

Dee Jupp with Sohel Ibn Ali

8 Community groups monitoring their impact with participatory statistics in India: reflections from an international NGO Collective

Bernward Causemann, Eberhard Gohl, C. Rajathi, A. Susairaj, Ganesh Tantry and Srividhya Tantry

9 Scoring perceptions of services in the Maldives: instant feedback and the power of increased local engagement

Nils Riemenschneider, Valentina Barca, and Jeremy Holland

10 Are we targeting the poor? Lessons with participatory statistics in Malawi

Carlos Barahona

PART III Statistics for participatory impact assessment

11 Participatory impact assessment in drought policy contexts: lessons from southern Ethiopia

Dawit Abebe and Andy Catley

12 Participatory impact assessment: the 'Starter Pack Scheme' and sustainable agriculture in Malawi

Elizabeth Cromwell, Patrick Kambewa, Richard Mwanza, and Rowland Chirwa with KWERA Development Centre

13 Participatory impact assessments of farmer productivity programmes in Africa Susanne Neubert

Afterword

Robert Chambers

Practical and accessible resources

Index