Subjects (Books)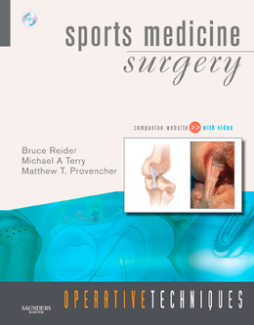 Additional Information
Book Details
ISBN

978-1-4557-2721-6


Edition

Language

English

Pages

896

Subjects
Abstract
Operative Techniques: Sports Medicine Surgery offers you all the how-to step-by-step guidance from experts Bruce Reider, Michael Terry, and Matthew Provencher that you need to perform the latest techniques in this specialty. Large full-color intraoperative photos, accompanied by detailed illustrations and a dedicated website demonstrate procedures, both arthroscopic and open. This concise, accessible multimedia resource shows you what you need to know and how to do it all—from ACL reconstruction and labral tear repair to loose body removal and treatment of turf toe. The result is a detailed, easy-to-use reference that no sports medicine surgeon should be without.
This is a title in the Operative Techniques series. Please visit www.operativetechniques.com for more information.
Includes full-text web access so you can search the text online, view surgical videos that let you see the experts perform the techniques and perfect your own, zoom in on illustrations and use reference links for further research on the procedures.
Discusses pearls and pitfalls with an emphasis on optimizing outcomes to improve the quality of your technique and learn the expert's approach to getting the best results.
Outlines positioning, exposures, instrumentation, and implants to give you a step-by-step guide for every procedure.
Provides discussions of post-operative care and expected outcomes, including potential complications and brief notes on controversies and supporting evidence to give you important details about patient-focused surgery.
Highlights key anatomies with color photos and illustrations as well as diagrams that present cases as they appear in real life to help you see every detail with clarity.
Table of Contents
Section Title
Page
Action
Price

Front cover

Cover

Title page

iii

Copyright page

iv

CONTRIBUTORS

vii

PREFACE

xiii

ACKNOWLEDGMENTS

xv

FOREWORD

xvii

Table of contents

xix

SECTION I: SHOULDER

1

PROCEDURE 1: Operating Room Setup for Shoulder Arthroscopy

3

Indications

4

Examination/Imaging

4

Surgical Anatomy

6

Positioning

7

Portals/Exposures

12

Procedure

13

Postoperative Care and Expected Outcomes

18

Evidence

18

PROCEDURE 2: Subacromial Decompression

21

Indications

22

Examination/Imaging

22

Surgical Anatomy

23

Positioning

25

Portals/Exposures

26

Procedure

28

Postoperative Care and Expected Outcomes

33

Evidence

34

PROCEDURE 3: Arthroscopic Distal Clavicle Excision

35

Indications

36

Examination/Imaging

36

Surgical Anatomy

38

Positioning

38

Portals/Exposures

38

Procedure

39

Postoperative Care and Expected Outcomes

42

Evidence

42

PROCEDURE 4: Acromioclavicular Joint Reconstruction

43

Indications

44

Examination/Imaging

44

Surgical Anatomy

46

Positioning

47

Portals/Exposures

48

Procedure

48

Postoperative Care and Expected Outcomes

56

Evidence

56

PROCEDURE 5: Arthroscopic Rotator Cuff Repair

57

Indications

58

Examination/Imaging

58

Surgical Anatomy

60

Positioning

60

Portals/Exposures

61

Procedure

62

Postoperative Care and Expected Outcomes

70

Evidence

71

PROCEDURE 6: Mini-Open Rotator Cuff Repair

73

Indications

74

Examination/Imaging

74

Surgical Anatomy

76

Positioning

76

Portals/Exposures

77

Procedure

77

Postoperative Care and Expected Outcomes

80

Evidence

80

PROCEDURE 7: Arthroscopic Anterior Stabilization

83

Indications

84

Examination/Imaging

84

Surgical Anatomy

86

Positioning

88

Portals/Exposures

90

Procedure

92

Postoperative Care and Expected Outcomes

99

Evidence

100

PROCEDURE 8: Open Anterior Stabilization

103

Indications

104

Examination/Imaging

104

Surgical Anatomy

107

Positioning

110

Portals/Exposures

110

Procedure: Anterior Stabilization

114

Procedure: Humeral Head Allograft For Hill-Sachs Lesion

117

Postoperative Care and Expected Outcomes

120

Evidence

121

PROCEDURE 9: Arthroscopic Treatment of Multidirectional Instability of the Shoulder

123

Indications

124

Examination/Imaging

124

Surgical Anatomy

125

Positioning

128

Portals/Exposures

129

Procedure

132

Postoperative Care and Expected Outcomes

142

Evidence

143

PROCEDURE 10: Arthroscopic Repair of Posterior Shoulder Instability

145

Indications

146

Examination/Imaging

146

Surgical Anatomy

147

Positioning

148

Portals/Exposures

148

Procedure

149

Postoperative Care and Expected Outcomes

153

Evidence

153

PROCEDURE 11: Open Stabilization for Posterior Shoulder Instability with Bone Erosion or Increased Glenoid Retroversion

155

Indications

156

Examination/Imaging

156

Surgical Anatomy

157

Positioning

159

Portals/Exposures

160

Procedure

162

Postoperative Care and Expected Outcomes

167

Evidence

167

PROCEDURE 12: Superior Labral Tear

169

Indications

170

Examination/Imaging

170

Surgical Anatomy

170

Positioning

173

Portals/Exposures

174

Procedure

176

Postoperative Care and Expected Outcomes

180

Evidence

181

PROCEDURE 13: Arthroscopic Treatment of Internal Impingement of the Shoulder

183

Indications

184

Examination/Imaging

184

Surgical Anatomy

186

Positioning

189

Portals/Exposures

190

Procedure

192

Postoperative Care and Expected Outcomes

201

Evidence

202

PROCEDURE 14: Arthroscopic Biceps Tenodesis

205

Indications

206

Examination/Imaging

206

Surgical Anatomy

206

Positioning

208

Portals/Exposures

208

Procedure

209

Postoperative Care and Expected Outcomes

219

Evidence

219

PROCEDURE 15: Open Subpectoral Biceps Tenodesis

221

Indications

222

Examination/Imaging

222

Surgical Anatomy

222

Positioning

224

Portals/Exposures

224

Procedure

224

Postoperative Care and Expected Outcomes

233

Evidence

234

PROCEDURE 16A: Scapular Surgery I

237

Indications

238

Examination/Imaging

238

Surgical Anatomy

238

Positioning

240

Portals/Exposures

241

Procedure

241

Postoperative Care and Expected Outcomes

244

Evidence

244

PROCEDURE 16B: Scapular Surgery II

245

Indications

246

Examination/Imaging

246

Surgical Anatomy

246

Positioning

246

Portals/Exposures

248

Procedure

248

Postoperative Care and Expected Outcomes

250

Evidence

250

PROCEDURE 16C: Scapular Surgery III

253

Indications

254

Examination/Imaging

254

Surgical Anatomy

254

Positioning

254

Portals/Exposures

256

Procedure

256

Postoperative Care and Expected Outcomes

259

Evidence

260

PROCEDURE 16D: Scapular Surgery IV

261

Indications

262

Examination/Imaging

262

Surgical Anatomy

263

Positioning

264

Portals/Exposures

265

Procedure

265

Postoperative Care and Expected Outcomes

267

Evidence

267

SECTION II: ELBOW

269

PROCEDURE 17: Ulnar Nerve Transposition

271

Indications

272

Examination/Imaging

272

Surgical Anatomy

274

Positioning

275

Portals/Exposures

275

Procedure

276

Postoperative Care and Expected Outcomes

280

Evidence

280

PROCEDURE 18: Ulnar Collateral Ligament Reconstruction Using the Docking Procedure

283

Indications

284

Examination/Imaging

284

Surgical Anatomy

286

Positioning

288

Portals/Exposures

289

Procedure

290

Postoperative Care and Expected Outcomes

297

Evidence

298

PROCEDURE 19: Elbow Arthroscopy

301

Indications

302

Examination/Imaging

302

Surgical Anatomy

303

Positioning

304

Portals/Exposures

306

Procedure

309

Postoperative Care and Expected Outcomes

312

Evidence

313

PROCEDURE 20: Arthroscopic Treatment of Elbow Stiffness

315

Indications

316

Examination/Imaging

316

Surgical Anatomy

320

Positioning

322

Portals/Exposures

323

Procedure

325

Postoperative Care and Expected Outcomes

329

Evidence

330

PROCEDURE 21: Arthroscopic Management of Osteochondritis Dissecans of the Elbow

333

Indications

334

Examination/Imaging

334

Surgical Anatomy

336

Positioning

337

Portals/Exposures

338

Procedure

340

Postoperative Care and Expected Outcomes

344

Evidence

344

PROCEDURE 22: Arthroscopic Treatment of Lateral Epicondylitis

347

Indications

348

Examination/Imaging

348

Surgical Anatomy

348

Positioning

348

Portals/Exposures

350

Procedure

351

Postoperative Care and Expected Outcomes

356

Evidence

356

PROCEDURE 23A: Elbow Tendinosis I

359

Indications

360

Examination/Imaging

360

Surgical Anatomy

360

Positioning

361

Portals/Exposures

362

Procedure

365

Postoperative Care and Expected Outcomes

368

Evidence

370

PROCEDURE 23B: Elbow Tendinosis II

371

Indications

372

Examination/Imaging

372

Surgical Anatomy

372

Positioning

372

Portals/Exposures

372

Procedure

374

Postoperative Care and Expected Outcomes

377

Evidence

378

SECTION III: HIP

379

PROCEDURE 24: Hip Arthroscopy

381

Indications

382

Examination/Imaging

382

Surgical Anatomy

382

Positioning

384

Portals/Exposures

386

Procedure

388

Postoperative Care and Expected Outcomes

389

Evidence

390

PROCEDURE 25: Arthroscopic Treatment of Acetabular Labral Tears

391

Indications

392

Examination/Imaging

392

Surgical Anatomy

394

Positioning

395

Portals/Exposures

396

Procedure

398

Postoperative Care and Expected Outcomes

403

Evidence

403

PROCEDURE 26: Arthroscopic Treatment of Femoroacetabular Impingement Lesions and Labral Tears

405

Indications

406

Examination/Imaging

406

Surgical Anatomy

409

Positioning

413

Portals/Exposures

414

Procedure

417

Postoperative Care and Expected Outcomes

425

Evidence

426

SECTION IV: KNEE

427

PROCEDURE 27: Anterior Cruciate Ligament Reconstruction with Bone–Patellar Tendon–Bone Autograft or Allograft Using a Two-Incision Technique

429

Indications

430

Examination/Imaging

431

Surgical Anatomy

432

Positioning

433

Portals/Exposures

434

Procedure

435

Postoperative Care and Expected Outcomes

443

Evidence

444

PROCEDURE 28: Anterior Cruciate Ligament Reconstruction Using Autogenous Hamstring Tendons

447

Indications

448

Examination/Imaging

448

Surgical Anatomy

450

Positioning

451

Portals/Exposures

451

Procedure

453

Postoperative Care and Expected Outcomes

462

Evidence

464

PROCEDURE 29: Anatomic Double-Bundle Anterior Cruciate Ligament Reconstruction

467

Indications

468

Examination/Imaging

468

Surgical Anatomy

470

Positioning

471

Portals/Exposures

472

Procedure

474

Postoperative Care and Expected Outcomes

486

Evidence

486

PROCEDURE 30: Revision Anterior Cruciate Ligament Reconstruction

487

Introduction

488

Indications

488

Etiology of Graft Failure

488

Examination/Imaging

491

Surgical Anatomy

495

Positioning

497

Portals/Exposures

497

Procedure

499

Postoperative Care and Expected Outcomes

509

Evidence

511

PROCEDURE 31: PCL Reconstruction: Single Bundle Tec hnique

515

Indications

516

Examination/Imaging

516

Surgical Anatomy

518

Positioning

520

Portals/Exposures

521

Procedure

522

Postoperative Care and Expected Outcomes

529

Evidence

530

PROCEDURE 32: PCL Reconstruction: Double Bundle Technique

533

Indications

534

Examination/Imaging

534

Surgical Anatomy

536

Positioning

537

Portals/Expoures

538

Procedure

539

Postoperative Care and Expected Outcomes

548

Evidence

549

PROCEDURE 33: PCL Reconstruction: Inlay Technique

551

Indications

552

Examination/Imaging

552

Surgical Anatomy

556

Positioning

558

Portals/Exposures

560

Procedure: Arthroscopic Technique

561

Procedure: Open Technique

572

Postoperative Care and Expected Outcomes

574

Evidence

576

PROCEDURE 34: Posterolateral Corner Reconstruction

579

Indications

580

Examination/Imaging

580

Surgical Anatomy

582

Positioning

583

Portals/Exposures

583

Procedure

584

Postoperative Care and Expected Outcomes

589

Evidence

589

PROCEDURE 35: Medial Collateral Ligament Reconstruction and Medial Femoral Condyle Repair

593

Indications for MCL Reconstruction

594

Examination/Imaging

594

Surgical Anatomy

595

Positioning

596

Portals/Exposures

596

Procedure: MCL Reconstruction

597

Indications for Microfracture Procedure: Medial Femoral Condyle Repair

598

Postoperative Care and Expected Outcomes

599

Evidence

599

PROCEDURE 36: Treatment of Knee Dislocations

601

Introduction

602

Indications and Surgical Timing

602

Examination/Imaging

603

Surgical Anatomy

604

Positioning

606

Portals/Exposures

606

Procedure

606

Postoperative Care and Expected Outcomes

619

Evidence

620

PROCEDURE 37: Quadriceps and Patellar Tendon Repair

623

Indications

624

Examination/Imaging

624

Surgical Anatomy

626

Positioning

627

Portals/Exposures

627

Procedure: Reconstruction for Acute Tendon Injuries

628

Procedure: Reconstruction for Chronic Tendon Injuries

636

Postoperative Care and Expected Outcomes

639

Evidence

639

PROCEDURE 38: Arthroscopic Meniscectomy

641

Indications

642

Examination/Imaging

642

Surgical Anatomy

643

Positioning

644

Portals/Exposures

645

Procedure

646

Postoperative Care and Expected Outcomes

648

Evidence

648

PROCEDURE 39: Inside-Out Meniscal Repair

651

Indications

652

Examination/Imaging

652

Surgical Anatomy

652

Positioning

654

Portals/Exposures

654

Procedure

656

Postoperative Care and Expected Outcomes

661

Evidence

661

PROCEDURE 40: Arthroscopic Treatment of Osteochondritis Dissecans of the Knee

665

Indications

666

Examination/Imaging

666

Surgical Anatomy

670

Positioning

670

Portals/Exposures

671

Management Decisions

672

Procedure: Arthroscopic Drilling of an Intact Condylar Lesion

673

Procedure: Arthroscopic Loose Body Removal, Débridement + Marrow Stimulation/Drilling vs. Chondral Biopsy for a Staged ACI

675

Procedure: Arthroscopic Fixation ± Bone Graft

678

Procedure: Autologous Osteochondral Transfers

683

Postoperative Care and Expected Outcomes

685

Evidence

687

PROCEDURE 41: Microfracture

689

Examination/Imaging

690

Surgical Anatomy

690

Positioning

690

Portals/Exposures

690

Procedure

692

Postoperative Care and Expected Outcomes

696

Evidence

697

PROCEDURE 42A: Osteochondral Grafting I

701

Indications

702

Examination/Imaging

702

Surgical Anatomy

702

Positioning

702

Portals/Exposures

703

Procedure

704

Postoperative Care and Expected Outcomes

707

Evidence

707

PROCEDURE 42B: Osteochondral Grafting II

709

Indications

710

Examination/Imaging

710

Surgical Anatomy

712

Positioning

713

Portals/Exposures

713

Procedure

713

Postoperative Care and Expected Outcomes

719

Evidence

719

PROCEDURE 43: Medial Patellofemoral Ligament Reconstruction

721

Indications

722

Examination/Imaging

722

Surgical Anatomy

726

Positioning

727

Portals/Exposures

727

Procedure

729

Postoperative Care and Expected Outcomes

734

Evidence

734

PROCEDURE 44: Tibial Spine Fractures in Children

737

Arthroscopic Surgery for Arthrofibrosis of the Knee

751

Indications

752

Examination/Imaging

752

Surgical Anatomy

753

Positioning

753

Portals/Exposures

754

Procedure

755

Postoperative Care and Expected Outcomes

758

Evidence

759

Indications

738

Examination/Imaging

738

Surgical Anatomy

741

Positioning

742

Portals/Exposures

743

Procedure

743

Postoperative Care and Expected Outcomes

748

Evidence

750

SECTION V: FOOT AND ANKLE

761

PROCEDURE 46: Achilles TendonDébridement and Repair

763

Indications

764

Examination/Imaging

764

Surgical Anatomy

770

Positioning

772

Portals/Exposures

772

Procedure: Primary Repair of an Acute Achilles Tendon Rupture

773

Procedure: FHL Transfer

775

Procedure: Achilles Turndown

777

Procedure: Resection of Haglund's Deformity/Débridement of Insertional Tendinitis

781

Postoperative Care and Expected Outcomes

783

Evidence

783

PROCEDURE 47: Peroneal Tendon Stabilization

785

Indications

786

Examination/Imaging

786

Surgical Anatomy

787

Positioning

789

Portals/Exposures

789

Procedure

790

Postoperative Care and Expected Outcomes

792

Evidence

793

PROCEDURE 48: Ankle Arthroscopy

795

Indications

796

Examination/Imaging

796

Surgical Anatomy

798

Positioning

798

Portals/Exposures

799

Procedure

801

Postoperative Care and Expected Outcomes

808

Evidence

808

PROCEDURE 49: Arthroscopic Treatment of Osteochondral Lesions of the Talus

809

Indications

810

Examination/Imaging

810

Surgical Anatomy

813

Positioning

815

Portals/Exposures

816

Procedure

819

Postoperative Care and Expected Outcomes

823

Evidence

823

PROCEDURE 50: Lateral Ankle Ligament Repair

825

Indications

826

Examination/Imaging

826

Surgical Anatomy

828

Positioning

829

Portals/Exposures

831

Procedure

832

Postoperative Care and Expected Outcomes

838

Evidence

838

PROCEDURE 51: Percutaneous Intramedullary Screw Fixation of Proximal Fifth Metatarsal Fractures

839

Indications

840

Examination/Imaging

840

Surgical Anatomy

841

Positioning

842

Portals/Exposures

843

Procedure

844

Postoperative Care and Expected Outcomes

848

Evidence

850

INDEX

853