Technology, Engineering, Agriculture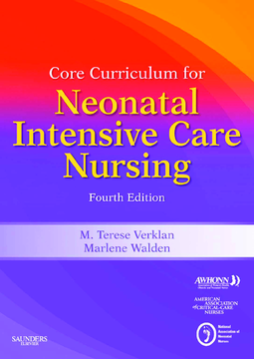 Additional Information
Book Details
ISBN

978-1-4377-2599-5


Edition

4

Language

English

Pages

960

Subjects
Abstract
Perfect as a resource in the field or for exam preparation, this authoritative reference from the Association of Women's Health, Obstetric, and Neonatal Nurses (AWHONN) includes in-depth coverage of the most common neonatal disorders and their management. The concise outline format highlights the essentials of each condition including definition, etiology, pathophysiology, signs and symptoms, diagnostic tests, treatments, and outcomes to help you find important information quickly.
Coverage of key content on the neonatal intensive care nursing certification exam prepares you for test success.
Information on families, ethics, legal issues, research, case management, and the transition to home emphasizes the importance of total care of the neonatal patient and family.
New and updated content on late preterm infants, neurologic disorders, and ventilatory strategies provide the latest information from the field for more effective patient outcomes.
Table of Contents
Section Title
Page
Action
Price

Front cover

cover

Half title page

i

Title page

iii

Copyright page

iv

Foreword

v

Dedication

vii

Contributors

ix

Reviewers

xiii

Preface

xv

Table of contents

xvii

Chapter 1: UncomplicatedAntepartum,Intrapartum, andPostpartum Care

1

Objectives

1

Terminology

1

Normal Maternal Physiologic Changes by Systems

1

Antepartum Care

6

Normal Labor and Birth

11

Puerperium: "Fourth Trimester"

17

References

18

Chapter 2: Antepartum-IntrapartumComplications

20

Objectives

20

Anatomy and Physiology

20

Conditions Related to the Antepartum Period

24

Conditions Related to the Intrapartum Period

28

Obstetric Analgesia and Anesthesia

35

References

39

Chapter 3: Perinatal SubstanceAbuse

41

Objectives

41

Introduction

41

Drugs of Abuse

42

Stimulants

46

Cannabinoids

49

Narcotics and Opioids

50

Sedatives/Hypnotics

52

Inhalants

53

Other (Antidepressants)

53

General Management Recommendations

58

Nursing Interventions

59

Drug Screening

63

Breastfeeding

64

Problems Associated with Maternal Drug Use

65

Ethical and Legal Considerations

67

References

68

Chapter 4: Adaptation toExtrauterine Life

72

Objectives

72

Anatomy and Physiology

72

Routine Care Considerations in the Transition Nursery*

77

Recognition of the Sick Newborn Infant

82

Parent Teaching

88

References

90

Chapter 5: Neonatal DeliveryRoom Resuscitation

91

Objectives

91

Definitions

91

Anatomy and Physiology

92

Risk Factors

93

Anticipation of and Preparation for Resuscitation

94

Equipment for Neonatal Resuscitation

95

Apgar Scoring

95

Decision-Making Process

97

Unusual Situations

103

Complications of Resuscitation

107

Postresuscitation Care

107

References

109

Chapter 6: Thermoregulation

110

Objectives

110

Identifying Infants at Risk for Thermal Instability

110

Physiology of Thermoregulation

111

Mechanisms of Heat Transfer

113

Strategies for Managing Thermoregulation

114

References

118

Chapter 7: Physical Assessment

120

Objectives

120

Perinatal History (See Chapters 1, 2, 3, and 4)

120

Gestational-Age Instruments

123

Classification of Growth and Maturity

127

Physical Examination

132

References

154

Chapter 8: Fluid and ElectrolyteManagement

156

Objectives

156

Fluid Balance

156

Disorders of Fluid Balance

159

Electrolyte Balance and Disorders

161

Acid–Base Balance and Disorders

168

References

170

Chapter 9: Glucose Management

172

Objectives

172

Glucose Homeostasis

172

Hypoglycemia

173

Infant of Diabetic Mother

177

Hyperglycemia*

178

Transient or Permanent Neonatal Diabetes

179

References

180

Chapter 10: NutritionalManagement

182

Objectives

182

Anatomy and Physiology of the Premature Infant's Gastrointestinal Tract

182

Nutritional Requirements

186

Parenteral Nutrition (PN)

190

Enteral Feedings: Human Milk and Commercial Formulas for Term, Special-Needs, and Premature Infants

194

Enteral Feeding Methods

199

Nursing Interventions to Facilitate Tolerance of Enteral Feedings

202

Nutritional Assessment and Standards for Adequate Growth

203

References

205

Chapter 11: DevelopmentalSupport

208

Objectives

208

Barriers to Infant Development in the NiCU Setting

208

Developmental Care Standards

209

References

227

Chapter 12: Pharmacology

233

Objectives

233

PRINCIPLES OF PHARMACOLOGY

233

PHARMACODYNAMICS

234

PHARMACOKINETICS

236

MEDICATION CATEGORIES

243

CENTRAL NERVOUS SYSTEM (CNS) MEDICATIONS

246

NURSING IMPLICATIONS FOR MEDICATION ADMINISTRATION IN THE NEONATE

250

References

251

Chapter 13: Laboratory Conceptsand TestInterpretation

252

Objectives

252

LABORATORY TESTS IN THE NICU

252

PURPOSE OF LABORATORY TESTING

255

PROCESS OF LABORATORY COLLECTION

255

CONCEPTS OF LABORATORY TEST INTERPRETATION

258

PRINCIPLES OF TEST UTILIZATION

259

IATROGENIC SEQUELAE OF LABORATORY TESTING—PREVENTIVE STRATEGIES

260

DECISION—QUESTIONS TO ASK PRIOR TO OBTAINING A LABORATORY TEST

262

LABORATORY INTERPRETATION—DECISION TREE

264

References

268

Chapter 14: Radiologic Evaluation

270

Objectives

270

Basic Concepts

270

Terminology

270

X-ray Views Commonly used in the Newborn Infant (Fig. 14-1)

271

Radiographic Densities

272

Risks Associated with Radiographic Examination in the Neonate

272

Approach to Interpreting an X-ray

272

Respiratory System

274

Pulmonary Parenchymal Disease

275

Pulmonary Air Leaks

279

Miscellaneous Causes of Respiratory Distress

280

Thoracic Surgical Problems

281

Cardiovascular System

284

Gastrointestinal System

287

Skeletal System

293

Indwelling Lines and Tubes

294

Diagnostic Imaging

296

References

298

Chapter 15: Common InvasiveProcedures

299

Objectives

299

Airway Procedures

299

Circulatory Access Procedures

307

Blood Sampling Procedures

320

Miscellaneous Procedures

324

References

331

Chapter 16: Pain Assessment andManagement

333

Objectives

333

Definition of Pain

333

Neonatal Intensive Care Unit Procedures That Cause Pain

333

Physiology of Acute Pain in Preterm Neonates

334

Standards of Practice

336

Pain Assessment

336

Pain Assessment Instruments

338

Nursing Care of the Infant in Pain

340

Pain Management at End of Life

344

Parents' Role in Pain Assessment and Management

345

References

345

Chapter 17: Families in Crisis

347

Objectives

347

Crisis and The Birth of The Sick or Premature Infant

347

Specific Population of Parents: Adolescents

349

The Family in Crisis

349

Summary of Parental Needs to Be Met By Nicu Staff

359

References

360

Chapter 18: Patient Safety

361

Objectives

361

References

380

Chapter 19: Discharge Planningand Transition toHome Care

383

Objectives

383

Introduction

383

General Principles

383

Health Care Trends

384

Discharge Criteria must be Established and Individualized to the Infant and Family (Box 19-2)

385

Parental Needs and Role in the Discharge and Transition to Home Process

386

Discharge Planning and Transition to Home

387

Neonatal Teaching Needs

392

Family and Infant Care Postdischarge (see Box 19-9)

395

References

397

Chapter 20: Genetics: From Benchto Bedside

399

Objectives

399

Basic Genetics

399

Chromosomal Defects

402

Prenatal Diagnosis

402

Postnatal Testing

406

Human Genome Project

406

Genetic Counseling

407

Newborn Care

408

REFERENCES

414

Chapter 21: Intrafacility andInterfacility NeonatalTransport

415

Objectives

415

Historical Aspects

415

PHILOSOPHY OF NEONATAL TRANSPORT

416

INTRAFACILITY NEONATAL TRANSPORT

416

INTERFACILITY NEONATAL TRANSPORT

417

SELECTION OF TRANSPORT VEHICLES

418

TRANSPORT PERSONNEL

419

TRANSPORT EQUIPMENT

421

NEONATAL TRANSPORT PROCESS

422

DOCUMENTATION

427

SAFETY

428

DISASTER PREPARATION

429

AIR TRANSPORT CONSIDERATIONS

430

LEGAL AND ETHICAL CONSIDERATIONS

430

TOTAL QUALITY MANAGEMENT

431

REFERENCES

432

Chapter 22: Care of the ExtremelyLow Birth WeightInfant

434

Objectives

434

Prenatal Considerations

434

Delivery Room Management

435

Admission To The Nicu

436

Parameters Of Clinical Assessment And Nursing Management

437

References

445

Chapter 23: Care of the LatePreterm Infant

447

Objectives

447

References

452

Chapter 24: Respiratory Distress

453

Objectives

453

Lung Development

453

Physiology of Respiration

455

Respiratory Disorders

455

Pulmonary Air Leaks (Pneumomediastinum, Pneumothorax, Pneumopericardium, Pulmonary Interstitial Emphysema)

475

Pulmonary Hypoplasia

477

Pulmonary Hemorrhage

477

Other Causes of Respiratory Distress

478

References

480

Chapter 25: Apnea

484

Objectives

484

Definitions of Apnea

484

Types of Apnea

484

Pathogenesis of Apnea in the Premature Infant

485

Causes of Apnea

487

Evaluation for Apnea

488

Management Techniques

489

Home Monitoring

491

References

493

Chapter 26: Assisted Ventilation

494

Objectives

494

Physiology

494

Treatment Modalities

499

Nursing Care of the Patient Requiring Respiratory Support or Conventional Mechanical Ventilation

502

High-Frequency Ventilation

505

Nursing Care during Therapy

511

Medications Used during Ventilation Therapy

513

Weaning from Conventional Ventilation

516

Interpretation of Blood Gas Values

517

References

518

Chapter 27: ExtracorporealMembraneOxygenation

521

Objectives

521

Ecmo: A Historical Perspective

521

Criteria for Use of Ecmo

522

Venoarterial Perfusion

522

Venovenous Perfusion

523

Circuit Components and Additional Devices

524

Physiology of Extracorporeal Circulation

526

Care of The Infant During Ecmo

527

Post-ECMO Care

531

Parental Support

531

Follow-Up and Outcome

531

References

532

Chapter 28: CardiovascularDisorders

534

Objectives

534

Cardiovascular Embryology and Anatomy

535

Congenital Heart Defects

542

Risk Assessment and Approach to Diagnosis of Cardiac Disease

544

Defects with Increased Pulmonary Blood Flow

553

Obstructive Defects with Pulmonary Venous Congestion

560

Obstructive Defects with Decreased Pulmonary Blood Flow

562

Mixed Defects

567

Congestive Heart Failure

573

Postoperative Cardiac Management

576

Postoperative Disturbances

578

References

585

Chapter 29: Gastrointestinal Disorders

589

Objectives

589

Gastrointestinal Embryonic Development

589

Functions of the Gastrointestinal Tract

590

Assessment of the Gastrointestinal System

590

Abdominal Wall Defects

595

Obstructions of the Gastrointestinal Tract

599

Necrotizing Enterocolitis*

612

Short Bowel Syndrome*

615

Biliary Atresia*

617

Cholestasis*

618

Gastroesophageal Reflux*

620

Multisystem Disorders with Gastrointestinal Involvement*

623

REFERENCES

635

Chapter 30: Endocrine Disorders

638

Objectives

638

The Endocrine System

638

Pituitary Gland Disorders

640

Thyroid Gland Disorders

641

Adrenal Gland Disorders

649

Disorders of Sexual Development

655

Pancreatic Disorders

662

References

663

Chapter 31: Hematologic Disorders

666

Objectives

666

Development of Blood Cells

666

Coagulation

671

Anemia

672

Hemorrhagic Disease of The Newborn

678

Disseminated Intravascular Coagulation

679

Thrombocytopenia

681

Polycythemia

684

Inherited Bleeding Disorders

685

Transfusion Therapies

686

Recombinant Hematopoietic Growth Factors

690

Evaluation by Complete Blood Cell Count

691

References

691

Chapter 32: Immunology and Infectious Disease

694

Objectives

694

Immune System

695

Transmission of Infectious Organisms in the Neonate

698

Diagnosis and Therapy

699

History, Sites, and Types of Neonatal Infection

706

Infection with Specific Pathogens

708

Infection Control

720

References

722

Chapter 33: Renal and Genitourinary Disorders

724

Objectives

724

Embryology

724

Renal Anatomy

725

Renal Hemodynamics

726

Renal Physiology

726

Acute Renal Failure

728

Hypertension

731

Potter Syndrome (Oligohydramnios Syndrome)

733

Autosomal Recessive Polycystic Kidney Disease

735

Multicystic Dysplastic Kidney Disease

735

Hydronephrosis

736

Renal Vein Thrombosis

738

Urinary Tract Infections

739

Patent Urachus

740

Hypospadias

741

Exstrophy of the Bladder

742

Undescended Testicles (Cryptorchidism)

744

Circumcision

745

References

746

Chapter 34: Neurologic Disorders

748

Objectives

748

Anatomy of The Neurologic System*

748

Physiology of the Neurologic System*

751

Neurologic Assessment*

752

Neurologic Disorders

753

Intracranial Hemorrhages

766

Seizures*

771

Hypoxic–Ischemic Encephalopathy*

774

Periventricular Leukomalacia*

778

Meningitis*

779

References

781

Chapter 35: Congenital Anomalies

782

Objectives

782

Specific Disorders

786

Nonchromosomal Abnormalities

794

Deformation Abnormalities

805

Congenital Metabolic Problems

806

Disorders of Metabolism

807

References

811

Chapter 36: Neonatal Dermatology

813

Objectives

813

Anatomy and Physiology of The Skin

813

Care of The Newborn Infant's Skin

815

Assessment of The Newborn Infant's Skin

816

Common Skin Lesions

817

References

830

Chapter 37: Ophthalmologic and Auditory Disorders

832

Objectives

832

Anatomy of the Eye (Fig. 37-1)

832

Patient Assessment

834

Pathologic Conditions and Management

834

Anatomy OF the Ear (Fig. 37-3)

844

Innervation

846

Patient Assessment

847

References

848

Chapter 38: Foundations of Neonatal Research

850

Objectives

850

Research and Generation of Nursing Knowledge*

850

Research Process and Components of a Research Study

851

Quantitative Research

853

Qualitative Research

854

Areas of Exploration in Neonatal Nursing

854

Nurses as Consumers of Research

854

Ethics in Research and Nurses as Advocates

856

References

858

Chapter 39: Ethical Issues

860

Objectives

860

Examining Ethical Issues in the Nicu

860

Principles of Biomedical Ethics

860

Other Approaches to Ethical Issues

862

Case Analysis Model

863

The Nurse's Role in Ethical Issues

863

Consulting the Hospital Ethics Committee

864

References

864

Chapter 40: Legal Issues

865

Objectives

865

Nursing Process

865

Standard of Care

866

Malpractice

869

Liability

869

Advanced Practice

873

Documentation

874

Informed Consent

877

Professional Liability Insurance

878

REFERENCES

880

Newborn Metric Conversion Tables

882

Index

885