Subjects (Books)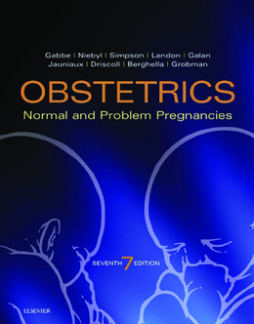 Additional Information
Book Details
ISBN

978-0-323-39217-4


Edition

7

Language

English

Pages

1292

Subjects
Abstract
After 30 years, Obstetrics: Normal and Problem Pregnancies remains your go-to choice for authoritative guidance on managing today's obstetric patient. International experts put the latest knowledge in this specialty at your fingertips, with current and relevant information on everything from fetal origins of adult disease, to improving global maternal health, to important topics in day-to-day obstetrical practice. Highly readable, well-illustrated, and easy to understand, this bestselling obstetrics reference is an ideal tool for residents and clinicians.
Take advantage of the collective wisdom of global experts in the field,
including two new editors— Drs. Vincenzo Berghella and William Grobman -- and nearly 30 new contributors.
Gain a new perspective on a wide range of today's key issues - all evidence-based and easy to read.
Sweeping updates throughout
including four new chapters: 'Vaginal Birth after Cesarean Delivery'; 'Placenta Accreta'; 'Obesity'; and 'Improving Global Maternal Health: Challenges and Opportunities'
New
Glossary of the most frequently used key abbreviations for easy reference
Expanded use of bolded statements and key points as well as additional tables, flow diagrams, and bulleted lists facilitates and enhances the mastery of each chapter
More than 100 images in the Obstetrical Ultrasound chapter provide an important resource for normal and abnormal fetal anatomy
Table of Contents
Section Title
Page
Action
Price

Front Cover

cover

Inside Front Cover

ifc1

Obstetrics: Normal and Problem Pregnancies

i

Copyright Page

iv

Dedication

v

Contributors

vii

Preface

xv

Table Of Contents

xvii

Video Contents

xx

I Physiology

1

1 Placental Anatomy and Physiology

2

Key Abbreviations

2

Placental Anatomy

3

Overview of the Delivered Placenta

3

Placental Development

3

Amnion and Yolk Sac

5

Maternal-Fetal Relationship During the First Trimester

5

Extravillous Trophoblast Invasion and Physiologic Conversion of the Spiral Arteries

6

Role of the Endometrium During the First Trimester

8

Topology of the Villous Trees

9

Placental Histology

9

Integrity of the Villous Membrane

11

Placental Vasculature

11

Placental Physiology

12

Physiology of the Secondary Yolk Sac and Exocoelomic Cavity

12

Placental Metabolism and Growth

13

Placental Transport

14

Bulk Flow/Solvent Drag

15

Diffusion

15

Transporter Protein–Mediated Processes

15

Endocytosis/Exocytosis

16

A Selective Barrier

16

Substance-Specific Placental Transport

16

Respiratory Gases

16

Glucose

17

Amino Acids

17

Lipids

18

Water and Ions

19

Calcium

19

Placental Nutrient Supply and Intrauterine Growth Restriction

19

Vasomotor Control of the Umbilicoplacental Circulation

19

Placental Endocrinology

20

Progesterone

20

Estrogens

20

Human Chorionic Gonadotropin

20

Placental Lactogen

21

Placental Growth Hormone

22

Leptin

22

Pregnancy-Associated Plasma Protein A

22

Sex Differences in Placental Function

22

Summary

22

Key Points

22

Acknowledgment

23

References

23

2 Fetal Development and Physiology

26

Key Abbreviations

26

Umbilical Blood Flow

26

Amniotic Fluid Volume

27

Fetal Growth and Metabolism

28

Substrates

28

Hormones

28

Fetal Cardiovascular System

29

Development

29

Fetal Heart

30

Regulation of Cardiovascular Function

32

Autonomic Regulation

32

Hormonal Regulation

32

Arginine Vasopressin

32

Renin–Angiotensin II

32

Fetal Hemoglobin

33

Fetal Kidney

33

Fetal Gastrointestinal System

34

Gastrointestinal Tract

34

Liver

34

Fetal Adrenal and Thyroid Glands

35

Adrenal Glands

35

Thyroid Gland

35

Fetal Central Nervous System

35

Summary

36

Key Points

36

References

36

3 Maternal Physiology

38

Key Abbreviations

38

Overview

39

Gestational Weight Gain

39

Cardiovascular System

39

Heart

39

Cardiac Output

39

Arterial Blood Pressure and Systemic Vascular Resistance

41

Venous Pressure

41

Central Hemodynamic Assessment

41

Normal Changes That Mimic Heart Disease

42

Effect of Labor and the Immediate Puerperium

42

Cardiac Rhythm

43

Hematologic Changes

43

Plasma Volume and Red Cell Mass

43

Iron Metabolism

44

Platelets

45

Leukocytes

45

Coagulation System

45

Respiratory System

46

Upper Respiratory Tract

46

Mechanical Changes

46

Lung Volume and Pulmonary Function

47

Gas Exchange

47

Sleep

48

Urinary System

49

Anatomic Changes

49

Renal Hemodynamics

49

Renal Tubular Function and Excretion of Nutrients

50

Body Water Metabolism

51

Osmoregulation

51

Salt Metabolism

51

Renin-Angiotensin-Aldosterone System

51

Atrial and Brain Natriuretic Peptide

52

Clinical Implications of Pregnancy-Related Renal and Urologic Changes

52

Alimentary Tract

52

Appetite

52

Mouth

52

Stomach

53

Intestines

53

Gallbladder

53

Liver

53

Nausea and Vomiting of Pregnancy

54

Endocrine Changes

54

Thyroid

54

Adrenals

55

Pituitary

56

Pancreas and Fuel Metabolism

56

Glucose

56

Proteins and Lipids

56

Skeleton

57

Calcium Metabolism

57

Skeletal and Postural Changes

58

Skin

58

Central Nervous System

59

Eyes

59

Breasts

59

Lower Reproductive Tract

59

Vagina

59

Cervix

59

Microbiome

59

Vaginal Microbiome

60

Gut Microbiome

60

Placental Microbiome

60

Summary

60

Key Points

60

Acknowledgment

61

References

61

Bibliography

63.e1

Gestational Weight Gain

63.e1

Cardiovascular Changes

63.e1

Arterial Blood Pressure and Systemic Vascular Resistance

63.e1

Labor Effects on the Cardiovascular System

63.e1

Cardiac Rhythm

63.e1

Hematologic Changes

63.e1

Iron Metabolism

63.e1

Coagulation System

63.e1

Respiratory System

63.e2

Sleep

63.e2

Urinary System

63.e2

Osmoregulation

63.e2

Renin-Angiotensin-Aldosterone System

63.e2

Clinical Implications of Pregnancy-Related Renal and Urologic Changes

63.e2

Appetite and Mouth

63.e2

Stomach

63.e2

Intestines

63.e3

Gallbladder

63.e3

Liver

63.e3

Thyroid

63.e3

Adrenals

63.e3

Pituitary

63.e3

Pancreas and Fuel Metabolism

63.e3

Skeleton: Calcium Metabolism

63.e3

Skeleton: Postural Changes

63.e3

Skin

63.e3

Central Nervous System

63.e3

Eyes

63.e3

Breasts

63.e3

Lower Reproductive Tract

63.e3

Cervix

63.e3

Microbiome

63.e4

4 Maternal-Fetal Immunology

64

Key Abbreviations

64

Immune System Overview: Innate and Adaptive Immunity

65

Innate Immunity: First Line of Host Defense

65

Antimicrobial Peptides

68

Macrophages

68

Natural Killer Cells

68

Toll-Like Receptors

68

Complement System

69

Cytokines

69

Chemokines

70

Adaptive Immunity

71

Major Histocompatibility Complex

71

Humoral Immune Responses: B Cells and Antibodies

71

Antibody Isotypes

71

T Cells

72

Helper T-Cell Subsets

73

Regulatory T Cells

73

Fetal Immune System

73

Cord Blood Transplantation

74

Maternal Tolerance of the Fetus

74

Tolerance Through Regulation of Maternal T Cells

75

Tolerance Through Regulation of Maternal B Cells

75

Tolerance Through Dendritic Cells and Antigen Presentation

77

Tolerance Through Human Leukocyte Antigens

77

Tolerance Through Regulation of Complement, Chemokines, and Cytokines

77

Fetal Rejection

77

Solid Organ Transplantation in Pregnancy

78

Amelioration of Rheumatoid Arthritis in Pregnancy

78

Summary

79

Key Points

79

Acknowledgments

80

References

80

Bibliography

82.e1

Innate Immunity: First Line of Host Defense

82.e1

Adaptive Immunity

82.e1

Fetal Immune System

82.e1

Maternal Tolerance of the Fetus

82.e1

Amelioration of Rheumatoid Arthritis in Pregnancy

82.e2

5 Developmental Origins of Adult Health and Disease

83

Key Abbreviations

83

Epigenetics and Programming

84

Fetal Nutrition and Growth

86

Energy-Balance Programming

86

Programming by Environmental Agents

87

Mechanisms of Programmed Obesity: Appetite and Adiposity

88

Hepatic Programming

89

Pancreatic Programming

90

Cardiac Programming

91

Osteoporosis Programming

92

Brain Programming

92

Maternal Stress and Anxiety

92

Glucocorticoids and Prematurity

93

Immune Function

94

Other Programming

95

Endocrine Programming

95

Sexuality Programming

95

Renal Programming

96

Summary

97

Key Points

97

References

97

II Prenatal Care

101

6 Preconception and Prenatal Care

102

Key Abbreviations

102

Prenatal Care: Changing the Paradigm to Include the Life-Course Perspective

102

Definition and Goals of Care

103

Evidence and Rationale for Paradigm Shift

103

Components of Preconception Care and Well-Woman Visits

103

Reproductive Life Plan: Definition

105

Preconception Health Counseling

105

Maternal Age

105

Advanced Maternal Age

105

Teen Pregnancies

105

Body Mass Index

106

Weight Gain

106

Overweight and Obesity

106

Underweight

107

Pregnancy After Bariatric Surgery

107

Infections and Immunizations

107

Genetic and Family History

108

Substance Abuse and Other Hazards

108

Active and Passive Smoking

108

Alcohol

108

Other Substance Abuse

109

Intimate Partner Violence

109

Mercury Exposure

109

Occupational Hazards and Environmental Exposures

109

Environmental Exposures

110

Screening for Chronic Disease, Optimizing Care, and Managing Medication Exposure

110

Prenatal Care

110

Components of Prenatal Care

110

High-Tech Versus Low-Tech Care

110

Risk Assessment

111

Initial Prenatal Visit

111

Social and Demographic Risks

111

Medical Risk

111

Obstetric Risk

112

Physical and Laboratory Evaluation

112

Repeat Prenatal Visits

112

Intercurrent Problems

113

Common Patient-Centered Issues

114

Nutrition During Pregnancy

114

Activity and Employment

114

Travel

114

Nausea and Vomiting in Pregnancy

114

Heartburn

115

Backache

115

Sexual Activity

115

Prepared Parenthood and Support Groups

115

Prenatal Record

115

Prenatal Education

116

Postpartum Care

116

Components of the Postpartum Visit

116

Birth Spacing

116

Counseling Regarding Medical Conditions and Obstetric Complications

116

Coming Full Circle: Components of Interconception Care and Well-Woman Visits

117

Key Points

118

References

119

Bibliography

121.e1

Substance Abuse

121.e1

Intimate Partner Violence

121.e1

Mercury

121.e1

Occupational Hazards and Environmental Exposures

121.e1

Prenatal Care

121.e1

High Tech Versus Low Tech

121.e1

Risk Assessment

121.e1

The Initial Prenatal Visit

121.e1

Repeat Prenatal Visits

121.e2

Common Patient-Centered Issues

121.e2

The Prenatal Record

121.e2

Prenatal Education

121.e2

Postpartum Care

121.e2

Birth Spacing

121.e2

Counseling Regarding Medical Conditions and Obstetric Complications

121.e2

Coming Full Circle: Components of Interconception Care and Well-Woman Visits

121.e3

7 Nutrition During Pregnancy

122

Key Abbreviations

122

Overview

122

Integrating Nutrition Into the Obstetric History

122

Maternal Weight Gain Recommendations

123

Low or Underweight Preconception Body Mass Index

124

Overweight and Obese Prepregnancy Body Mass Index

124

Maternal Weight Gain Recommendations for Special Populations

124

Multiple Gestations

124

Adolescents

124

Other Groups

125

Maternal Nutrient Needs: Current Recommendations

125

Energy

125

Proteins

126

Omega-3 Fatty Acids

126

Vitamin and Mineral Supplementation Guidelines

127

Dietary Reference Intakes

127

Tolerable Upper Intake Level

127

Vitamins

127

Vitamin A

127

Vitamin D

127

Vitamin C

129

Vitamin B6

129

Vitamin K

129

Folate

129

Folate and Neural Tube Defects

130

Folate Supplementation

130

Minerals

130

Iron

130

Calcium

131

Zinc

131

Choline

131

Nutrition-Related Problems during Pregnancy

132

Nausea and Vomiting

132

Heartburn and Indigestion

132

Constipation

132

Food Contamination

132

Special Nutritional Considerations during Pregnancy

133

Caffeine

133

Vegetarian and Vegan Diets

133

Herbal Supplements

133

Key Points

133

References

133

8 Drugs and Environmental Agents in Pregnancy and Lactation

136

Key Abbreviations

136

Overview

136

Basic Principles of Teratology

137

Genotype and Interaction With Environmental Factors

137

Timing of Exposure

138

Mechanisms of Teratogenesis

138

Manifestations

138

Agent

138

Dose Effect

138

Epidemiologic Approaches to Birth Defects

138

Case Reports

138

Descriptive Studies

138

Case-Control Studies

139

Cohort Studies

139

Clinical Trials

139

Medical Drug Use

139

Effects of Specific Drugs

139

Estrogens and Progestins

139

Androgenic Steroids

139

Spermicides

139

Antiepileptic Drugs

140

Isotretinoin

141

Vitamin A

142

Psychoactive Drugs

142

Tranquilizers

142

Lithium

142

Antidepressants

142

Anticoagulants

143

Thyroid and Antithyroid Drugs

144

Digoxin

144

Antihypertensive Drugs

144

Sympathetic Blocking Agents

144

Angiotensin-Converting Enzyme Inhibitors and Angiotensin Receptor Blockers

144

Antineoplastic Drugs and Immunosuppressants

144

Antiasthmatics

145

Terbutaline

145

Cromolyn Sodium

145

Isoproterenol and Metaproterenol

145

Corticosteroids

145

Iodide

145

Antiemetics

145

Vitamin B6

145

Doxylamine

145

Meclizine

145

Dimenhydrinate

145

Diphenhydramine

146

Phenothiazines

146

Metoclopramide

146

Ondansetron

146

Methylprednisolone

146

Ginger

146

Acid-Suppressing Drugs

146

Antihistamines and Decongestants

146

Antibiotics and Antiinfective Agents

147

Penicillins

147

Cephalosporins

147

Sulfonamides

147

Sulfamethoxazole with Trimethoprim

147

Nitrofurantoin

147

Tetracyclines

147

Aminoglycosides

147

Antituberculosis Drugs

148

Erythromycin

148

Clarithromycin

148

Fluoroquinolones

148

Metronidazole

148

Antiviral Agents

148

Lindane

148

Antiretroviral Agents

148

Antifungal Agents

148

Drugs for Induction of Ovulation

148

Mild Analgesics

148

Aspirin

148

Acetaminophen

149

Nonsteroidal Antiinflammatory Agents

149

Codeine

149

Sumatriptan

149

Bisphosphonates

149

Drugs of Abuse

149

Tobacco and Nicotine Products

149

Smoking Cessation During Pregnancy

149

Alcohol

150

Cannabis

151

Cocaine

151

Narcotics and Methadone

151

Caffeine

151

Aspartame

152

Drugs in Breast Milk

152

Drugs Commonly Listed as Contraindicated During Breastfeeding

152

Cytotoxic Drugs That May Interfere With Cellular Metabolism of the Nursing Infant

152

Drugs of Abuse for Which Adverse Effects on the Infant During Breastfeeding Have Been Reported

152

Radioactive Compounds That Require Temporary Cessation of Breastfeeding

152

Drugs for Which the Effect on Nursing Infants Is Unknown but May Be of Concern

152

Drugs Associated With Significant Effects in Some Nursing Infants That Should Be Given to Nursing Mothers With Caution

153

Bromocriptine

153

Ergotamine

153

Lithium

153

Maternal Medication Usually Compatible With Breastfeeding

153

Narcotics, Sedatives, and Anticonvulsants

153

Cold Preparations

153

Antihypertensives

153

Thiazides

153

β-Blockers

153

Angiotensin-Converting Enzyme Inhibitors

154

Calcium Channel Blockers

154

Anticoagulants

154

Corticosteroids

154

Digoxin

154

Antibiotics

154

Acyclovir

154

Antifungal Agents

154

Oral Contraceptives

154

Alcohol

155

Propylthiouracil

155

H2–Receptor Blockers

155

Caffeine

155

Tobacco

155

Occupational and Environmental Hazards

155

Ionizing Radiation

155

Acute Exposure

155

Mutagenesis

156

Video Display Terminals

156

Lead

156

Mercury in Fish

156

Obstetrician's Role in Evaluating Drug and Reproductive Risks in and Beyond the Workplace

157

Summary

157

Key Points

157

References

158

Bibliography

159.e1

Teratogenesis

159.e1

Epidemiology

159.e1

Hormones

159.e1

Anticonvulsants

159.e1

Vitamin A Derivatives

159.e1

Psychoactive Drugs

159.e1

Anticoagulants

159.e1

Thyroid and Antithyroid Drugs

159.e2

Cardiac and Antihypertensive Medications

159.e2

Antiasthmatics

159.e2

Antiemetics

159.e2

Antihistamines and Decongestants

159.e2

Antibiotics and Antiinfective Agents

159.e2

Ovulation Induction Medications

159.e3

Mild Analgesics

159.e3

Drugs of Abuse

159.e3

Caffeine

159.e4

Drugs in Breast Milk

159.e4

Radiation

159.e4

Lead

159.e5

9 Obstetric Ultrasound

160

Key Abbreviations

160

Overview

160

Biophysics of Ultrasound

161

Optimizing the Ultrasound Image

161

Frequency

161

Power

161

Gain

161

Attenuation

161

Focus

162

Depth and Zoom

163

Special Ultrasound Modalities

163

M-Mode

163

Color and Pulse-Wave Doppler

164

Three-Dimensional Ultrasound

165

Scanning Technique

166

Orientation

166

Angle of Insonation

166

Using Natural Windows

167

First-Trimester Ultrasound

168

First-Trimester Normal Findings

168

First-Trimester Abnormal Findings

169

Second- and Third-Trimester Ultrasound

170

Types of Examinations

170

Qualifications for Performing and Interpreting Diagnostic Ultrasound Examinations

171

Components of the Examination

171

Cardiac Activity

171

Number of Fetuses

171

Presentation

171

Amniotic Fluid Volume

171

Oligohydramnios

172

Polyhydramnios

173

Placenta and Umbilical Cord

173

Uterus and Adnexa

174

Cervix

175

Adnexa

175

Anatomic Survey

176

Documentation

176

Cleaning and Disinfection of Probes

176

Ultrasound for Determining Gestational Age

176

Standard Measurements

177

Gestational Age Determination

177

When to Use Ultrasound Dating

180

Assessing Fetal Growth

180

Estimating Fetal Weight

181

Diagnosing Abnormal Growth

181

Growth Restriction

181

Macrosomia

182

Safety of Ultrasound

182

Quantifying Machine Power Output

182

Ultrasound Diagnosis of Malformations

183

Ultrasound as a Screening Tool for Birth Defects

183

Screening for Aneuploidy

184

First Trimester

184

Second Trimester

184

Screening for Anomalies With the Standard Ultrasound Examination

185

Head and Neck

185

General Appearance

185

Neural Tube Defects

185

Cystic Hygroma

186

Cleft Lip and Palate

186

Micrognathia

186

Cerebellum and Cisterna Magna

186

Choroid Plexus

186

Lateral Ventricles

186

Midline Falx

186

Chest

186

Chest Masses

186

Four-Chamber View of the Heart

187

Outflow Tracts

187

Abdomen

187

Urinary Tract

187

Kidneys

187

Bladder

188

Placenta and Umbilical Cord

188

Umbilical Cord Insertion Into the Abdomen

188

Number of Umbilical Cord Vessels

188

Spine

188

Extremities

188

Hydrops

189

Clinical Value of Birth Defect Screening

189

"Entertainment" Ultrasound Examinations

189

Key Points

190

References

190

10 Genetic Screening and Prenatal Genetic Diagnosis

193

Key Abbreviations

193

Genetic History

194

Genetic Counseling

194

Communication

194

Nondirective Counseling

195

Psychological Defenses

195

Chromosome Abnormalities

195

Autosomal Trisomy

196

Trisomy 21

196

Trisomy 13

197

Trisomy 18

197

Other Autosomal Trisomies

197

Autosomal Deletions and Duplications

197

Sex Chromosome Abnormalities

197

Monosomy X (45,X)

197

Klinefelter Syndrome

198

Polysomy X in Girls (47,XXX; 48,XXXX; 49,XXXX)

198

Polysomy Y in Boys (47,XYY and 48,XXYY)

198

Screening for Aneuploidy

198

First-Trimester Screening

198

Second-Trimester Serum Screening

200

First- and Second-Trimester Screening

200

Cell-Free DNA Analysis

200

Aneuploidy Screening in Multiple Gestation

201

Ultrasound Screening for Aneuploidy

202

Prenatal Diagnostic Testing for Chromosome Abnormalities

202

Indications for Prenatal Cytogenetic Testing

202

Previous Child with a Chromosome Abnormality

202

Parental Chromosome Rearrangements

202

Assisted Reproduction Through Intracytoplasmic Sperm Injection

203

Cytogenetic Testing

203

Chromosome Microarrays

203

Fluorescence in Situ Hybridization

204

Quantitative Fluorescent Polymerase Chain Reaction

205

Accuracy of Prenatal Cytogenetic Diagnosis

205

Mosaicism

205

Implications of De Novo Structural Abnormalities

205

Single-Gene or Mendelian Disorders

206

Carrier Screening for Heritable Disorders

206

Ashkenazi Jewish Genetic Diseases

207

Hemoglobinopathies

207

Cystic Fibrosis

207

Newborn Screening

208

Molecular Approach to Prenatal Diagnosis of Single-Gene Disorders

208

Mendelian Disorders Without Known Molecular Basis

209

Multifactorial and Polygenic Disorders

209

Screening for Neural Tube Defects

209

Obstetric Significance of Unexplained Elevated Maternal Serum Alpha-Fetoprotein

209

Indications for Prenatal Genetic Testing

210

Procedures for Prenatal Genetic Diagnosis

210

Amniocentesis

210

Amniocentesis in Twin Pregnancies

210

Safety of Amniocentesis

210

Chorionic Villus Sampling

211

Safety of Chorionic Villus Sampling

211

Chorionic Villus Sampling in Twin Pregnancies

212

Invasive Diagnostic Testing in Women With Hepatitis B, Hepatitis C, and Human Immunodeficiency Virus

212

Fetal Blood Sampling

212

Technique

212

Safety of Fetal Blood Sampling

213

Preimplantation Genetic Diagnosis

213

Obtaining Embryonic and Gamete DNA

213

Novel Indications Addressed Only by Preimplantation Genetic Diagnosis

213

To Avoid Pregnancy Termination

213

Nondisclosure of Parental Genotype

213

Human Leukocyte Antigen–Compatible Embryos for Umbilical Cord Blood Stem Cell Transplantation

214

Preimplantation Genetic Diagnosis for Chromosomal Indications

214

Methodology

214

Numeric Chromosome Abnormalities

214

Structural Chromosome Abnormalities

214

Preimplantation Genetic Diagnosis for Single-Gene Disorders

214

Safety of Preimplantation Genetic Diagnosis

215

Intact Fetal Cells

215

Key Points

215

References

216

11 Antepartum Fetal Evaluation

219

Key Abbreviations

219

Defining the Problem of Perinatal Mortality

219

Characteristics of Fetal Death

220

Causes of Fetal Death

221

Timing of Fetal Death

221

Identifying Those at Risk

222

Details on Select Antenatal Conditions

222

Maternal Characteristics

222

Maternal Age

222

Maternal Race

222

Socioeconomic Factors, Prenatal Care, and Substance Abuse

222

Maternal Comorbidities

223

Obesity

223

Diabetes Mellitus

223

Hypertensive Disorders

223

Thrombophilia

224

Intrahepatic Cholestasis

224

Renal Disease and Systemic Lupus Erythematosus

224

Obstetric Factors

224

Fertility History and Assisted Reproductive Technology

224

Parity

225

Multiple Gestations

225

Early Pregnancy Markers

225

Amniotic Fluid Abnormalities

225

Fetal Growth Restriction

225

Postterm Pregnancy

225

Fetal Malformations

225

Conclusions

225

Potential Utility of Antepartum Fetal Testing

225

What Do These Tests Tell Us About the Fetus?

226

Fetal State

226

Biophysical Techniques of Fetal Evaluation

227

Maternal Assessment of Fetal Activity

227

Contraction Stress Test

228

Predictive Value of the Contraction Stress Test

229

Nonstress Test

230

Fetal Heart Rate Patterns Observable on the Nonstress Test

230

Reactive

230

Nonreactive

231

Other Nonstress Test Patterns or Findings

232

Sinusoidal Pattern

232

Bradycardia

232

Tachycardia

233

Arrhythmia

233

Deceleration

234

Predictive Value of the Nonstress Test

234

Fetal Biophysical Profile

234

Predictive Value of the Biophysical Profile

236

Modified Biophysical Profile

237

Doppler Ultrasound

237

Clinical Application of Tests of Fetal Well-Being

237

Evidence for Condition-Specific Testing

239

Assessment of Fetal Pulmonary Maturation

240

Tests of Fetal Pulmonary Maturity

240

Quantitation of Pulmonary Surfactant

240

Measurements of Surfactant Function

241

Determination of Fetal Pulmonary Maturation in Clinical Practice

241

Summary

241

Key Points

241

References

242

Bibliography

243.e1

III Intrapartum Care

245

12 Normal Labor and Delivery

246

Key Abbreviations

246

Overview

246

Labor: Definition and Physiology

246

Mechanics of Labor

249

Uterine Activity (Powers)

249

Fetus (Passenger)

249

Maternal Pelvis (Passage)

251

Cardinal Movements in Labor

253

Engagement

253

Descent

253

Flexion

253

Internal Rotation

253

Extension

255

External Rotation

255

Expulsion

255

Normal Progress of Labor

255

Interventions That Affect Normal Labor Outcomes

259

Active Management of Labor

260

Second Stage of Labor

260

Spontaneous Vaginal Delivery

261

Delivery of the Placenta and Fetal Membranes

262

Episiotomy and Perineal Injury and Repair

263

Ultrasound in Labor and Delivery

265

Key Points

266

References

267

13 Abnormal Labor and Induction of Labor

271

Key Abbreviations

271

Overview

271

Diagnosis

271

Abnormal Labor at Term

271

Disorders of the Latent Phase

272

Disorders of the Active Phase

273

Electromechanical Classification

274

Disorders of the Second Stage

274

Disorders of the Third Stage

275

Anesthesia Effects on Labor Progress

275

Management of Abnormal Labor and Delivery

276

Pharmacologic Augmentation

276

Side Effects

276

Induction of Labor

276

Indications and Contraindications

276

Prolonged Pregnancy

277

Elective Induction of Labor

278

Prediction of Labor Induction Success

279

Cervical Ripening

280

Failed Induction

280

Techniques for Cervical Ripening and Labor Induction

281

Oxytocin

281

Oxytocin Dosing Intervals and Protocols

282

Prostaglandins

283

Prostaglandin E2

283

Prostaglandin E1

283

Alternative Methods

284

Midtrimester Induction

285

Summary

286

Key Points

286

References

287

Bibliography

288.e1

Overview

288.e1

Abnormal Labor at Term

288.e1

Disorders of the Active Phase

288.e1

Disorders of the Second Stage

288.e1

Precipitous Labor

288.e1

Anesthesia Effects on Labor Progress

288.e1

Management of Abnormal Labor and Delivery

288.e1

Induction of Labor

288.e1

Prolonged Pregnancy

288.e1

Cervical Ripening

288.e1

Elective Induction of Labor

288.e1

Prediction of Labor Induction Success

288.e1

Techniques for Cervical Ripening and Labor Induction

288.e2

Prostaglandins

288.e2

Alternative Methods

288.e2

Midtrimester Induction

288.e3

14 Operative Vaginal Delivery

289

Key Abbreviations

289

Operative Vaginal Delivery

290

Classification, Prerequisites, and Indications

290

Operative Vaginal Delivery Instruments

291

Forceps Instruments

291

Classic Forceps

291

Rotational Forceps

293

Other Specialized Instruments

294

Vacuum Extraction Devices

294

Stainless Steel Devices

294

Soft-Cup Devices

294

Operative Vaginal Delivery Techniques

294

Classic Forceps: Application for Occiput Anterior and Occiput Posterior Positions

294

Rotational Forceps: Application for Occiput Transverse Positions

297

Classic Forceps

297

Kielland Forceps

297

Forceps Rotation: Application for the Occiput Posterior Position

297

Vacuum Extraction

298

Risks and Benefits of Operative Vaginal Delivery

298

Benefits of Operative Vaginal Delivery

298

Maternal Risks

298

Perineal Trauma

299

Urinary Incontinence

299

Fecal Incontinence

299

Fetal Risks

300

Craniofacial and Intracranial Injury

300

Cephalohematoma and Subgaleal Hemorrhage

300

Intracranial Hemorrhage

301

Neurologic and Cognitive Effects

301

Complex Operative Vaginal Delivery Procedures

302

Rotations Greater Than 45 Degrees

302

Midpelvic Cavity Delivery

302

Sequential Use of Vacuum and Forceps

303

Trial of Operative Vaginal Delivery

303

Vacuum Delivery and the Preterm Fetus

303

Counseling: Forceps, Vacuum, OR Cesarean Delivery

303

Simulation and Residency Training in Operative Vaginal Delivery

304

Key Points

305

References

305

15 Intrapartum Fetal Evaluation

308

Key Terms

308

Key Abbreviations

308

Overview

309

Brief History of Fetal Monitoring

309

Instrumentation

309

Direct Fetal Heart Rate and Uterine Activity Monitoring

309

Indirect Fetal Heart Rate and Uterine Activity Monitoring

310

Physiologic Basis for Electronic Fetal Heart Rate Monitoring

310

Transfer of Oxygen From the Environment to the Fetus

311

External Environment

311

Maternal Lungs

311

Maternal Blood

312

Maternal Heart

312

Maternal Vasculature

312

Uterus

313

Placenta

313

Intervillous Space PaO2

314

Intervillous Space Blood Flow

314

Chorionic Villous Surface Area

314

Diffusion Across the Blood-Blood Barrier

314

Interruption of Placental Blood Vessels

314

Summary of Placental Causes of Interrupted Oxygenation

314

Fetal Blood

315

Umbilical Cord

315

Fetal Response to Interrupted Oxygen Transfer

315

Mechanisms of Injury

316

Injury Threshold

316

Pattern Recognition and Interpretation

317

Evolution of Standardized Fetal Heart Rate Definitions

317

2008 National Institute of Child Health and Human Development Consensus Report

317

Definitions and General Considerations

318

Specific Fetal Heart Rate Patterns

318

Baseline Rate

318

Definition

318

Physiology

319

Variability

319

Definition

319

Physiology

320

Acceleration

322

Definition

322

Physiology

322

Decelerations

323

Early Deceleration

323

IV Postpartum Care

467

22 The Neonate

468

Key Abbreviations

468

Cardiopulmonary Transition

469

Pulmonary Development

469

First Breaths

472

Fetal Breathing

472

Mechanics of the First Breath

472

Circulatory Transition

473

Abnormalities of Cardiopulmonary Transition

474

Birth Asphyxia

474

Delivery Room Management of the Newborn

475

Cord Clamping

478

Sequelae of Birth Asphyxia

478

Birth Injuries

478

Neonatal Thermal Regulation

480

Physiology

480

Clinical Applications

480

Delivery Room

480

Nursery

480

Neonatal Nutrition and Gastroenterology

481

Infant Feeding

481

Neonatal Hypoglycemia

482

Congenital Gastrointestinal Surgical Conditions

483

Necrotizing Enterocolitis

483

Neonatal Jaundice

483

Neonatal Hematology

486

Anemia

486

Polycythemia

486

Thrombocytopenia

486

Vitamin K–Deficiency Bleeding of the Newborn

486

Perinatal Infection

487

Early-Onset Bacterial Infection

487

Respiratory Distress

487

Cardiovascular Causes

487

Pulmonary Causes

488

Neonatal Neurology

490

Intraventricular Hemorrhage and Periventricular Leukomalacia

490

Classification of Newborns by Growth and Gestational Age

490

Nursery Care

491

Care of the Parents

493

Kangaroo Care

494

Outcome of Neonatal Intensive Care and Threshold of Viability

495

Late Preterm Infant

496

Key Points

496

References

496

Bibliography

498.e1

Cardiopulmonary Transition

498.e1

Abnormalities of Cardiopulmonary Transition

498.e1

Birth Injuries

498.e2

Neonatal Thermal Regulation

498.e2

Neonatal Nutrition and Gastroenterology

498.e2

Neonatal Hematology

498.e2

Perinatal Infection

498.e2

Respiratory Distress

498.e2

Neonatal Neurology

498.e3

Classification of Newborns by Growth and Gestational Age

498.e3

Nursery Care

498.e3

Outcome of Neonatal Intensive Care

498.e3

The Late Preterm Infant

498.e4

23 Postpartum Care and Long-Term Health Considerations

499

Key Abbreviations

499

Postpartum Involution

499

Uterus

499

Cervix

501

Fallopian Tube

501

Ovarian Function

501

Weight Loss

501

Thyroid Function

502

Cardiovascular System, Immunity, and Coagulation

502

Urinary Tract and Renal Function

503

Hair Growth and Bone Loss

503

Management of the Puerperium

504

Health Maintenance

505

Perineal and Pelvic Care

505

Delayed Postpartum Hemorrhage and Postpartum Anemia

507

Postpartum Infection

507

Maternal-Infant Attachment

507

Pregnancy Prevention

508

Long-Acting Reversible Contraception

509

Injectable Contraception

510

Combined Hormonal Contraception

510

Progestin-Only Oral Contraception

511

Emergency Contraception

511

Sterilization

511

Barrier Methods

512

Natural Family Planning Methods

512

Postpartum Psychological Reactions

512

Managing Perinatal Grieving

512

Postpartum Posttraumatic Stress Disorder

514

Key Points

514

References

514

Bibliography

516.e1

Postpartum Involution

516.e1

Postpartum Ovulation

516.e1

Thyroid Function

516.e1

Cardiovascular System, Immunity, Coagulation

516.e1

Urinary Tract and Renal Function

516.e1

Management of Puerperium

516.e1

Perineal Care

516.e1

Birth Control

516.e1

Sterilization

516.e1

Postpartum Psychological Reactions

516.e1

24 Lactation and Breastfeeding

517

Key Abbreviations

517

Breast Anatomy and Development

518

Physiology of Lactation

519

Stages of Lactogenesis

521

Endocrinology of Lactogenesis

521

Milk Transfer

523

Breast Milk: The Gold Standard

526

Overview

526

Role of the Obstetrician and Gynecologist

531

Focused Issues in the Successful Management of Breastfeeding

533

Anatomic Abnormalities of the Breast

533

Previous Breast Surgeries

534

Labor and Delivery Management

535

Breast Milk Expression

536

Maternal Nutrition and Exercise during Lactation

537

Breast and Nipple Pain

538

Mastitis and Breast Abscess

539

Milk Transfer and Infant Growth

540

Jaundice in the Newborn

541

Galactogogues: Drugs to Improve Milk Production

541

Maternal Disease

542

Drugs in Breast Milk

543

Breast Masses during Lactation

543

Back-to-Work Issues

544

Contraception

545

Weaning

545

Key Points

546

References

546

V Complicated Pregnancy

549

25 Surgery During Pregnancy

550

Key Abbreviations

550

Maternal Physiology

550

Diagnostic Imaging

551

Ionizing Radiation

551

Ultrasound

552

Magnetic Resonance Imaging

552

Contrast in Pregnancy

552

Anesthesia during Nonobstetric Surgery

552

Anesthesia and Teratogenicity

553

Anesthesia and Pregnancy Physiology

553

Nonobstetric Surgery and Pregnancy Outcome

553

Fetal Monitoring

554

Laparoscopy in Pregnancy

554

Laparoscopic Entry Techniques in Pregnancy

554

Laparoscopy and Pregnancy Outcome

555

Adnexal Masses in Pregnancy

556

Obesity, Bariatric Surgery, and Pregnancy

560

Cardiac Surgery in Pregnancy

561

Neurosurgery in Pregnancy

561

Key Points

561

References

562

26 Trauma and Related Surgery in Pregnancy

565

Key Abbreviations

565

Incidence of Trauma in Pregnancy

565

Anatomic and Physiologic Changes of Pregnancy

566

Fetal Physiology

566

Maternal Anatomic and Physiologic Changes

566

Blunt Trauma

566

Motor Vehicle Crashes

567

Falls

567

Domestic Violence and Intimate Partner Violence

567

Specific Injuries

567

Fractures

567

Penetrating Trauma

568

Thermal Injuries (Burns)

568

Direct Fetal Injuries

569

Pathophysiology of Fetal Loss Resulting From Maternal Trauma

569

Predictors of Fetal Mortality

569

Management Considerations

569

Initial Approach

569

Evaluation on Labor and Delivery

569

Fetal Monitoring

570

Laboratory Testing

571

Diagnostic Imaging

571

Ultrasound

571

Ionizing Radiation

572

Magnetic Resonance Imaging

572

Contrast Agents

572

Suggested Guidelines for Radiologic Evaluation of Trauma

573

Exploratory Surgery for Traumatic Injuries during Pregnancy

573

Uterine Rupture

574

Implications of Cardiac Arrest and Perimortem Cesarean Section

574

Other Considerations

574

Medical and Legal Implications After Maternal Trauma

574

Long-Term Effects of Trauma

574

Prevention of Trauma

574

Screening and Identification of Women at Risk for Domestic Violence

576

Key Points

576

References

576

27 Early Pregnancy Loss and Stillbirth

578

Key Abbreviations

578

Frequency and Timing of Pregnancy Loss

579

Placental Anatomic Characteristics of Successful and Unsuccessful Pregnancies

579

Numerical Chromosomal Abnormalities: the Most Frequent Cause of Early Pregnancy Loss

580

Types of Numerical Chromosomal Abnormalities

581

Autosomal Trisomy

581

Polyploidy

582

Sex Chromosome Polysomy (X or Y)

582

Monosomy X

582

Relationship Between Recurrent Losses and Numerical Chromosomal Abnormalities

583

Genetic Counseling and Management for Recurrent Aneuploidy

583

Chromosomal Rearrangements

583

Translocations

583

Inversions

584

Mendelian and Polygenic/Multifactorial Etiology

584

Luteal Phase Defects

585

Thyroid Abnormalities

585

Diabetes Mellitus

585

Intrauterine Adhesions (Synechiae)

585

Müllerian Fusion Defects

585

Leiomyomas

586

Cervical Insufficiency

586

Infections

586

Acquired Thrombophilias

586

Inherited Thrombophilias

587

Exogenous Agents

587

Radiation and Chemotherapeutic Agents

587

Alcohol

587

Caffeine

587

Contraceptive Agents

588

Chemicals

588

Cigarette Smoking

588

Trauma

588

Psychological Factors

588

Common Medications

588

Management of Recurrent Early Pregnancy Loss

589

When Is Formal Evaluation Necessary?

589

Recommended Evaluation

589

Late Pregnancy Loss (Stillbirth)

590

Recurrence

590

Genetic Factors

591

Polygenic/Multifactorial Disorders

591

Maternal Evaluation

591

Management in Subsequent Pregnancies

591

Obstetric Outcome after Early Pregnancy Complications

592

Key Points

592

References

593

28 Cervical Insufficiency

595

Key Abbreviations

595

Overview

595

Cervical Insufficiency: a Distinct Entity or Evidence of Preterm Parturition?

596

Short Cervix

596

Risk Factors for Cervical Insufficiency

597

Tests for Cervical Insufficiency

599

Clinical Diagnosis of Cervical Insufficiency

599

Patient History

599

Sonographic Diagnosis of Cervical Insufficiency

599

Diagnosis of Cervical Insufficiency on Physical Examination

600

Treatment: Cerclage

601

Cerclage Technique

601

History-Indicated Cerclage

601

Physical Examination–Indicated Cerclage

604

Risks of Cerclage

605

Cerclage in the Presence of Premature Rupture of Membranes or Preterm Labor

605

Cerclage Effectiveness Based on Evidence

605

History-Indicated Cerclage

605

Ultrasound-Indicated Cerclage

607

Physical Examination–Indicated Cerclage

608

Cerclage in Multiple Gestations

609

Alternative Treatments to Cervical Cerclage

609

Activity Restriction

609

Pessary

609

Progesterone

610

Comparative Trials of Treatment of Cervical Insufficiency

611

Summary

611

Key Points

612

References

612

Bibliography

614.e1

29 Preterm Labor and Birth

615

Key Abbreviations

615

Definitions

616

Frequency of Preterm and Low-Birthweight Delivery

616

Outcomes for Infants Born Preterm

616

Perinatal Mortality

616

Infant Mortality

616

Perinatal Morbidity

618

Long-Term Outcomes

618

Epidemiology of Preterm Birth

619

Clinical Risk Factors for Spontaneous Preterm Birth

619

Maternal Factors

619

Medical

620

Infections

620

Periodontal Disease

620

Genitourinary Tract Factors

620

Cervical Length

620

Cervical Procedures

620

Congenital Abnormalities of the Uterus

620

Behavioral

620

Smoking and Substance Abuse

620

Physical Activity

620

Nutritional Factors

620

Demography, Stress, and Social Determinants of Health

620

Black Race

621

Genetic Contributors to Preterm Birth

622

Pregnancy History

622

Current Pregnancy Risks

623

Bleeding and Vanishing Twins

623

Multifetal Gestation and Uterine Distension

623

Risk-Scoring Systems

623

Pathophysiology of Spontaneous Preterm Birth

623

Cervical Changes: Softening and Ripening

624

Increased Uterine Contractility

624

Decidual Membrane Activation

625

Fetal Participation in the Onset of Labor

625

Preterm Parturition Syndrome

625

Intrauterine Infection

625

Frequency of Intrauterine Infection in Spontaneous Preterm Birth

626

Intrauterine Infection as a Chronic Process

626

Infection, Preterm Labor, and Neonatal Outcomes

626

Gene-Environment Interactions

626

Uteroplacental Ischemia and Decidual Hemorrhage

626

Uterine Overdistension

627

Breakdown of Fetal-Maternal Tolerance

627

Allergy-Induced Preterm Labor

627

Cervical Insufficiency

627

Endocrine Disorders

628

Summary of the Preterm Parturition Syndrome

628

Clinical Care for Women in Preterm Labor

628

Diagnosis of Preterm Labor

628

Diagnostic Tests for Preterm Labor

629

Amniocentesis for Women With Preterm Labor

629

Treatment for Women in Preterm Labor

630

Maternal Transfer

630

Antibiotics

630

Antenatal Corticosteroids

630

Fetal Effects

631

Other Fetal Effects of Glucocorticoids

631

Maternal Effects

631

Duration of Benefit

631

Risks of Antenatal Corticosteroid Treatment

631

Sequelae of Antenatal Treatments to Reduce Fetal/Neonatal Morbidity

631

Respiratory Distress

631

Neurologic Morbidity

631

Treatment Protocol

632

Tocolysis in Preterm Labor

632

Efficacy

632

Choosing a Tocolytic Agent

633

Pharmacology

633

Contraindications to Tocolysis

633

Calcium Channel Blockers

633

Maternal Effects

634

Fetal Effects

634

Treatment Protocol

634

Summary of Treatment with Calcium Channel Blockers

635

Magnesium Sulfate

635

VI Pregnancy and Coexisting Disease

795

36 Prolonged and Postterm Pregnancy

796

Key Abbreviations

796

Definition

796

Incidence

796

Etiology

797

Diagnosis

797

Perinatal Morbidity and Mortality

797

Oligohydramnios

798

Fetal Growth

799

Postmaturity

799

Meconium

799

Maternal Complications

799

Management

799

Antenatal Surveillance

799

Expectant Management Versus Induction of Labor

800

Labor Induction

800

Long-Term Neonatal Outcomes

800

Multiple Gestation

801

Key Points

801

References

801

37 Heart Disease in Pregnancy

803

Key Abbreviations

803

Maternal Hemodynamics

804

Blood Volume

805

Diagnosis and Evaluation of Heart Disease

806

General Care

807

Risk-Scoring Strategies

808

Valvular Disease

809

Mitral Stenosis

809

Mitral Regurgitation

811

Aortic Stenosis

811

Aortic Regurgitation

812

Prosthetic Valves

812

First Trimester

813

Second and Third Trimester

813

Labor and Delivery

813

Postpartum

813

Congenital Heart Disease

814

Isolated Septal Defects

815

Patent Ductus Arteriosus

816

Tetralogy of Fallot

816

Transposition of the Great Arteries

816

Fontan Procedure

817

Eisenmenger Syndrome

818

Coarctation of the Aorta

819

Summary

819

Cardiomyopathy

819

Myocardial Infarction

820

Marfan Syndrome

821

Pulmonary Hypertension

822

Other Conditions

822

Critical Care: Hemodynamic Monitoring and Management

823

Hemodynamic Monitoring

823

Hemodynamic Management

824

Key Points

825

References

826

Bibliography

827.e1

General Care

827.e1

Diagnosis and Evaluation of Heart Disease

827.e1

Valvular Disease

827.e1

Congenital Heart Disease

827.e1

Cardiomyopathy

827.e1

Myocardial Infarction

827.e1

Marfan Syndrome

827.e1

Pulmonary Hypertension

827.e1

Critical Care: Hemodynamic Monitoring and Management

827.e1

38 Respiratory Disease in Pregnancy

828

Key Abbreviations

828

Pneumonia in Pregnancy

828

Bacteriology

829

Bacterial Pneumonia

829

Viral Pneumonia

831

Influenza Virus

831

Varicella Virus

832

Pneumocystis jiroveci Pneumonia

833

Tuberculosis in Pregnancy

834

Diagnosis

834

Prevention

835

Treatment

836

Summary

836

Asthma in Pregnancy

837

Diagnosis

837

Effects of Pregnancy on Asthma

837

Effects of Asthma on Pregnancy

838

Asthma Management

838

Objective Measures for Assessment and Monitoring

838

Patient Education

839

Avoidance or Control of Asthma Triggers

839

Pharmacologic Therapy

839

Step Therapy

840

Inhaled Corticosteroids

840

Inhaled β2-Agonists

840

Omalizumab

841

Theophylline

841

Leukotriene Moderators

841

Oral Corticosteroids

841

Management of Allergic Rhinitis and Gastroesophageal Reflux

841

Antenatal Asthma Management

841

Home Management of Asthma Exacerbations

842

Hospital and Emergency Department Management of Asthma Exacerbations

842

Labor and Delivery Management of Asthma

842

Breastfeeding

843

Summary

843

Restrictive Lung Disease

843

Sarcoidosis

844

Cystic Fibrosis

844

Effect of Pregnancy on Cystic Fibrosis

845

Counseling Patients with Cystic Fibrosis in Pregnancy

846

Management of the Pregnancy Complicated by Cystic Fibrosis

846

Key Points

847

References

847

39 Renal Disease in Pregnancy

850

Key Abreviations

850

Overview

850

Altered Renal Physiology in Pregnancy

850

Asymptomatic Bacteriuria

851

Pyelonephritis

852

Acute Renal Disease in Pregnancy

853

Urolithiasis

853

Glomerular Disease

853

Acute Renal Failure in Pregnancy

854

Hemolytic Uremic Syndrome

855

Polycystic Kidney Disease

855

Vesicoureteral Reflux

855

Renal Artery Stenosis

855

Nephrotic Syndrome

855

Chronic Renal Disease in Pregnancy

855

Effect of Pregnancy on Renal Function

856

Effect of Chronic Renal Disease on Pregnancy

856

Management of Chronic Renal Disease in Pregnancy

857

Hemodialysis in Pregnancy

857

Renal Transplant

858

Key Points

859

References

859

40 Diabetes Mellitus Complicating Pregnancy

862

Key Abbreviations

862

Pathophysiology

863

Normal Glucose Tolerance

863

Glucose Metabolism

863

Diabetes Mellitus

866

Type 1 Diabetes Mellitus

866

Type 2 Diabetes and Gestational Diabetes

867

Amino Acid Metabolism

869

Lipid Metabolism

870

Maternal Weight Gain and Energy Expenditure

871

Perinatal Morbidity and Mortality

871

Fetal Death

871

Congenital Malformations

872

Fetal Macrosomia

873

Hypoglycemia

874

Respiratory Distress Syndrome

874

Calcium and Magnesium Metabolism

874

Hyperbilirubinemia and Polycythemia

875

Cardiomyopathy

875

Maternal Classification and Risk Assessment

875

Nephropathy

875

Retinopathy

877

Coronary Artery Disease

878

Early Screening for Overt Diabetes and Detection of Gestational Diabetes Mellitus

878

Treatment of the Patient with Type 1 or Type 2 Diabetes Mellitus

881

Ketoacidosis

884

Antepartum Fetal Evaluation

884

Timing and Mode of Delivery

887

Glucoregulation During Labor and Delivery

888

Management of the Woman with Gestational Diabetes

889

Is There a Benefit to the Treatment of Gestational Diabetes Mellitus?

889

Randomized Treatment Trials for Gestational Diabetes Mellitus

889

Treatment of the Woman with Gestational Diabetes Mellitus

889

Postpartum Follow-Up of Women with Gestational Diabetes Mellitus

892

Long-Term Effects of Glucose Intolerance on Mother and Fetus

893

Prepregnancy Counseling of Women with Preexisting Diabetes Mellitus

894

Contraception

894

Key Points

895

References

896

Bibliography

898.e1

Pathophysiology

898.e1

Diabetes Mellitus

898.e1

Perinatal Morbidity and Mortality

898.e2

Maternal Classification and Risk Assessment

898.e3

Detection and Significance of Gestational Diabetes Mellitus

898.e3

Treatment of the Patient with Type 1 or Type 2 Diabetes Mellitus

898.e4

Antepartum Fetal Evaluation

898.e4

Timing and Mode of Delivery

898.e4

Glucoregulation During Labor and Delivery

898.e4

Management of the Woman with Gestational Diabetes

898.e4

Postpartum Follow-Up of Women with Gestational Diabetes Mellitus

898.e5

Prepregnancy Counseling of Women with Preexisting Diabetes Mellitus

898.e5

Contraception

898.e5

41 Obesity in Pregnancy

899

Key Abbreviations

899

Overview

899

Prevalence of Obesity in Women of Reproductive Age

899

Metabolism in Obese Pregnant Women

900

Recommendations for Gestational Weight Gain in Obese Women

901

Pregnancy Complications in Obese Women

903

Early Pregnancy

903

Mid to Late Pregnancy

903

Intrapartum Complications

904

Postpartum Considerations

905

Maternal

905

Neonate/Child

906

Other Considerations

906

Facilities

906

Key Points

906

References

907

42 Thyroid and Parathyroid Diseases in Pregnancy

910

Key Abbreviations

910

Parathyroid Diseases

911

Calcium Homeostasis During Pregnancy

911

Hyperparathyroidism

911

Hypercalcemia

912

Differential Diagnosis

912

Therapy

913

Hypoparathyroidism

914

Pseudohypoparathyroidism

914

Vitamin D Deficiency

915

Osteoporosis

915

Thyroid Diseases

916

Thyroid Function Tests

916

Thyroid-Stimulating Hormone Receptor Antibodies

917

Prepregnancy Counseling

918

Maternal-Placental-Fetal Interactions

918

Hyperthyroidism

918

Gestational Hyperthyroidism

918

Transient Hyperthyroidism of Hyperemesis Gravidarum

918

Graves Disease

920

Treatment of Thyroid Storm

924

Fetal Hyperthyroidism

925

Neonatal Hyperthyroidism

926

Neonatal Central Hypothyroidism

926

Resistance to Thyroid Hormone Syndrome

926

Hypothyroidism

926

Etiology and Classification of Hypothyroidism

927

Subclinical Hypothyroidism

927

Neurologic Development and Subclinical Hypothyroidism

928

Clinical Hypothyroidism

928

Isolated Hypothyroxinemia

928

Universal Versus Selective Screening for Thyroid Disease

929

Euthyroid Chronic or Hashimoto Thyroiditis

930

Treatment of Hypothyroidism

931

Single Nodule of the Thyroid Gland

931

Patients With Known Thyroid Cancer Before Pregnancy

933

Postpartum Thyroid Dysfunction

933

Key Points

935

References

935

Bibliography

937.e1

Calcium Metabolism, Parathyroid, Calcitonin, Bone

937.e1

Parathyroid Diseases

937.e1

Vitamin D

937.e2

Osteoporosis

937.e2

Thyroid Diseases

937.e2

Iodine

937.e2

Maternal-Fetal Physiopathology

937.e3

Human Chorionic Gonadotropin and Thyrotoxicosis

937.e3

Hyperthyroidism

937.e3

Antithyroid Drug Therapy

937.e4

Fetal and Neonatal Pathology

937.e4

Thyroxine Resistance Syndrome

937.e4

Hypothyroidism

937.e4

Screening

937.e5

Chronic or Hashimoto Thyroiditis

937.e5

Goiter, Thyroid Nodules, and Cancer

937.e5

Postpartum Thyroiditis

937.e6

43 Pituitary and Adrenal Disorders in Pregnancy

938

Key Abbreviations

938

Anterior Pituitary

938

Anterior Pituitary Hormone Changes in Pregnancy

938

Pituitary Tumors

938

Prolactinoma

938

Acromegaly

939

Thyrotropin-Secreting Tumors

940

Clinically Nonfunctioning Adenomas

940

Hypopituitarism

940

Sheehan Syndrome

940

Lymphocytic Hypophysitis

941

Posterior Pituitary

941

Diabetes Insipidus

941

Adrenals

941

Cushing Syndrome

941

Adrenal Insufficiency

942

Primary Hyperaldosteronism

943

Pheochromocytoma

943

Key Points

944

References

944

44 Hematologic Complications of Pregnancy

947

Key Abbreviations

947

Pregnancy-Associated Thrombocytopenia

947

Gestational Thrombocytopenia

947

Immune Thrombocytopenic Purpura

948

Thrombotic Thrombocytopenic Purpura and Hemolytic Uremic Syndrome

948

Evaluation of Thrombocytopenia during Pregancy and the Puerperium

949

Therapy of Thrombocytopenia during Pregnancy

950

Gestational Thrombocytopenia

950

Immune Thrombocytopenic Purpura

950

Management of Thrombotic Thrombocytopenic Purpura and Hemolytic Uremic Syndrome

951

Fetal/Neonatal Alloimmune Thrombocytopenia

952

Iron Deficiency Anemia

952

Megaloblastic Anemia

955

Hemoglobinopathies

956

Hemoglobin S

956

Hemoglobin SC Disease

958

Thalassemia

958

Von Willebrand Disease

960

Key Points

962

References

962

Bibliography

964.e1

Thrombocytopenia

964.e1

Anemias (Iron, Folate, Vitamin B12)

964.e1

Hemoglobinopathies

964.e1

Von Willebrand Disease

964.e2

45 Thromboembolic Disorders in Pregnancy

965

Key Abbreviations

965

Background and Historic Notes

965

Diagnoses and Definitions

965

Symptoms

966

Deep Venous Thrombosis

966

Pulmonary Embolism

966

Epidemiology and Incidence

966

Genetics

966

Physiology of Hemostasis

966

Vasoconstriction and Platelet Action

966

Coagulation Cascade

966

Anticoagulant System

967

Clot Lysis and Fibrinolysis

967

Pathophysiology of Thrombosis in Pregnancy

967

Antiphospholipid Syndrome

968

Inherited Thrombophilias

968

Risk Factors and Associations

968

Complications

969

Considerations in Management of Pregnant Women

969

Diagnosis of Venous Thromboembolism

969

Deep Venous Thrombosis

969

Clinical Signs and Symptoms

969

Risk-Scoring System

969

Imaging

969

D-Dimer Assays

970

Workup of Patients with Suspected Deep Venous Thrombosis

970

Pulmonary Embolus

970

Clinical Signs and Symptoms

970

Nonspecific Studies

970

Ventilation-Perfusion Scanning.

971

Spiral Computed Tomographic Pulmonary Angiography.

971

Ventilation-Perfusion Scanning Versus Computed Tomographic Pulmonary Angiography.

971

Magnetic Resonance Angiography.

971

D-Dimer Assays.

972

Lower Extremity Evaluation.

972

Workup of Patients with Suspected Pulmonary Embolus

972

Radiation Exposure from Diagnostic Procedures

973

Fetal Exposure

973

Maternal Exposure

973

Management of Venous Thromboembolism

974

Prevention

974

Perioperative Prevention

974

Preconception Counseling

974

Therapy

974

Unfractionated Heparin

974

Low-Molecular-Weight Heparin

974

Fondaparinux

974

Coumarin

975

Treatment of Acute Deep Venous Thrombosis or Pulmonary Embolus

975

Prophylactic Anticoagulation Recommendations for Low-, Moderate-, and High-Risk Groups.

975

Inferior Vena Cava Filters

976

Delivery and Anesthesia Concerns

976

Postpartum Breastfeeding

977

Key Points

977

References

977

46 Collagen Vascular Diseases in Pregnancy

981

Key Abbreviations

981

Systemic Lupus Erythematosus

981

Epidemiology and Etiology

981

Clinical Manifestations

982

Diagnosis

982

Lupus Flare in Pregnancy

982

Lupus Nephritis in Pregnancy

983

Pregnancy Complications

983

Pregnancy Loss

983

Intrauterine Growth Restriction

984

Preterm Birth

984

Hypertensive Disorders of Pregnancy

984

Neonatal Lupus Erythematosus

984

Management of Pregnancies Complicated by Systemic Lupus Erythematosus

984

Management of Congenital Heart Block

985

Drug Used to Treat Systemic Lupus Erythematosus and Pregnancy Considerations

986

Drugs with Acceptable Risk Profiles in Pregnancy (See Chapter 8)

986

Hydroxychloroquine

986

Glucocorticoids

986

Nonsteroidal Antiinflammatory Drugs

986

Azathioprine

987

Cyclosporine A

987

Drugs with Uncertain or Higher Risk Profiles in Pregnancy

987

Cyclophosphamide

987

Drugs Contraindicated in Pregnancy

987

Mycophenolate Mofetil

987

Antiphospholipid Syndrome

987

Clinical Presentation

988

Recurrent Early Miscarriage

988

Stillbirth

988

Placental Insufficiency

988

Diagnosis

988

Definite Antiphospholipid Syndrome

988

Catastrophic Antiphospholipid Syndrome

988

Possible or Probable Antiphospholipid Syndrome and Equivocal Cases

989

Management of Antiphospholipid Syndrome in Pregnancy

989

Treatment during Pregnancy

989

Refractory Obstetric Antiphospholipid Syndrome

990

Catastrophic Antiphospholipid Syndrome

990

Pregnancy Complications and Surveillance

990

Rheumatoid Arthritis

991

Clinical Manifestations

991

Diagnosis

991

Pregnancy Considerations

991

Antirheumatic Drugs

992

Drugs With Acceptable Risk Profiles in Pregnancy

992

Sulfasalazine

992

Drugs with Uncertain or Higher Risk Profiles in Pregnancy

992

Tumor Necrosis Factor-α Inhibitors

992

Biologic Agents

992

Drugs Contraindicated in Pregnancy

992

Methotrexate

992

Leflunomide

992

Management of Pregnancies Complicated by Rheumatoid Arthritis

993

Systemic Sclerosis

993

Clinical Manifestations

993

Diagnosis

993

Pregnancy Considerations

993

Management of Pregnancies Complicated by Systemic Sclerosis

993

Sjögren Syndrome

994

Key Points

994

References

994

47 Hepatic Disorders During Pregnancy

998

Key Abbreviations

998

Physiologic Effects of Pregnancy and Assessment of Liver Disease

999

Differential Diagnosis of Hepatobiliary Symptoms and Conditions during Pregnancy

999

Maternal Jaundice

999

Right Upper Quadrant Abdominal Pain

999

Nausea and Vomiting

1000

Pruritus

1000

Hepatic Lesions

1000

Ascites

1000

Neonatal Cholestasis

1000

Abdominal Imaging during Pregnancy

1000

Therapeutic Endoscopy during Pregnancy

1001

Therapeutic Endoscopic Retrograde Cholangiopancreatography

1001

Endoscopic Variceal Sclerotherapy or Banding

1001

Team Approach and Informed Consent

1002

Pancreatobiliary Disease

1002

Acute Pancreatitis

1002

Cholelithiasis and Cholecystitis

1003

Choledocholithiasis

1003

Choledochal Cysts

1003

Common Liver Diseases Incidental to Pregnancy

1004

Acute Viral Hepatitis A, B, and C

1004

Hepatitis E

1004

Chronic Hepatitis B

1005

Chronic Hepatitis C

1005

Wilson Disease

1005

Autoimmune Hepatitis

1005

Hepatic Hemangiomas, Cysts, and Abscesses

1005

Hepatocellular Carcinoma and Hepatic Metastases

1005

Liver Diseases Significantly Affected by Pregnancy

1006

Hepatic Adenomas

1006

Acute Intermittent Porphyria

1006

Sickle Cell Hemoglobinopathies

1006

Portal Hypertension

1006

Budd-Chiari Syndrome

1007

Pregnancy After Liver Transplantation

1007

Liver Disease Strongly Related to or Unique to Pregnancy

1007

Alcoholism During Pregnancy

1007

Hepatic Involvement in Hyperemesis Gravidarum

1007

Herpes Simplex Hepatitis

1007

Intrahepatic Cholestasis of Pregnancy

1008

Acute Fatty Liver of Pregnancy

1008

Summary

1009

Key Points

1009

References

1010

48 Gastrointestinal Disorders During Pregnancy

1012

Key Abbreviations

1012

Physiologic Effects of Pregnancy on Abdominal Disorders

1012

Differential Diagnosis and Evaluation of Gastrointestinal Symptoms during Pregnancy

1013

Abdominal Pain

1013

Upper Gastrointestinal Symptoms

1015

Nausea and Vomiting

1015

Dyspepsia or Pyrosis

1015

Hematemesis

1015

Dysphagia

1016

Lower Gastrointestinal Symptoms

1016

Diarrhea

1016

Constipation

1016

Red Blood Per Rectum

1016

Diagnostic Testing during Pregnancy

1016

Radiologic Imaging

1016

Endoscopy During Pregnancy

1017

Team Approach and Informed Consent

1018

Gastrointestinal Disorders

1019

Predominantly Upper Gastrointestinal Disorders

1019

Nausea and Vomiting of Pregnancy and Hyperemesis Gravidarum

1019

Gastroesophageal Reflux and Peptic Ulcer Disease

1019

Diaphragmatic Rupture

1021

Predominantly Lower Gastrointestinal Disorders

1021

Acute Appendicitis

1021

Intestinal Obstruction

1022

Intestinal Pseudoobstruction

1023

Colon Cancer

1023

Inflammatory Bowel Disease

1024

Hemorrhoids

1025

Mesenteric Ischemia and Infarction

1026

Irritable Bowel Syndrome

1026

Splenic Artery Aneurysm Rupture

1026

Summary

1026

Key Points

1026

References

1027

49 Neurologic Disorders in Pregnancy

1030

Key Abbreviations

1030

Epilepsy and Seizures

1031

Epilepsy and Fertility

1032

Epilepsy and Pregnancy

1032

Teratogenic Effects of Antiepileptic Drugs

1032

Valproate

1032

Carbamazepine

1034

Lamotrigine

1034

Levetiracetam

1035

Phenytoin

1035

Phenobarbital

1035

Other Antiepileptic Drugs

1035

Effect of Antiepileptic Drug Dose

1036

Polytherapy

1036

Effects of Pregnancy on Anticonvulsant Medications

1036

Pregnancy and Seizure Frequency

1037

Obstetric and Neonatal Outcomes

1037

Preconception Counseling for Women With Epilepsy

1038

Genetic Counseling

1038

Folic Acid Supplementation

1039

Care of the Patient During Pregnancy

1040

Vitamin K Supplementation

1040

Labor and Delivery

1040

New Onset of Seizures in Pregnancy and in the Puerperium

1040

Breastfeeding and the Postpartum Period

1041

Postpartum Safety

1041

Contraception

1041

Multiple Sclerosis

1041

Multiple Sclerosis and Fertility

1042

Effect of Pregnancy on Multiple Sclerosis

1042

Effect of Multiple Sclerosis on Pregnancy Outcomes

1042

Disease-Modifying Agents and Pregnancy

1042

First-Line Agents

1043

Second-Line Agents

1044

Prepregnancy Counseling for Patients With Multiple Sclerosis

1045

Management of Multiple Sclerosis During Pregnancy

1045

Labor and Delivery

1045

Breastfeeding and the Postpartum Period

1046

Headache

1046

Migraine

1046

Secondary Headache in Pregnancy

1049

Idiopathic Intracranial Hypertension (Pseudotumor Cerebri)

1049

Cerebral Vein Thrombosis

1049

Subarachnoid Hemorrhage

1050

Reversible Cerebral Vasoconstriction

1050

Stroke

1050

Ischemic Stroke

1050

Hemorrhagic Stroke and Vascular Malformations

1051

Carpal Tunnel Syndrome

1051

Key Points

1052

References

1052

50 Malignant Diseases and Pregnancy

1057

Key Abbreviations

1057

Chemotherapy During Pregnancy

1058

Pharmacology of Chemotherapy During Pregnancy

1058

Drug Effects on the Fetus

1058

Classification of Chemotherapy Agents

1058

Antimetabolites

1058

Alkylating Agents

1059

Antitumor Antibiotics

1059

Vinca Alkaloids

1059

Platinum Agents

1059

Miscellaneous

1059

Targeted Therapies

1059

Radiation Therapy

1059

Surgery and Anesthesia

1059

Pregnancy Following Cancer Treatment

1059

Cancer During Pregnancy

1060

Breast Cancer

1060

Diagnosis and Staging

1060

Treatment

1061

Local Therapy

1061

Pregnancy Termination

1061

Chemotherapy

1061

Prognosis

1061

Subsequent Pregnancy

1061

Lactation and Breast Reconstruction

1062

Lymphoma

1062

Hodgkin Lymphoma

1062

Non-Hodgkin Lymphoma

1063

Acute Leukemia

1063

Chronic Leukemia

1064

Melanoma

1064

Cervical Cancer

1065

Microinvasion

1066

Invasive, Early-Stage Disease

1066

Invasive, Locally Advanced Disease

1067

Invasive, Distant Metastasis

1067

Method of Delivery

1067

Survival

1067

Ovarian Cancer

1067

Postoperative Adjuvant Therapy

1068

Vulvar and Vaginal Cancer

1068

Endometrial Cancer

1069

Gastrointestinal Cancers

1069

Upper Gastrointestinal Cancers

1069

Colon and Rectal Cancer

1069

Urinary Tract Cancers

1069

Central Nervous System Tumors

1069

Neonatal Outcomes

1070

Fetal-Placental Metastasis

1070

Fertility Preservation

1070

Gestational Trophoblastic Disease and Pregnancy-Related Issues

1070

Hydatidiform Mole (Complete Mole)

1070

Invasive Mole (Chorioadenoma Destruens)

1072

Partial Hydatidiform Mole

1072

Placental Site Trophoblastic Tumor

1072

Choriocarcinoma

1072

Key Points

1073

References

1073

51 Skin Disease and Pregnancy

1075

Key Abbreviations

1075

Physiologic Skin Changes Induced by Pregnancy

1075

Pigmentary Changes

1075

Vascular Changes

1076

Connective Tissue Changes

1077

Glandular Changes

1078

Hair and Nail Changes

1078

Preexisting Skin Diseases and Tumors Affected by Pregnancy

1078

Atopic Eczema and Dermatitis

1078

Acne Vulgaris

1079

Other Inflammatory Skin Diseases

1079

Autoimmune Progesterone Dermatitis

1079

Impetigo Herpetiformis

1079

Cutaneous Manifestations of Autoimmune Disorders

1080

Bullous Disorders

1081

Skin Tumors

1081

Malignant Melanoma

1081

Pruritus in Pregnancy

1082

Specific Dermatoses of Pregnancy

1082

Pemphigoid (Herpes) Gestationis

1082

Polymorphic Eruption of Pregnancy

1084

Atopic Eruption of Pregnancy

1085

Prurigo of Pregnancy

1086

Pruritic Folliculitis of Pregnancy

1086

Key Points

1087

References

1087

52 Maternal and Perinatal Infection

1089

Key Abbreviations

1089

Chlamydia

1089

Epidemiology

1089

Pathogenesis

1090

Diagnosis

1091

Treatment

1091

Gonorrhea

1092

Epidemiology

1092

Pathogenesis

1092

Diagnosis

1092

Treatment

1093

Syphilis

1093

Epidemiology

1093

Pathogenesis

1094

Diagnosis

1094

Treatment

1095

Congenital Syphilis

1095

Key Points

1096

References

1097

53 Maternal and Perinatal Infection in Pregnancy

1099

Key Abbreviations

1099

Human Immunodeficiency Virus

1101

Virology

1101

Epidemiology

1101

Diagnosis

1101

Clinical Manifestations and Staging

1102

Evolution of Human Immunodeficiency Virus Infection and Treatment

1103

Ethical Considerations

1104

Management During Pregnancy

1104

Initial Evaluation

1104

Antepartum Care

1104

Nucleoside/Nucleotide Reverse Transcriptase Inhibitors

1108

Nonnucleoside Reverse Transcriptase Inhibitors

1108

Protease Inhibitors

1108

Integrase Strand Transfer Inhibitors

1108

Hepatitis Coinfection

1108

Opportunistic Infection Prophylaxis

1109

Ongoing Management

1109

Factors That Influence Transmission

1109

Invasive Prenatal Testing

1110

Intrapartum Management of Human Immunodeficiency Virus

1110

Elective Cesarean Delivery

1110

Spontaneous Rupture of Membranes

1111

Untreated Women

1111

Intrapartum Testing

1111

Postpartum Care of Women with Human Immunodeficiency Virus

1111

Infant Screening and Diagnosis

1112

Preconception Counseling for Women With Human Immunodeficiency Virus

1112

Human Immunodeficiency Virus Discordant Couples

1112

Counseling and Coordination of Care

1112

Influenza

1113

Virology and Epidemiology

1113

Clinical Manifestations

1113

Diagnosis

1113

Management of Influenza During Pregnancy

1113

Parvovirus

1114

Virology and Epidemiology

1114

Clinical Manifestations

1114

Diagnosis

1114

Management of Parvovirus During Pregnancy

1114

Measles

1115

Virology and Epidemiology

1115

Clinical Manifestations

1115

Diagnosis

1116

Management of Measles During Pregnancy

1116

Rubella

1117

Virology and Epidemiology

1117

Clinical Manifestations

1117

Diagnosis

1117

Management of Rubella Infection During Pregnancy

1117

Congenital Infection

1117

Cytomegalovirus Infection

1118

Virology and Epidemiology

1118

Clinical Manifestations

1118

Diagnosis

1118

Management of Cytomegalovirus During Pregnancy

1118

Congenital Infection

1118

Herpesvirus

1119

Virology and Epidemiology

1119

Clinical Manifestations

1119

Diagnosis

1119

Management of Herpesvirus During Pregnancy

1119

Neonatal Herpes Infection

1120

Varicella

1120

Virology and Epidemiology

1120

Clinical Manifestations

1120

Diagnosis

1121

Management of Varicella During Pregnancy

1121

Congenital Infection

1121

Hepatitis

1121

Hepatitis A

1122

Hepatitis B

1122

Virology and Epidemiology

1122

Diagnosis

1122

Management of Hepatitis B Virus Infection During Pregnancy

1122

Hepatitis C

1123

Virology and Epidemiology

1123

Diagnosis

1124

Hepatitis C Virus in Pregnancy

1124

Hepatitis C Virus Preconceptional Counseling

1124

Hepatitis D

1124

Hepatitis E

1125

Coxsackie Virus

1125

Human Papillomavirus

1125

Epstein-Barr Virus

1125

Smallpox

1125

Ebola

1126

Virology and Epidemiology

1126

Clinical Manifestations

1126

Diagnosis

1126

Management of Ebola in Pregnancy

1127

Key Points

1127

References

1127

Bibliography

1129.e1

Human Immunodeficiency Virus

1129.e1

Influenza

1129.e1

Parvovirus

1129.e1

Measles

1129.e1

Rubella

1129.e1

Cytomegalovirus

1129.e1

Herpes Simplex Virus

1129.e1

Varicella

1129.e1

Hepatitis

1129.e1

Human Papillomavirus

1129.e1

54 Maternal and Perinatal Infection in Pregnancy

1130

Key Abbreviations

1130

Group B Streptococcal Infection

1130

Epidemiology

1130

Maternal Complications

1131

Diagnosis

1131

Prevention of Group B Streptococcal Infection

1131

Urinary Tract Infections

1133

Acute Urethritis

1133

Asymptomatic Bacteriuria and Acute Cystitis

1133

Acute Pyelonephritis

1134

Upper Genital Tract Infections

1135

Chorioamnionitis

1135

Epidemiology

1135

Diagnosis

1135

Management

1135

Puerperal Endometritis

1137

Epidemiology

1137

Clinical Presentation and Diagnosis

1137

Management

1138

Prevention of Puerperal Endometritis

1138

Serious Sequelae of Puerperal Infection

1139

Wound Infection

1139

Pelvic Abscess

1140

Septic Pelvic Thrombophlebitis

1140

Severe Sepsis

1141

Toxoplasmosis

1142

Epidemiology

1142

Clinical Manifestations

1143

Diagnosis

1143

Congenital Toxoplasmosis

1143

Management

1143

Listeriosis

1144

Key Points

1145

References

1145

55 Mental Health and Behavioral Disorders in Pregnancy

1147

Key Abbreviations

1147

Overview

1147

Mood Disorders

1149

Major Depressive Episode

1149

Diagnosis and Prevalence During Pregnancy and Postpartum

1149

Natural History Across Childbearing

1149

Treatment of Major Depressive Episode During Pregnancy

1151

Side Effects of Medical Treatment of Major Depressive Episode During Pregnancy

1151

Miscarriage

1151

Structural Malformations

1152

Preterm Birth and Growth Effects

1152

Behavioral Teratogenicity

1152

Neonatal Effects

1153

Recommendations for Treatment During Pregnancy

1153

Dosage Changes Across Pregnancy

1153

Integrative Treatments

1153

Treatment of Major Depressive Episode in the Postpartum Period

1154

Prevention of Postpartum-Onset Major Depressive Episode

1154

Treatment During Breastfeeding

1154

Psychiatric Disorders and Suicidal Ideations

1154

Bipolar Disorder

1155

Diagnosis and Prevalence

1155

Natural History Across Childbearing

1156

Treatment of Bipolar Disorder During Childbearing

1156

Lithium

1156

Valproic Acid

1158

Carbamazepine and Oxcarbazepine

1158

Lamotrigine

1158

Atypical Antipsychotics

1159

Alternate and Supplemental Treatment Options

1159

Prevention of Bipolar Disorder Recurrence Postpartum

1159

Breastfeeding for Women with Bipolar Disorder

1159

Anxiety Disorders

1160

Diagnosis and Prevalence

1160

Fear of Labor and Delivery

1160

Natural History Across Childbearing

1160

Effects of Anxiety During Childbearing

1161

Treatment of Anxiety Disorders

1161

Eating Disorders

1161

Diagnosis and Prevalence

1161

Natural History Across Childbearing

1162

Treatment of Eating Disorders

1163

Anorexia Nervosa

1163

Bulimia Nervosa

1163

Schizophrenia

1163

Diagnosis and Prevalence

1163

Natural History Across Childbearing

1164

Extrapolating From Studies on the General Population

1164

Treatment Interventions for Women With Schizophrenia

1164

Antipsychotic Drugs During Pregnancy

1164

Antipsychotic Drugs During Breastfeeding

1165

Substance-Related Disorders

1165

Diagnosis and Prevalence

1165

Screening, Brief Intervention, and Referral to Treatment

1166

Specific Drugs of Abuse: Impact and Treatment Approaches

1166

Alcohol

1166

Management of Alcohol Withdrawal

1167

Smoking

1167

Cannabis

1168

Cocaine

1168

Methamphetamine

1168

Opioids

1169

Opioid Agonist Therapy

1169

Prenatal Care

1169

Neonatal Abstinence Syndrome

1170

Acute Pain Management for Women on Opioid Agonist Therapy

1170

Additional Resources

1172.e1

Key Points

1170

References

1171

Bibliography

1172.e1

Treatment of Bipolar Disorder During Childbearing

1172.e1

Lithium

1172.e1

Valproic Acid

1172.e1

Carbamazepine and Oxcarbazepine

1172.e1

Lamotrigine

1172.e1

Atypical Antipsychotics

1172.e1

Alternative or Supplemental Treatment Options

1172.e2

Prevention of Bipolar Disorder Recurrence Postpartum

1172.e2

Breastfeeding for Women with Bipolar Disorder

1172.e2

Anxiety Disorders

1172.e2

Natural History Across Childbearing

1172.e2

Effects of Anxiety During Childbearing

1172.e2

Treatment of Anxiety Disorders

1172.e2

Eating Disorders

1172.e2

Natural History Across Childbearing

1172.e3

Treatment of Anorexia Nervosa

1172.e3

Treatment of Bulimia Nervosa

1172.e3

Schizophrenia

1172.e3

Natural History of Schizophrenia Across Childbearing

1172.e3

Treatment Interventions for Women with Schizophrenia

1172.e3

Antipsychotic Drugs During Pregnancy

1172.e3

Antipsychotic Drugs During Breastfeeding

1172.e3

Substance-Related Disorders

1172.e3

Specific Drugs and Abuse: Impact and Treatment Approaches

1172.e4

Smoking

1172.e4

Cannabis

1172.e4

Cocaine

1172.e5

Methamphetamine

1172.e5

Opioids

1172.e5

Acute Pain Management for Women on Maintenance Opioids

1172.e5

VII Legal and Ethical Issues in Perinatology

1173

56 Patient Safety and Quality Measurement in Obstetric Care

1174

Key Abbreviations

1174

Patient Safety

1174

Overview

1174

Frequency of Preventable Obstetric Adverse Events

1174

Factors That Contribute to Preventable Adverse Events

1175

Approaches to Improve Obstetric Safety

1175

Checklists and Protocols

1175

Simulation

1176

Shoulder Dystocia

1176

Eclampsia

1177

Other Obstetric Events

1177

Enhancement of Communication

1177

Multifaceted Approaches

1177

Summary

1178

Measurement of Obstetric Quality of Care

1178

Overview

1178

Quality Measures

1178

Attempts to Establish Quality Measures

1179

Traditional Measures

1179

Newer Approaches to Measures

1179

Data Sources

1180

Quality Improvement

1180

Key Points

1181

References

1181

57 Ethical and Legal Issues in Perinatology

1183

Key Abbreviations

1183

Reproductive Liberty

1183

Abortion Politics and "Obamacare"

1186

Human Embryonic Stem Cell Research Funding

1188

Genetic Counseling, Screening, and Prenatal Diagnosis

1189

Forced Cesarean Delivery

1193

Key Points

1194

References

1195

58 Improving Global Maternal Health

1196

Key Abbreviations

1196

Maternal and Reproductive Health

1196

Maternal Health and the Burden of Death and Disability

1196

A Place Between Life and Death

1197

Where Mothers Die

1197

Adolescent Girls and Lifetime Risk of Maternal Death

1197

United States

1198

Mothers Who Survive: Severe Maternal Morbidity

1198

Babies Who Die

1198

Why Mothers Die

1199

Clinical Causes

1199

Health System Factors

1199

Vulnerability and Underlying Social Determinants

1200

"Causes of the Causes"

1200

Women's Rights

1200

Sexual and Reproductive Health

1201

Unintended Pregnancy

1201

Contraception

1202

Contraceptive Methods

1202

Induced Abortion

1203

Improving Reproductive Health and Well-Being of All Mothers

1204

Major Obstetric Complications: Prevention and Management in Resource-Poor Countries

1205

Postpartum Hemorrhage

1205

Preeclampsia/Eclampsia

1205

Sepsis

1206

Human Immunodeficiency Virus and Malaria

1206

Obstructed Labor and Obstetric Fistula

1206

Cesarean Delivery

1207

Practical Advice on Volunteering to Work Overseas

1207

Respect

1208

Realism

1208

Health Care Staff

1208

Research

1209

Predeparture Preparation

1209

Key Points

1209

Acknowledgment

1210

References

1210

Appendices

1213

Appendix I Normal Values in Pregnancy and Ultrasound Measurements

1214

Appendix II Anatomy of the Pelvis*

1224

Key Points

1224

Suggested Reading

1224

Appendix III Glossary of Key Abbreviations

1225

Index

1231

A

1231

B

1236

C

1238

D

1244

E

1247

F

1249

G

1252

H

1254

I

1259

J

1261

K

1261

L

1262

M

1264

N

1268

O

1271

P

1272

Q

1281

R

1281

S

1283

T

1286

U

1290

V

1292

W

1295

X

1295

Y

1295

Z

1295

Inside Back Cover

ibc1