Subjects (Books)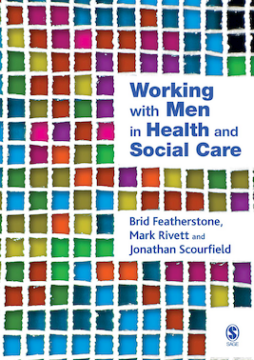 Additional Information
Book Details
ISBN

978-1-84860-455-1


Edition

1

Language

English

Pages

224

Subjects
Abstract
'Working with Men in Health and Social Care is a very welcome contribution to the stock of books on men and masculinities. It is especially useful for those interested in direct practice and policy applications in the fields of welfare, and for those who work with the problems men create, the problems men experience, and their interconnections' - Jeff Hearn, co-editor Men and Masculinities, University of Huddersfield and Linköping University
Working with Men in Health and Social Care is an important and timely book that introduces the complex issues and debates involved in working with men in a range of professional settings. The authors locate academic and popular discourse on masculinities within the specific context of health and social care settings, critically analysing the theory and policy that underpin and inform practice, and continually linking theoretical frameworks to 'real-life' practice examples.
Section 1 contextualises the topic with a discussion of gender theory, social policy and the occupational culture of relevant organisations
Section 2 provides a summary of practice models, examining practice with men as individuals, as well as in groups, families and communities
Section 3 is organised according to specific groups of service users and includes chapters on fathers, abusive men, physical and mental health, boys, and older men
This thought-provoking and topical book will be essential reading for students and academics in social work, health care, probation, counselling, and allied disciplines, and for those facing the reality of working with men in their day-to-day practice.
Table of Contents
Section Title
Page
Action
Price

Foreword

Acknowledgements

List of Figures

List of Tables

1. Is Solar Pumping for You?

1.1 Purpose of this Handbook

1.2 Energy for Water Pumping

1.3 The Solar Resource

1.4 Typical Water Pumping Applications

1.5 Overview of Solar Pump Viability

2. The Technology

2.1 Photovoltaic Pumping Systems

2.2 Photovoltaic Arrays

2.3 The Motor and Pump Subsystem

2.4 Storage and Distribution

2.5 A Typical Day's Operation

3. Site Evaluation

3.1 Assessing Water Requirements

3.2 Solar Energy Availability

3.3 System Sizing

3.4 Specifying Performance

4. Economic Assessment

4.1 Methodologies for Economic Evaluation

4.2 Procedure for a Cost Appraisal of Water Pumping

4.3 Guidance on Costs and Economic Viability

5. Procurement, Installation and Monitoring

5.1 Procurement

5.2 Installation and Operation

5.3 Monitoring and Evaluation

Appendix 1. Solar Radiation Data

Appendix 2. Present Worth Factors

Appendix 3. Equations used for system sizing

Appendix 4. Examples

Appendix 5. Blank Format Sheets

Appendix 6. Example Tender Documents

Appendix 7. Glossary and List of Symbols Used