Subjects (Books)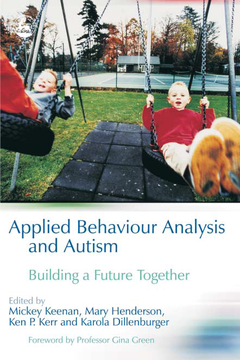 Additional Information
Book Details
ISBN

978-1-84642-455-7


Edition

Language

English

Pages

304

Subjects
Abstract
Applied Behaviour Analysis (ABA) is an effective behavioural treatment programme widely used with children with autism to improve socially significant behaviours. This practical book gives detailed guidance on how to develop a tailored ABA programme that includes the key features of ABA: detailed individual behaviour assessment, reinforcement strategies to encourage new behaviours and systematic programme implementation.
Chapters also include individual family case studies and discuss relevant issues such as day-to-day management of programmes for both younger and older children, collaboration in the community, sibling support, school-based programmes and obtaining services. The international contributors offer practical advice on the approach needed for the successful implementation of ABA.
Applied Behaviour Analysis and Autism will be a key resource for parents, teachers, social workers, psychologists, researchers, nurses, health visitors and anyone with an interest in improving the ability to cope with the world of children with autism.
Aimed at parents and teachers, this volume explains the basic principles of applied behaviour analysis and describes specific cases of its use with children diagnosed with autism spectrum disorders.
Book News
This book, compromising twelve chapters by various authors, outlines the science of behaviour analysis and documents the struggle of bringing this science to the community. Parents and an international group of professionals relate their experiences of working together to apply principles discovered by the science of behavioural analysis. Parents and professionals describe how they devised and operated their own home programmes, how they set up ABA- based pre-school groups, schools and community-based, after-school activities. An approach for working with older children, Positive Behaviour Support, is documented; the struggle of parents who had to fight through the courts to access ABA and the experiences and opinions of siblings is described. Parents give their views of ABA and a list of resources details documented evidence of the effectiveness of behaviour therapy.
The Frontline of Learning Disability
an articulate and stimulating compilation that reflects well some of the issues involved in ABA.
Children, Young People and Families
Table of Contents
Section Title
Page
Action
Price

Book I

1 Roots of this method

2 Survey for generative themes

3 Problem-posing materials

4 Adult learning and literacy training

Resources

Book II

5 Trust and dialogue in groups

6 Leadership and participation

7 Simple decision-making and action planning

8 Evaluation

Book III

9 Global- Local Analysis

10 Building a movement

11 New forms of management and supervision

12 Planning workshops

Index