Subjects (Books)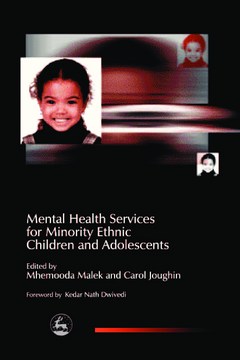 Additional Information
Book Details
ISBN

978-1-84642-039-9


Edition

Language

English

Pages

224

Subjects
Abstract
Bringing together current research on mental health services for children from minority ethnic backgrounds, this much-needed resource provides guidance for both practice and policy. In the light of their interviews with child and adolescent mental health managers about their approaches to service development, the authors argue that the delivery of effective services can be achieved only by recognizing the diversity of cultures and individual needs of minority groups and encouraging more communication between service providers.
They consider how ethnicity is defined, and how the field of mental health has developed in the West according to Western concepts of health and well-being, and show how an understanding of the key practice issues and policy and academic debates can enable professionals to develop and fine-tune their cultural competence. With details of a number of projects and services, as well as a list of resources and organizations, policy makers, service managers and commissioners, as well as professionals at the front-line, will find this an essential guide to recognizing and engaging with the diversity of children's backgrounds and needs.
Child and Adolescent Mental Health Series
Written for professionals, and parents, these accessible, evidence-based resources are essential reading for anyone seeking to understand and promote children and young people's mental health. Drawing on the work of FOCUS, a multidisciplinary project based at the Royal College of Psychiatrists' Research Unit, each title in the series brings together practical and policy-level suggestions with up-to-the-minute analysis of research.
`Mental Health Services for Minority Ethnic Children and Adolescents makes a strong contribution to professional knowledge in discussing the relevance of Western mental health disciplines to understanding and addressing the mental health needs of those from diverse cultures. It directly addresses CAMHS practice dilemmas in attempting to incorporate race, religion, language, nationality and political status into the provision of effective mental health services- this to be accomplished by GP's, social workers, therapists and other professionals, predominately white, trained in the western psychiatric tradition… This is a highly readable book of serious scholarship, suitable for social workers, psychiatrists, psychologists, policy makers and others concerned about the mental health needs of black and ethnic minority children. Mhemooda Malek et al have produced a seminal work, identifying the key issues, debates and considerations necessary to guide the development of culturally competence service provision for black and ethnic minority children in the UK'.
British Journal of Social Work, Vol 35, No1, January 2005
`There is a wealth of useful information in this publication, and the authors use it effectively to make a number of recommendations for more effective policy and practice.'
Care and Health Magazine
`This collection of expert contributions considerably helps the reader in critical analysis of existing provision of mental health services.'
Community Care Magazine
[T]his book is a useful addition to the small but developing literature on this subject and one I would recommend, particularly for professionals whether in the statutory or voluntary sector.
The Mental Health Review 2005
`It is well-referenced and rich in information and debate, with five chapters on the issues and a second part detailing a survey undertaken in 2001 of commissioners and Child and Adolescent Mental Health Service (CAMHS)… this book is salutary reading for professionals working with children and young people, not only those in formal mental health services, as it challenges many of the easy assumptions underlying the white western approach to definitions of difficulties. It would be useful for practice teachers in social work, and students of other disciplines looking at anti-discriminatory practice'.
Rostrum, Oct 2005, No 82
`This publication is timely in view of a growing awareness of mental health problems among children and adolescents from minority groups in the UK and the dearth of literature about them. The editors have brought together professionals who present findings of current research on the subject…Service managers and commissioners, social workers, teachers, and child and adolescent mental health professionals will find that the book motivates them to further inquiry into it's subject and to promote the provision of services for these children and young people'.
Young Minds Magazine
`…I loved this. The opening discussion of ethnicity and mental health clearly acknowledges that definitions cannot be absolute, but the authors draw on an impressive range of research to unpick the strands that give form to the concepts. And in easily understood language to boot. Is that really useful for practice? Yes. And if you're still faltering, there are numerous succinct recommendations for action…If you're committed to delivering race equality in mental health or, more importantly, you haven't even thought about it, this book can help bridge the gap between rhetoric and action.'
Children Now
`Overall the book is a useful addition to the literature on BME (black and minority ethnic) mental health and is appropriate for practitioners working in all areas of mental health. The key issues raised and recommendations made for developing a more appropriate and culturally competent CAMHS (child and adolescent mental health services) reflect proposals for improving mental health services to adult BME communities.'
Mental Health Practice
Table of Contents
Section Title
Page
Action
Price

Prelims - Stepping Forward (Title Page, Copyright Information, Contents, Abbreviations, Glossary, Dedication Page, Acknowledgements, Forward, Preface)

1. PART 1 - CHILDREN AND YOUNG PEOPLE'S PARTICIPATION: THE STARTING-POINT

Victoria Johnson and Edda Ivan-Smith

2. PART 2 - BUILDING BLOCKS AND ETHICAL DILEMMAS

Victoria Johnson, Emmanuelle Abrioux, Roger Hart, Sarah McNeill, Jonathan Blagbrough, Claire O'Kane, Melinda Swift and Eileen Adams

3. PART 3 - HOW TO: THE PROCESS

Gill Gordon, Charity Manyau, Mahfuza Haque, Thabang Ngcozela, Joachim Theis, Alice Lamptey, Julian Faulkner, Joanna Hill, Rachel Hinton, Rachel Barker, Andy Inglis and Ernesto Cloma

4. PART 4 - CULTURE: ATTITUDES AND PERSPECTIVES

Pat Pridmore, David Stevens, Martin Woohead, Kate Harrison, Christiana Obeng, Barnabas Otaala, Safa Halasah and Rachel Carnegie

5. PART 5 - CHILDREN'S PARTICIPATION IN SITUATIONS OF CRISIS

Pat Pridmore, Priya Coomaraswamy and Vesna Dejanovic

6. PART 6 - INSTITUTIONS AND POWER

Victoria Johnson, Patta Scott, Amy Kaspar, Denise Allen, David Woollcombe, Amanda Olivier, Amanda Saurin, Mary Ellen Lewis, Lucy Harris, Esther Obdam, Abebaw Zelleke, Mark Feeney, Barry Percy-Smith, John Parry-Williams, Berry Mayall, Rachel Marcus and Sheena Crawford

7. PART 7 - CHILDREN AS ACTIVE PARTICIPANTS

Edda Ivan-Smith, Imani Tafari-Ama, Adam Haines, Andrew West, Grace Mukasa, Vera van der Grift-Wanyoto, Rob Bowden and Donald Kaminsky

8. PART 8 - THE WAY FORWARD

Edda Ivan-Smith and Victoria Johnson

Back Matter - Stepping Forward (Appendices 1-5, Bibliography and References, Index)