Subjects (Books)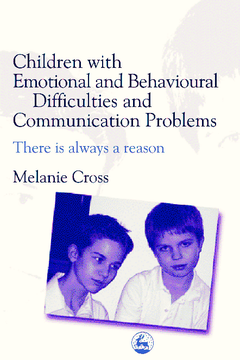 BOOK
Children with Emotional and Behavioural Difficulties and Communication Problems
(2004)
Additional Information
Book Details
ISBN

978-1-84642-007-8


Edition

Language

English

Pages

192

Subjects
Abstract
Children and young people with emotional and behavioural difficulties (EBD) are far more likely to have communication problems than their peers. Exploring the ways in which children's language and emotional development are linked, Melanie Cross considers the reasons why behavioural and communication difficulties often occur together.
Identifying the common causes of these problems and the reasons why they often go undetected, she provides practical guidelines for assessing communication skills and the complexities of identifying communication problems in children, including children in public care. She shows how improving children's communication can also improve their behaviour and that speech and language therapy is an important, although often absent, service for children with EBD.
With a range of strategies to help children and young people to develop their emotional and communicative skills, this accessible guide is an invaluable resource for speech and language therapists, social workers, teachers and other health professionals working with young people with emotional, behavioural and communication problems.
Melanie Cross describes the book herself as the one "I needed when I began to work with children and young people with emotional and behavioural difficulties" (9). I would not disagree with this statement and would go further to say it should become a core text for staff training in the caring professions.
Emotional and Behavioural Difficulties Journal
This book is just what I've been looking for, mainly because it draws together all the recent literature and research around children's social and emotional difficulties, and their link to communication difficulties. More than that, though, it encourages the reader to think about the depth of children's development, and investigate further. I found it quite inspiring.
SureStart
This book is to be welcomed because it attempts to integrate knowledge from different disciplines to present a broadly based account of this important subject. Its central thesis is that many communication problems remain undetected, and that their impact upon children's cognition, emotions, behaviour, performance and social relationships is therefore, unrecognized.
This book is a useful starting point for anyone working with children and who seeks to understand the complex linkages and relationships between children's communication difficulties and their emotional problems.
European Journal of Social Work
Social workers, mental health professionals and other practitioners working with children should find this reader of use. She presents practical guidelines for assessing communication skills and problems, and shows how improving children's communication can improve their behaviour.
Care and Health Magazine
Suitable as an introductory text for a range of practitioners working with children with EBD who want to gain some theoretical and practical knowledge of the field
Child Language Teaching and Therapy
Melanie Cross is a speech and language therapist with many years experience of working with children and young people with communication problems. For the past fifteen years she has worked with young people in public care at The Integrated Services Programme (ISP), an innovative independent child care agency based in England. Melanie has also worked for the children's communication charity I CAN as a professional advisor, and is currently a clinical tutor on the speech and language therapy course at City University, London.
Table of Contents
Section Title
Page
Action
Price

Preface

NAZEER AZIZ LADHANI ix

Preface

NOELEEN HEYZER xi

Acknowledgements xiii

Introduction

MARILYN CARR, MARTHA CHEN, RENANA JHABVALA 1

Women and Poverty in South Asia 1

Approaches to Women's Empowerment 3

Experiences of NGOs and POs in Working with Women 6

The Purpose of the Research 8

The Research Project 9

Research Questions 9

Methodology 10

Selection of Organizations 11

Selection of Field Sites 11

Summary of the Case Studies 12

Case studies 19

Village and Community Organizations

Gathering the Second Harvest: Aga Khan Rural Support

Programme (AKRSP) in Northern Pakistan

ABINTA MALIK and SANDRA KALLEDER 21

Transforming Women's Economies: Bangladesh Rural

Advancement Committee (BRAC)

GUL RUKH SELIM 45

Demanding Accountability: Proshika in Bangladesh

LAMIA RASHID and Md. SHAHABUDDIN 67

Co-operatives

'Like my Mother's House': Women's Thrift and Credit

Co-operatives in South India

NANDITA RAY and D.P. VASUNDHARA 85

Rural Women Manage their own Producer Co-operatives:

Self Employed Women's Association (SEWA)/Banaskantha

Women's Association in Western India

SHARIT BHOWMIK and RENANA JHABVALA 105

Women's Banks

Women Banking for Success: Women's Development Federation

(WDF) in Sri Lanka

W.M. LEELASENA and CHITRANI DHAMMIKA 127

Unionization

Empowering Marginalized Workers: Unionization of Tobacco

Workers by the Self Employed Women's Association (SEWA) in

Kheda, Gujarat

SHARIT BHOWMIK and MEENA PATEL 143

A Struggle within a Struggle: The Unionization of Women in

the Informal Sector in Tamil Nadu

GEETHA RAMAKRISHNAN 167

Lessons learned

MARILYN CARR, MARTHA CHEN, RENANA JHABVALA 185

Overview 185

Sources of Disempowerment 188

Marriage and Kinship Systems 188

Household and Extended Family 189

Patron-client Relationships 190

Community Groups and Local Councils 190

Wider Economy and Markets 190

Organizing Women for Economic Empowerment 193

Reasons for Organizing 193

Barriers to Effective Organizing 195

Autonomy and Sustainability of Women's Organizations 196

Empowerment Strategies 198

Specific Economic Strategies 198

Financial Interventions 198

Enterprise Development 199

Market Strategies 200

Bargaining 201

Socio-political Strategies 201

Broader Economic Support Goals 202

The Economic Empowerment of Women 203

Material Gains/Economic Change 203

Direct Tangible Results 205

Indirect Tangible Results 206

Less-Tangible Outcomes 207

Increased Bargaining Power 207

Structural Change 210

Towards a Broader Perspective on Women's Empowerment 213

Everyday Forms of Women's Empowerment 213

The Economic is Political 215

Personal and Collective Power 217

Speaking Out 217

References 219

About the Contributors 220

Glossary of non-English Terms 222

List of Acronyms 224

Annotated Bibliography: Selected Studies on

Women's Empowerment

SOPHIA LAM 225