Subjects (Books)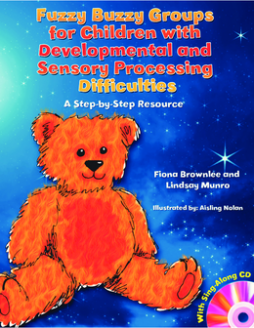 Additional Information
Book Details
ISBN

978-0-85700-194-8


Edition

Language

English

Pages

96

Subjects
Abstract
Children with sensory and cognitive difficulties can struggle to interact with their peers, be easily distracted, and have problems coping with change. Fuzzy Buzzy Groups for Children with Developmental and Sensory Processing Difficulties has been devised to address the needs of children with sensory processing difficulties and development delay in specialist and inclusive settings.
This easy-to-follow resource will enable professionals to engage with children in a relaxed and fun way that explores sensory experiences. It contains everything you need to run a Fuzzy Buzzy group: from advice for choosing sensory food and drink and criteria for selecting suitable children, to tips for involving parents in the group and sourcing sensory materials. The authors guide you step-by-step through how to carry out a session, and include photocopiable forms and checklists as well as a sing-along CD containing music to use with the group. This resource will help children not just to explore sensory experiences, but also to learn to share, take turns, listen, interact with their peers and improve their self-esteem.
The eight-session programme is ideally suited to children aged 2-5, although this can be adapted to suit individual needs, and is perfect for early years' practitioners, teachers, teaching assistants, family respite carers and other professionals working with young children.
Overall, this book is simple, straightforward and clearly laid out. It provides a detailed guide of a group format for a specific clinical group with plenty of additional resources, including a CD of music to accompany the group. A complete package of a seven-step, eight-week programme with theoretical explanations and worksheets is a valuable resource. It would be a useful book for occupational therapy assistants who are skilled at developing group programmes and have a good understanding of sensory processing disorders.
British Journal of Occupational Therapy
Fuzzy Buzzy Groups is written by two experienced occupational therapists as a resource for early years settings, children's centres and other professionals working with young children. It provides a clear structure which can be used to set up and run a small group addressing the needs of young children with sensory processing difficulties. The book appears to have been well researched by the authors, who note that "statistically significant improvements... in the children's sensory processing and behaviour" were achieved after participation in the programme. The book is attractively presented and clearly written making it easy to follow for all early years practitioners. The authors have identified a range of benefits the groups may have for children and there are curriculum links. The activities are designed to be appealing to children aged two to five years or slightly older children with learning difficulties... it provides just enough basic information on sensory processing and child development to give the reader the underlying knowledge they need in order to run a group, including selecting appropriate children, understanding the relevance of the activities and evaluating progress. The activities are clearly explained with objectives for each step of the sessions, and important advice is provided on adapting them if children appear over-stimulated. The repetition and routine are especially important for children with sensory processing needs to reduce anxiety, and children will benefit from the social opportunities as well as the sensory activities. Fuzzy Buzzy Groups is a useful resource for those working with young children with sensory processing needs. It would be particularly appropriate for groups in children's centres but also nurseries, pre-schools and special schools. I enjoyed reading the book and it is a much-needed resource in early years.
Nasen Special
Fiona Brownlee was Senior Peripatetic Paediatric Occupational Therapist in the Children and Families Department in Edinburgh, supporting children and staff in the City's Child and Family Centres. She retired recently after 40 years' working as a therapist. Lindsay Munro is a Senior Practitioner Occupational Therapist within the Children and Families Department in Edinburgh, supporting children and staff in the City's Child and Family Centres.