Subjects (Books)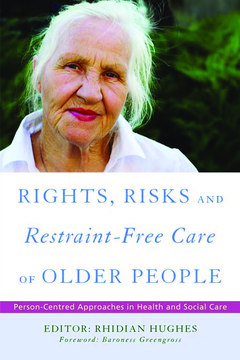 Additional Information
Book Details
ISBN

978-0-85700-222-8


Edition

Language

English

Pages

224

Subjects
Abstract
The restraint of older people is a pressing issue for health and social care practice. This book provides health and social care professionals with an authoritative reading resource on the ethics and use of restraint.
The book provides an overview of the different forms of restraint, the conditions under which they are used, and their implications for the health and wellbeing of older people. Practical approaches to minimising are then explored, underlining the importance of person-centred care. Innovative programmes and approaches to reducing the use of restraint from around the world are described and assessed, and case studies are drawn upon to highlight practice challenges and their effective resolutions. The perspectives of older people and their carers and families, as well as of professionals, commissioners and regulators of health and social care, are also taken into account. The contributors are drawn from an international range of health and social care settings, as well as from the academic world.
This in-depth volume will help health and social care professionals better understand the complex issues that surround the use of restraint, support practice that puts older people at the centre of decision-making about their care, and enable services to provide safer and more appropriate care.
This thought-provoking book challenges us all to re-examine our personal attitudes when caring for older people. At its heart lies a desire to improve relationships, quality of life and holistic well-being.
Barbara Pointon, Ambassador for the Alzheimer's Society and for the charity 'for dementia'
I hope this book will be widely read. It encourages us to question our motives if ever we are faced with difficult situations when caring for people to whom it is sometimes very difficult to relate, but people who nevertheless need our care and understanding at the most vulnerable period of their lives as they draw to a close
Baroness Greengross