Subjects (Books)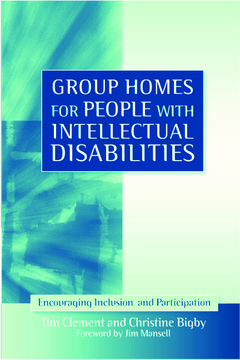 Additional Information
Book Details
ISBN

978-0-85700-205-1


Edition

Language

English

Pages

288

Subjects
Abstract
Group homes are the dominant form of residential accommodation for people with severe learning or intellectual disabilities, and yet there are significant problems within these living environments. This book seeks to highlight the key issues for both residents and staff, and offers practical suggestions for improving community living.
Based on original empirical research and drawing on extensive field notes, the book paints a picture of life in group homes today. The authors propose a framework for increasing community presence and participation, and consider the barriers to be overcome if progress is to be made in achieving these key goals. The notion of 'homeliness', the challenge of maintaining a balance between individual and group needs and the concept of practice leadership are all explored.
Group Homes for People with Intellectual Disabilities is essential reading for anyone working with people with learning or intellectual disabilities in residential services, as well as academics and students of disability studies, social work and health and social care programmes.
Clements and Bigby have written a well organised and highly readable book that draws together pertinent literature and their own considerable insight and research. In focusing attention on the heterogeneity of disability, they question generic disability policy rhetoric and confront the reader with the barriers and challenges inherent in policy implementation for people who have severe and profound intellectual disabilities living in group homes.
Australian Social Work
I will say no more other than please read this excellent book.
British Journal of Learning Disabilities
This highly readable book provides a balanced and thoughtful analysis of the complex dynamics involved in providing homes for people with intellectual disabilities.
British Journal of Social Work
Tim Clement is Research Fellow in the School of Social Work and Social Policy at La Trobe University, and has worked with people with intellectual disabilities for over 20 years. Christine Bigby is Professor and Director of Postgraduate Programs in the School of Social Work and Social Policy at La Trobe University in Melbourne, Australia. She is Editor of Australian Social Work, author of Ageing with a Lifelong Disability: A Guide to Practice, Program and Policy Issues for Human Services Professionals and co-editor of Planning and Support for People with Intellectual Disabilities: Issues for Case Managers and Other Professionals, both published by Jessica Kingsley Publishers.
This book needs to be read by everyone interested in improving services for people with learning disabilities so that the great ideals of Valuing People and Valuing People Now can be realised. It takes seriously the very real challenges of making community presence and participation meaningful for people with higher support needs and seeks to translate high-flown rhetoric into practical advice for service-providing organizations, group home managers and workers in residential services.
British Journal of Learning Disabilities
The book is easy to read, well-structured and provides a clear and sometimes saddening insight into the lives of people with severe and profound intellectual disabilities. However the overall message is one of hope and suggests realistic and achievable changes that can be made at all levels of service provision.
The British Journal of Developmental Disabilities, Ewan Culling
This book can appeal to a wide range of readers... Throughout the book they use a wealth of field notes and excerpts from interviews with staff that help to illustrate their arguments and will resonate with the reader's own experiences in services. In addition, at the end of each chapter there is a list of important topics and questions for further consideration. The book is also an excellent source of information for students and researchers of learning disability services, because each chapter provides a review of the literature and research relevant to the topic.
Tizard Learning Disability Review