Subjects (Books)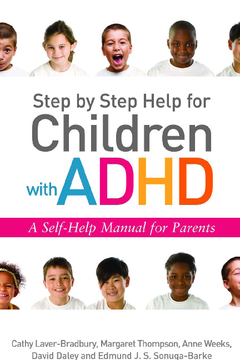 Additional Information
Book Details
ISBN

978-0-85700-235-8


Edition

Language

English

Pages

160

Subjects
Abstract
Raising a child with ADHD can be distressing and exhausting for the whole family. But given the appropriate knowledge, and the right tools, parents can intervene to manage their child's behaviour, leading to improved relationships at home and, it is hoped, a more successful time at school.
This simple, flexible six-step programme is full of tried-and-tested ideas for parents and professionals supporting families of young children with ADHD. By practicing the techniques and strategies, parents will gain confidence in their parenting and, over time, will improve the child's management of the condition. The programme includes games that will help improve the child's attention, exercises to develop patience and tips for supporting the child in successful self-organization. There are also plenty of useful ideas for developing communication between parents and schools.
Based on research and extensive clinical experience, Step by Step Help for Children with ADHD will help families to adapt their parenting to the child, improving relationships and behaviours in the home and at play group.
Cathy Laver-Bradbury is a consultant nurse specializing in ADHD at Solent Community Healthcare, and Pathway Leader for Advanced Clinical Pathway in Child and Adolescent Mental Health at the University of Southampton. Margaret Thompson is Honorary Consultant Child and Adolescent Psychiatrist with the Southampton City PCT, an honorary reader in Child and Adolescent Psychiatry and Clinical Director in the Institute of Delay, Impulsivity and Attention at the University of Southampton. Anne Weeks is a senior nurse, therapist and tutor at the Ashurst Child Development Centre, Ashurst Hospital. David Daley is a senior lecturer on the North Wales Clinical Psychology Programme, School of Psychology, Bangor University. Edmund J. S. Sonuga-Barke is Professor of Developmental Psychopathology at the University of Southampton where he is Director of the Institute of Disorders of Impulse and Attention. He is also Visiting Professor in the Department of Experimental Clinical and Health Psychology at Ghent University.
This interesting, informative book and DVD are an ideal guide for parents who my have a child with ADHD. (Attention Deficit Hyperactivity Disorder).) The simple, self-help guide is well written and illustrated. Parents will find the manual helpful when addressing challenging behaviour in their children and be encouraged by the guide's positive approach... The accompanying DVD provides further information covering current research, diagnosis and treatment of ADHD. Sections directed to parents and teachers are helpful and advocate the importance of parent/teacher consistency.
Journal of Community Nursing