Subjects (Books)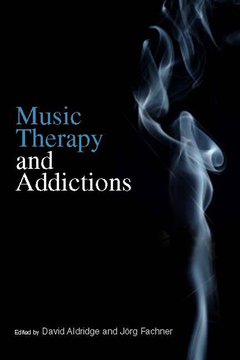 Additional Information
Book Details
ISBN

978-0-85700-294-5


Edition

Language

English

Pages

176

Subjects
Abstract
Recent studies show that music can reach the parts of the human brain that are linked to addiction, and can function as an integral part of recovery. This research-based, practical book demonstrates how music and music therapy can be applied in a variety of treatment settings to bring about therapeutic change.
Addictions such as alcohol, gambling and drugs are all covered in this interdisciplinary text, and chapters explore everything from the meaning of music in the lives of addicts to devising music therapy programs, enhancing coping strategies and preventing relapse. Lifestyle issues are also considered, along with the role of therapeutic communities, and connections in the brain between addiction, music, memory and emotion. The strategies outlined are relevant to addicts and recovering addicts of all ages.
This book will be of interest to music therapists, substance abuse counsellors, and anybody else interested in the relationship between music and addiction and the therapeutic use of music.
David Aldridge is Co-Director of the Nordoff Robbins Centre, Witten, Germany and Visiting Professor for the Creative Arts Therapies, Bradford Dementia Group, University of Bradford, UK.
Jörg Fachner finished his doctoral thesis on cannabis and music perception in an EEG investigation at the Chair for Qualitative Research in Medicine in 2001. Jörg's research interests, publications and scientific memberships focus on qualitative research aspects of music, therapy and medicine, music physiology, and psychology, youth and pop culture, altered states of consciousness, transcultural psychiatry and anthropology of the body.
All in all, I found the book very informative and I enjoyed the different contributions from a variety of authors and countries. I would certainly recommend it to anyone, whether working in this field or not. I also recommend the book to any commissioner for drugs and alcohol services in the UK. I think it would give such decision- and policy makers some very good indications of this type of treatment regime that can be so helpful.
British Journal of Music Therapy
I consider that all this music therapy work that has been presented in this book, can help patients suffering from addiction a great deal to cope with complexity of addiction and to give the chance to live a better life. Due to the fact that there is a limited research in the field of music therapy and addiction problems, I consider that is a valuable work for the music therapy literature and for giving ideas to clinicians and researchers for further development and research in this field.
Approaches: Music Therapy & Special Music Education
The book is well researched, presents case studies and is clear and concise in its appraisals. All in all, it is a positive view of music in addiction.
Addiction Today